University of Miami Athletics
Melanie Monteagudo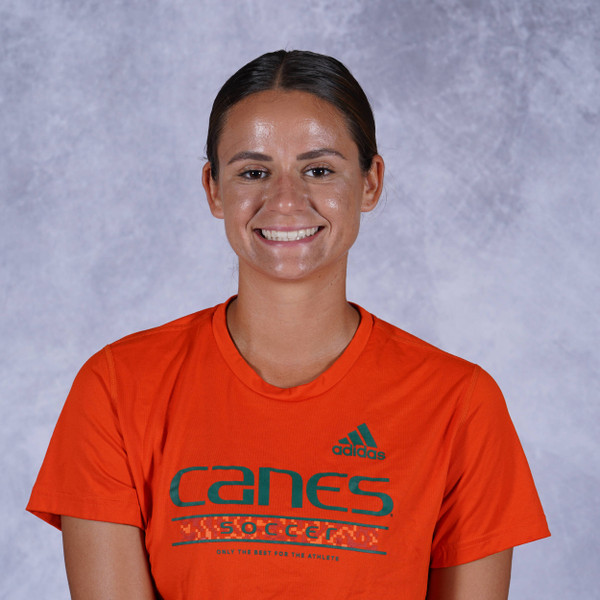 Melanie Monteagudo joined the University of Miami as a volunteer assistant soccer coach in July 2022.
A former standout player at the University of Florida, Monteagudo joins the program after two years coaching at Sunrise Sting Club and one season playing professionally with Real Racing de Santander in Spain.
"I am extremely thankful for the opportunity to learn and grow as a coach at UM," Monteagudo said. "The entire coaching staff here is super talented, and it is a true honor to be able to watch them, learn from them and add a little of my own experiences into their already great culture. I'm excited for the fall season to start and ready to get after it and try to make an impact of my own to this program."
A native of Pembroke Pines, Fla., Monteagudo scored 10 goals and dished out nine assists across her Gators career. The 5-foot-8 forward/midfielder was a four-time SEC Academic Honor Roll recipient, appearing in 83 matches, including 23 starts. Monteagudo received a bachelor's degree in advertising in May of 2019.
"Mel is a great addition to our program," head coach Sarah Barnes said. "She gained playing experience in the SEC and in Europe, which will translate to the ACC. Having grown up in the area, Mel knows the local landscape through her time in the Sunrise Sting club and at Florida. Her experiences in youth club soccer and leadership development at the collegiate level make Mel the perfect addition to our coaching staff. Our student-athletes are fortunate to have her as a mentor."
Prior to enrolling at Florida, she totaled 152 tallies and 77 assists at American Heritage High School, setting Broward County goals (63) and assist (30) records during the 2013-14 campaign. Monteagudo garnered All-County First Team honors all four seasons and was tabbed the 2014 and 2015 Florida Dairy Farmers Miss Soccer, given annually to the state's top high school player.
A member of the Sunrise Sting club team, Monteagudo helped the program claim the 2013 and 2015 Florida State Cup championships, as well as the 2013-14 and 2014-15 Region III Premier League East title.