University of Miami Athletics
Franco Aubone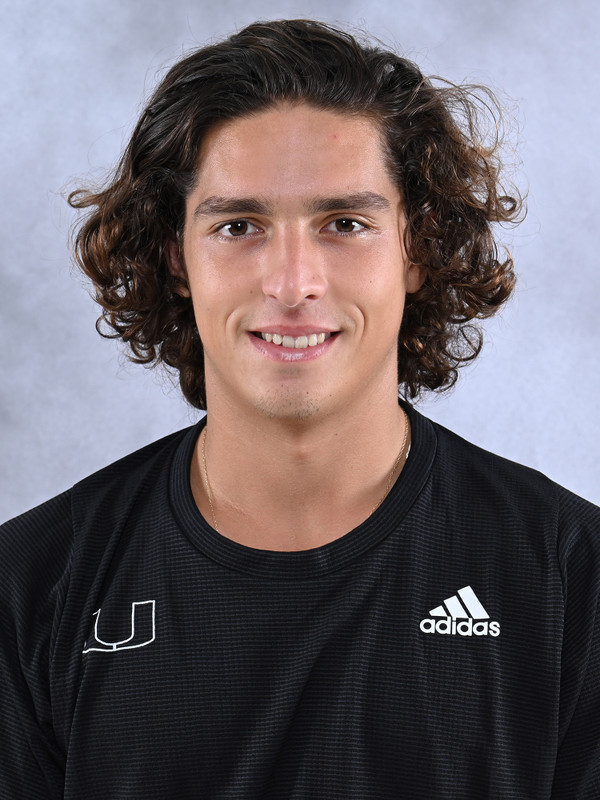 As a Fourth-Year Junior (2021-22):
Won ITA Fall Nationals Consolation Doubles Title with partner Benjamin Hannestad…Concluded Fall season with an overall 8-2 doubles record.
As a Junior (2020-21):
Won doubles match 6-4 at the NCAA Team Championship with partner Benjamin Hannestad… Five doubles wins against ranked opponents, including 12th ranked Duke duo of Sean Sculley and Garrett Johns… Opened spring doubles winning five straight at the fifth position.
As a Sophomore (2019-20):
Went 7-1 in spring singles before the season was canceled due to COVID-19… Finished 7-3 overall in spring singles.
As a Freshman (2018-19): ACC Doubles Team of the Week (3/19)
Finished with overall records of 19-17 in singles and 21-13 in doubles … Went 13-9 in spring singles competition, including 5-2 in ACC action, playing almost exclusively at the No. 5 spot in dual matches … Posted a 2-1 mark in the Miami Spring Invite, downing Texas' Rodrigo Banzer (6-4, 7-5) and Ole Miss' Cotter Wilson (6-3, 6-3) in straight sets … Opened dual match play with a perfect 3-0 singles mark, extending his winning streak to five … Topped Colin MacNamara of Stetson, Josh Wilson of Liberty and Igancio Garcia of FAU, all in straight sets … Helped the Hurricanes open conference action a perfect 2-0 for the first time since 2011, topping Georgia Tech's Chris Yun, 6-1, 7-6 (7-3) and Clemson's Carlos Kelaidis, 6-3, 5-7, 1-0 (10-7) … Opened a four-match winning streak topping UNC Wilmington's Davide Innocenti and Boston University's Max Stehling in straight sets … Posted a vital victory over William Howells of No. 11 Notre Dame, 6-1, 7-5, in the team's, 4-3, top-15 triumph … In a decisive match against Duke, topped Robert Levine, 6-3, 7-6 (8-6) in the team's 4-3 victory … In a match all tied at 3-3, he topped Evan Fragistas of No. 43 Virginia Tech, 7-5, 4-6, 6-4, to improve Miami's home record to a perfect 11-0, the program's best start since 2000 … Went 16-9 in spring doubles play, pairing with three different teammates, mostly alongside Franciso Bastias … Earning ACC Doubles Team of the Week on March 19, the freshman tandem went 13-3 overall and 8-2 in conference action … Partnered with Dane Dunlap for an 8-4 win over Mississippi's Filiip Kraljevic/Karlo Kranic in the Miami Spring Invite for his first spring doubles triumph as a Hurricane … Alongside Kaya Gore, logged his first dual match doubles win by topping Stetson's Linus Bergevi/Clement Hamel, 6-1, before besting Liberty's Josh Wilson/Steve Mundt, 7-6 (7-5) … Partnered with Bastias for the first time on Feb. 8, as the duo opened a nine-match winning streak topping Iowa's Piotr Smietana/Joe Tyler, 6-3 … Over a stretch of 14 team matches, the tandem went 12-1, with a lone unfinished match against Utah, with the freshmen leading 5-4 … Capped the 2019 spring season with a 6-3 victory over Clemson's Mike Agee/Simon Baudry at the ACC Championship … Totaled a 6-8 singles record and 5-4 doubles mark in the fall … Following a 2-4 start in doubles competition, closed out the fall 3-0 alongside partner Kaya Gore … Won the main flight doubles championship at the Longhorn Invitational, topping Liberty's Ian Sturgill/Farid Juri, 8-3, in the quarterfinals and Anish Srikiketh/Luis Diaz Argente of St. Edward's, 8-2, in the semifinals … In an all-Miami championship, defeated Dunlap and Stephen Madonia, 8-7 (10-8).