University of Miami Athletics
Jahmile Addae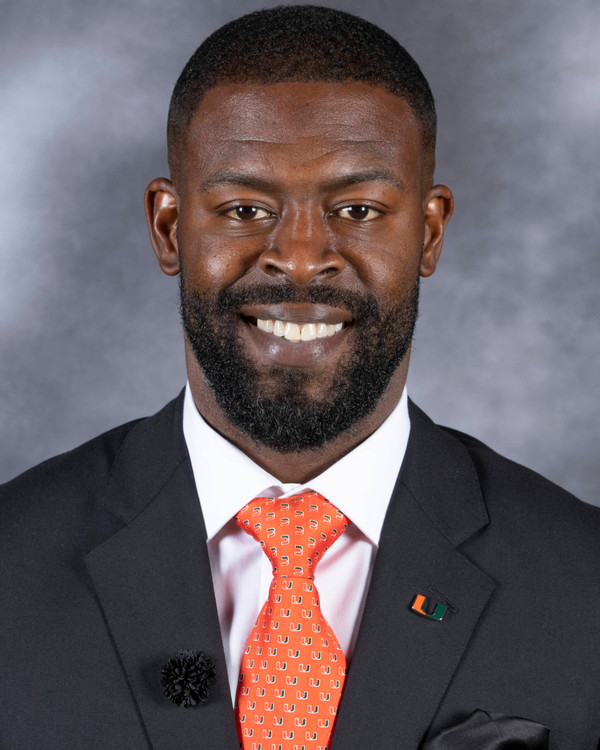 Jahmile Addae is in his second season as a member of the Miami Hurricanes Football coaching staff, where he serves as secondary coach.
Addae arrived in Coral Gables after spending the 2021 season in a similar capacity at Georgia, where he helped guide the Bulldogs to a national championship. Addae, who was ranked the second-best recruiter in the country during the 2022 cycle by 247Sports.com, led a secondary that ranked among the nation's elite in nearly every category.
"Jahmile Addae is a gamechanger for our staff," head coach Mario Cristobal said upon Addae's hiring. "His units rank among the nation's top-performing units every year. He has championship experience, he is one of the nation's top recruiters, and he has fostered a culture of mental and physical toughness in the secondary at every stop of his career. Coach Addae is a tremendous addition to our program, and I know he will make his impact felt on our defensive identity."
Addae's secondary ranked No. 13 in the nation in pass defense in 2021, allowing just 190 passing yards per game. The Bulldogs ranked second nationally in passing efficiency defense and picked off 16 passes, which was the eighth-best mark in the country.
In addition, the Bulldogs were No. 1 in scoring defense, No. 1 in red zone defense and No. 2 in total defense.
"I'm excited. A lot of people have talked about bringing The U back," Addae said upon his hiring. "I like to think of it as, The U never left. It's more about doing our diligence and making sure we're developing the caliber of players that people are used to here at the University of Miami.
"I'm super excited to be here. I remember playing against Miami when they were on a 34-game winning streak. It was Ken Dorsey, Andre Johnson, Bryant McKinnie…all the big names that we know. Those were some daunting teams. You walked out on that field and you felt the presence of those guys. That is what we're trying to bring back. How do you do that? Win football games and develop talent."
A native of Valrico, Fla., Jahmile in 2020 led a passing defense at West Virginia that ranked first nationally in Fewest Passing Yards Allowed at 159.6 yards per game. The Mountaineers, who capped their season by beating Army in the AutoZone Liberty Bowl, finished fourth in the country in Total Defense (283.5 y/g) and tallied 11 interceptions that they returned 112 yards.
In his first year at WVU, he coached two All-Big 12 Conference selections in Keith Washington II and Josh Norwood and freshman All-American Tykee Smith. Washington II finished with a team-leading three interceptions and a team-tying nine pass breakups for 12 passes defended, ranking No. 23 nationally. Hakeem Bailey tied Washington II for the team lead with nine pass breakups, ranking No. 9 in the Big 12. Smith was second on the team in interceptions with two, including one he returned for a touchdown against Iowa State.
A former Mountaineer all-conference safety, Addae returned to WVU in January 2019, after serving as the defensive backs coach and assisting with several special teams' phases at Minnesota in 2018. His punt return unit finished No. 1 in the nation (22.3 yards per return), punt return defense was No. 2 (1.11 y/r) and the kickoff return unit finished No. 26 nationally (23.4 y/r).
Prior to Minnesota, Addae spent five years at Arizona, coaching the defensive backs in 2016-17 and serving as an analyst from 2013-15. Addae developed a youthful defensive secondary into some of the team's top performers. In 2017, Lorenzo Burns, Demetrius Flannigan-Fowles, Scottie Young and Jace Whittaker combined for 261 tackles, 24 pass breakups and 12 interceptions.
In 2010-11, Addae was the running backs coach at Cincinnati, where he mentored All-Big East Second-Team selection Isaiah Pead. Pead rushed for 1,029 yards, ranking No. 1 in the conference and in the top-10 nationally in yards per carry (6.6 yards per carry). Pead averaged 93.6 yards per game and was Cincinnati's first 1,000-yard rusher in almost a decade and at the time, the Bearcats' seventh player to hit the mark.
Addae was recognized by Rivals.com as one of the top-10 recruiters in the Big East Conference. Before coaching the Bearcats, Addae served as Cincinnati's Director of Player Development. He also managed many of the team's off-thefield responsibilities, including the Cats In The Community program.
Prior to his time at Cincinnati, he was a defensive graduate assistant at Michigan, where he worked with the Wolverines' secondary and scout team offense. After graduating from WVU in 2006, Addae was a graduate assistant in the football video department at West Virginia. Addae was a four-year starter, two-time captain and two-time All-Big East defensive back for the Mountaineers.
Addae, who is tied for the WVU record for most pass breakups in a game (five, Rutgers, 2002), finished his WVU career with 253 tackles, including 152 solo stops and 25 pass breakups, ranking No. 5 in program history. He also ranks No. 3 in single-season pass breakups with 16 during the 2002 season. Addae was selected for the Senior Bowl in 2006 and participated in the NFL Combine.
He signed a free agent contract with his hometown Tampa Bay Buccaneers in 2006 and spent the end of the season with the Indianapolis Colts.
Addae, and his wife, Maryann, have three sons, Agyeman, Ayden and Amaree.