University of Miami Athletics
Colin Wilson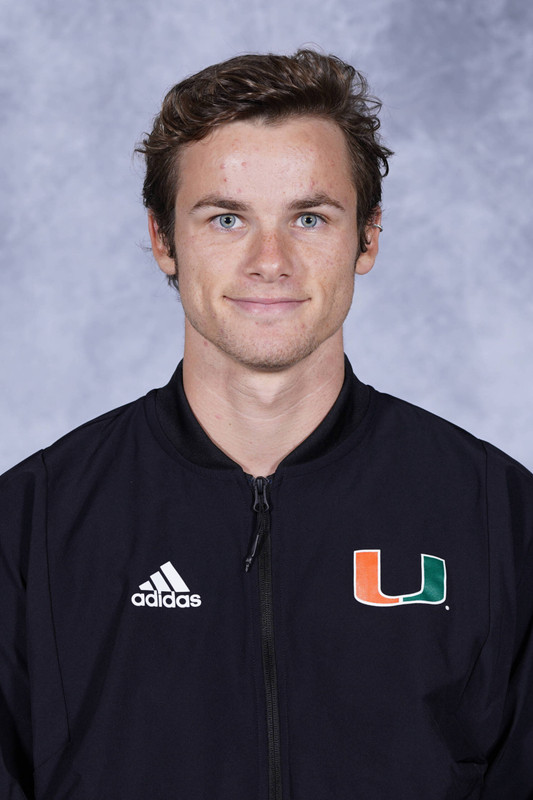 2021 Cross Country: Ran a 15:47.00 5K at the FAU Invitational… crossed the finish line in 27:21.0 in the 8K at the FSU XC Open… paced to an 8K finish of 25:58.6 at the Paul Short Run… earned a time of 27:28.4 in the 8K at the XC23 Invitational… finished the season in the 8K at the ACC Championships with a time of 28:26.7.
2021 Outdoor: Ran a personal-best time in the men's 1500m with a time of 4:11.13 at the Hurricane Invitational… Posted an eight-second personal best in the 1500m at 4:03.60 and followed up by winning the 3000m with a time of 9:09.03 at the Hurricane Collegiate Invitational… Competed in the 1500m at the Florida Relays running a time of 4:12.80… Ran his only 800m of the season in 2:06.50 at the Hurricane Alumni Invitational… Ran the 5000m at the ACC Outdoor Championships in 16:05.45.
2021 Indoor: Finished fourth in the men's 1000 meter run with a time of 2:45.60 at the Red Raider Invitational…Competed in the men's mile running a time of 4:32.55 and finished with a time of 8:52.86 in the men's 3000m at the Tiger Paw Invite.
2020 Cross Country: Competed in his first collegiate meet at the Mountain Dew Invitational, running a time of 27:25.67 in the men's 8K… Ran a 26:33.5 8K at the FSU Invitational…Finished the season at the ACC Cross Country Championships with a time of 26:49.6 in the men's 8K.
Personal: Was named to the Miami Herald All-State First Team… Son of Carol and Clay Wilson and brother to Cavan…