University of Miami Athletics
Pamela Richter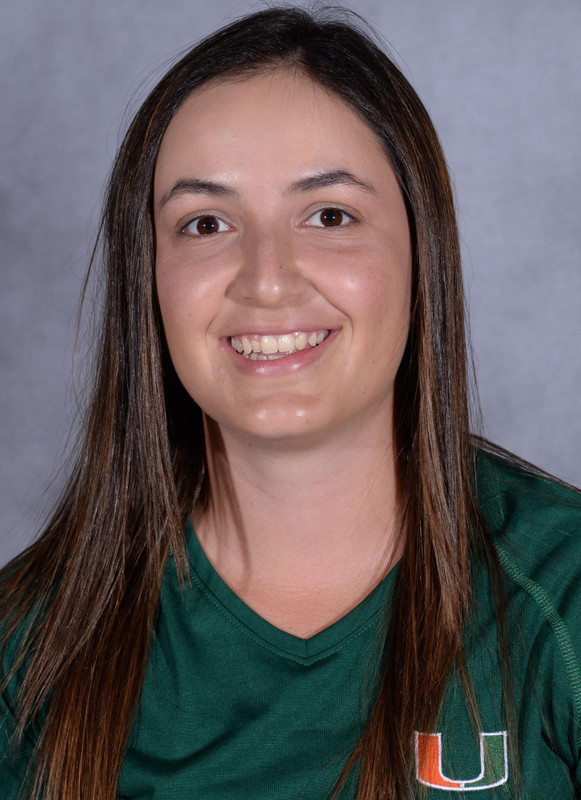 As a Freshman (2017-18): ITA Scholar-Athlete
Enrolled at Miami for the spring semester … Posted a 2-0 record in singles and a 2-1 mark in doubles … All completed matches were during the season-opening Miami Spring Invite … Logged a 6-3, 6-1 victory over Ohio State's Hannah Cseplo in her first-career singles match … Also downed Vanderbilt's Payton Robinette, 6-3, 6-4 … Made her dual match debut against Longwood, ending with an unfinished decision against Tanja Skalda … Teamed with Sara Culbertson for all three of her doubles matches … Down Vanderbilt's Robinette and Lauren Gish on back-to-back days to open the season, first by a 6-3 score and then a 6-4 final.
Prior to College: Peaked at No. 679 in the ITF Juniors rankings … Logged 15 singles wins and 11 doubles victories in ITF Juniors play … Second-highest ranked player her age in Guatemala since she was 14 … Played in the Junior Fed Cup each year from 2013 through 2016 … Won the Central American & Caribbean Tennis Confederation (COTECC) title in 2013, 2015 and 2016 … Second-ranked COTECC player at 15 years old … Spent time in 2016 and 2017 training in Florida … Honor roll all four years of high school.
Personal: Full name is Pamela Richter … Name is pronounced Pah-MEL-Uh RICK-Turr … Nickname is Pame … Born April 16, 1999 … Parents are Herman Richter and Lorena de Richter … Father is a textile engineer and mother is an interior designer … Has an older brother, Rudy, who is a Davis Cup player … Grandfather, Rudy Richter, was an elite tennis player … Intends to major in criminology … Enjoys traveling, watching movies, going to the beach, shopping and spending time with friends … Favorite athlete is Roger Federer because he does not give up and keeps fighting even when he is not playing his best … Best sports memories are winning the zone with Guatemala and advancing to the Junior Fed Cup … Chose Miami because she has always been fond of the school and likes the campus … Committed to Miami over Carnegie Mellon, FGCU, Maryland, Virginia Tech and Santa Clara.
 SINGLES
YEAR
TOTAL
FALL
SPRING
DUAL
ACC
*RNK
2017-18
2-0
0-0
2-0
0-0
0-0
0-0
CAREER
2-0
0-0
2-0
0-0
0-0
0-0
DOUBLES
YEAR
TOTAL
FALL
SPRING
DUAL
ACC
*RNK
2017-18
2-1
0-0
2-1
0-0
0-0
0-0
CAREER
2-1
0-0
2-1
0-0
0-0
0-0
*RNK = record vs. ranked opponents