University of Miami Athletics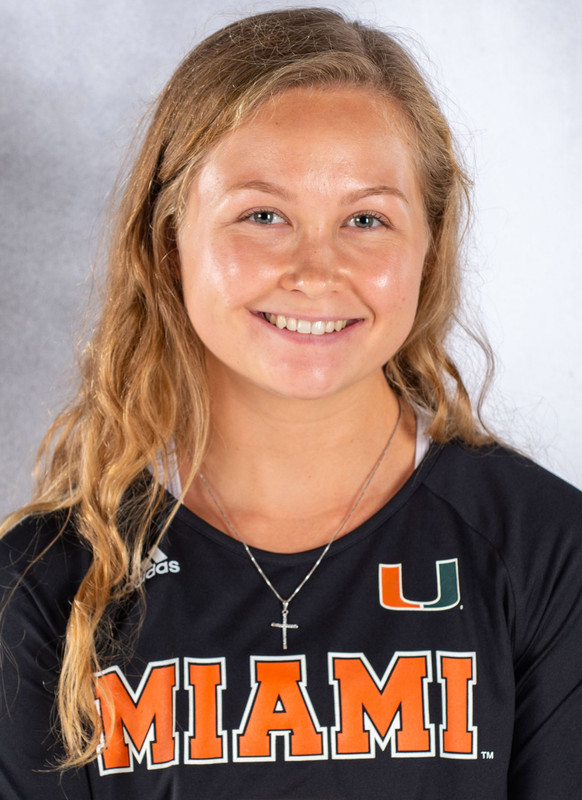 2021 (Junior): Did not play due to injury.
2020 (Sophomore): Did not compete in the fall season.
       Spring 2021: Competed for the first time her sophomore season in the 3-1 neutral site win over NC State, posting 10 digs and four assists (3/6)… Recorded four digs against Notre Dame (3/7)… Finished with two digs and one ace in the conference matchup against Virginia (3/13)… Added five more digs and one ace in the 3-0 non-conference sweep over Virginia (3/14)… Recorded season-highs in both aces (2) and digs (12) in the five-set win at Duke (3/19)… Finished with six digs and one assist in the 3-1 loss to Pittsburgh (3/20)… Was one dig away from a double-double in a 3-1 loss against Boston College with 12 assists and nine digs (3/26)… In a 3-1 win against Virginia Tech, she recorded a double-double with 23 assists and 12 digs (3/27)… Recorded 14 assists and four digs in a 3-1 loss to Louisville (4/1)… Finished with six digs and an ace in the season-finale sweep of North Carolina (4/2).
Sunshine State Challenge All-Tournament Team 
Freshman (2019): Played in 90 of Miami's 102 sets this season and led the Canes with 313 digs… In her opening match of the season at TCU (Sept. 13), Falck recorded 10 digs… She registered her first collegiate ace against Auburn (Sept. 14) and added a team-high 16 digs… At the Sunshine State Challenge, Falck tallied nine digs and one ace against FGCU (Sept. 20), a then season-high 20 digs versus FAU and her first multi-ace match with two, and finished the tournament with a win against UCF and 19 digs and a team and career-high three aces… In the opening weekend of ACC play, Miami swept the weekend and Falck recorded five digs at Wake Forest (Sept. 27) and 18 digs and one assist at Duke (Sept. 29)… Registered 11 digs and two assists against ACC Champions Pittsburgh (Oct. 4), while adding 16 digs, two aces and one assist in the Canes' first home ACC win against Virginia (Oct. 6)… Boasted a career-high 21 digs, two assists and an ace at North Carolina (Oct. 11) and then pitched 10 digs and two assists at NC State (Oct. 13)… Recorded back-to-back double-digit digs against Syracuse (10) and Boston College (19)… In her first rivalry match, Falck finished with a team-high 16 digs and four assists against FSU (OCt. 30)…. Followed with 17 digs at Virginia Tech (Nov. 3)… Led the Canes in four striaght matches in digs starting against Lousiville (16), Notre Dame (18), NC State (16) and at Louisville with nine… She finished her freshman season with 16 digs against FSU, including one ace and two assists (Nov. 27) and added eight more digs, one ace and assists against Georgia Tech (Nov. 29).
High School: Attended St. Francis Catholic High School for her first three years where she played on varsity each season and led the team to it's first ever State Championship in 2017…Graduated from Santa Fe HS where she was captain of the varsity squad and were the Runners Up in the State Championships, the first time Santa Fe had made the tournament in 45 years… Played for Top Select volleyball club in Orlando and played in the USAV "17U Open" National Championship game, finishing second overall… Was a two-time All-American in USAV Nationals in 2016 and 2017… Was named to the All-State First Team from 2016-2018.
Personal: Daughter of Glenn and Cindy Falck… Mom played softball at Florida State and appeared in the Women's CWS in 1992 and 1993… Has two siblings, brother Greg and sister Sarah.