University of Miami Athletics
Alfonso Restrepo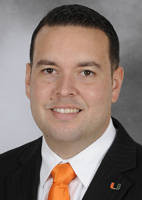 Alfonso Restrepo is in his fourth year as a member of the Hurricane Club staff, recently promoted to Associate Director of Development for Major Gifts.
During Restrepo's tenure, the Hurricane Club has reached several historic milestones, including over 9,000 Hurricane Club members and over $12 million raised in 2016. As a member of the Major Gifts team, Restrepo has been a key contributor in several fundraising initiatives and projects, including the Football and Basketball Victory Funds, as well as helping increase former student-athlete giving.
Restrepo has also helped secure several gifts in support of student-athlete scholarship endowments, as well as planned gifts benefitting UM Athletics.
Previously, Restrepo served as the Assistant Director of Development for the Panther Club at Florida International University from 2008-12. He oversaw the annual fund program at FIU, and served as a member of the major gifts team. During his tenure at FIU, athletics giving increased by more than 500 percent and donors to the Panther Club nearly quadrupled.
Restrepo was a member of FIU Athletics senior staff, assisting in roles such as soccer liaison for external events, social media implementation and premium areas coordinator for all athletic facilities. He also oversaw the mascot, cheerleading and dance programs at FIU.
Prior to FIU, he worked for the Miami Dolphins as a Project Support Specialist, focusing on season-ticket and group tickets sales as well as special event operations.
He is a 2006 graduate of the University of Miami and was a five-year member of the Hurricanes' co-ed cheerleading team.