W. Tennis Ranked No. 11 to Begin 2023
CORAL GABLES, Fla. – The University of Miami women's tennis team places No. 11 in the ITA Preseason Top 25 Coaches Poll, as announced Wednesday morning.
This is the 20th time in the last 21 years the Hurricanes open the season as a top-25 team in the ITA rankings, including their 14th top-15 position in the last 19 years.
The No. 11 season-opening spot is the best for Miami since it sat ninth to begin the 2014 campaign.
Miami, coming off a 19-6 (10-3 ACC) showing in 2022 that included a trip to the Sweet 16, is one of six ACC teams in the top 25, five of which are in the top 11. The Hurricanes are joined by second-ranked North Carolina, third-ranked NC State, sixth-ranked Duke, seventh-ranked Virginia and No. 25 Georgia Tech.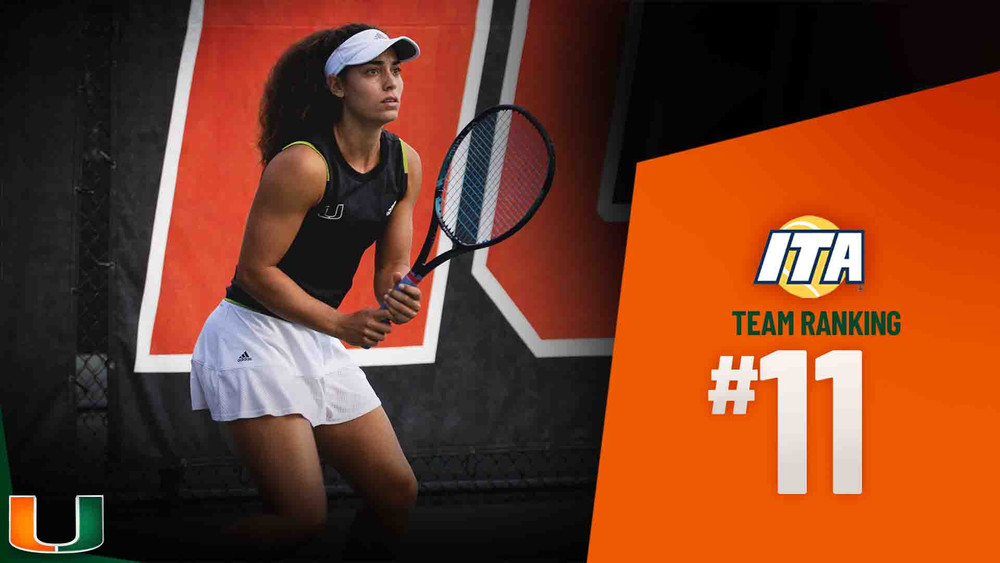 As announced Nov. 16 in the post-fall rankings, Miami features a trio of ranked singles players and one ranked doubles pair. Redshirt sophomore Alexa Noel places No. 14, with fifth-year senior Daevenia Achong at No. 60 and junior Isabella Pfennig at No. 13. Achong and Noel together form the No. 14 duo on the doubles list.
The complete ITA Preseason Top 25 Coaches Poll can be found HERE.
The Hurricanes start their 2023 campaign with the Miami Spring Invite, set for Jan. 13-15 at the Neil Schiff Tennis Center. Top-ranked Texas, the two-time reigning NCAA champion, will also be in attendance, alongside third-ranked NC State and No. 20 Vanderbilt.
To keep up with the University of Miami women's tennis team on social media, follow @CanesWTennis on Twitter, Instagram and Facebook.