Takeaways from Miami's Game Against Clemson
CLEMSON, S.C. – The Hurricanes knew they faced a challenge against ninth-ranked Clemson.
The Tigers are competing for yet another berth in the College Football Playoff. They've already secured their spot in the ACC Championship Game. And for the better part of the last decade, they've been one of college football's premier measuring sticks, winning national titles in 2016 and 2018 and six straight ACC titles from 2015 to 2020.
Still, Miami's players and coaches entered Saturday's matchup at Memorial Stadium knowing the Hurricanes have played well on the road and were coming off an impressive win over Coastal Division foe Georgia Tech in Atlanta.
Clemson, though, proved to be every bit the powerhouse Miami expected.
The Tigers built a 24-point halftime lead and while Miami cut the deficit to two scores, it wasn't enough in what was ultimately a 40-10 win for Clemson.
"We got ourselves in a situation where we had the ball, down a couple scores [in the third quarter], but then a couple mistakes and the game got away from us," Hurricanes head coach Mario Cristobal said.
With their final regular-season road game now behind them, Miami turns its focus to Saturday's home finale at Hard Rock Stadium against Pittsburgh.
Before that, though, a look at what the Hurricanes said they can take away from their matchup against Clemson.
1. Even against long odds, the Canes showed fight
The Hurricanes found themselves in a tough spot when they took the field for the start of the third quarter, down by three scores.
But Miami's defense gave the Hurricanes a spark, keeping Clemson out of the end zone on the Tigers' first possession of the half. On Miami's ensuing drive, Andy Borregales put Miami on the board with a 44-yard field goal.
A trio of turnovers and a touchdown from Jake Garcia to Kahlil Brantley followed and early in the fourth quarter, Miami had pulled within 26-10 with more than 13 minutes still on the clock.
Though mistakes proved costly in the fourth quarter, as Cristobal noted, the Hurricanes shifted momentum early in the second half and found ways to make plays, even while trying to overcome a tough deficit.
Their effort, players said, was a nod to the culture Cristobal is building.
"Obviously, tonight didn't go the way we wanted it to. But you know, I will say that I thought guys were fighting until the very end," veteran tight end Will Mallory said. "First half didn't go well for us, but the second half, no matter what the score was, no matter what was going on, guys kept fighting. I think that's extremely promising."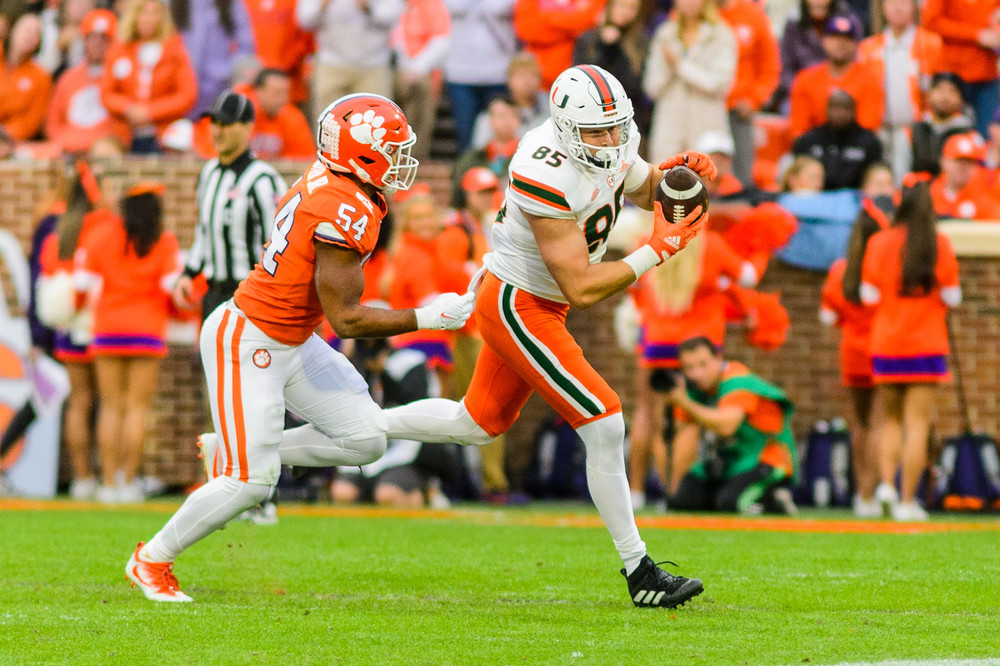 2. Miami's defense shifted momentum in the second half
During the third quarter and early in the fourth, the Hurricanes forced a series of Clemson turnovers including a DJ Ivey interception, an Ivey fumble recovery after safety Kam Kinchens forced a loose ball, and a Jordan Miller fumble recovery and 26-yard return that came after teammate Akheem Mesidor sacked Clemson quarterback DJ Uiagalelei.
Kinchens finished with a game-high 13 tackles, broke up two passes, and had the forced fumble. Mesidor finished with two sacks and both James Williams and Caleb Johnson each totaled nine tackles.
Those efforts, Cristobal said, made a difference.
"The defense kept us in the game. The defense gave us an opportunity," he said. "Again, down by 16 points, you have the ball and good field position, you have a chance to make this a really good game in the fourth quarter. We came up short."
3. The offensive struggles return
Miami has had its share of offensive struggles at times this season and those troubles reappeared Saturday.
The Hurricanes tried to find a spark, alternating between Jacurri Brown and Garcia at quarterback as Tyler Van Dyke continues recovering from an injury, but Clemson's defense kept the Hurricanes from ever really getting in a consistent rhythm.
Miami's lone touchdown came after Miller's 26-yard return set the Hurricanes up inside the Clemson 10-yard line.
"They did a good job up front. They've got a really good front seven. We didn't get a ton of movement, couldn't get the ground game going and the quarterback runs didn't pop until late in the game," Cristobal said. "The way they were playing, they were forcing the handoff and so we just didn't get much going. Credit to them. And then us, we didn't execute as well as we could."
4. Specialists deliver
Borregales and punter Lou Hedley have been two of Miami's most consistent performers all season and that continued at Clemson.
Borregales converted on his lone field goal attempt – a kick from 44 yards – and Hedley hit on a season-long 61-yard punt that pinned Clemson inside its own six-yard line.
In all, Hedley averaged 50.8 yards on his six punts with three of those landing inside the 20.
5. The home finale awaits
Miami's players have just one regular-season game left on the schedule and it will come Saturday at Hard Rock Stadium against Coastal Division foe Pittsburgh.
The Panthers enter the matchup with a 7-4 record, have won three straight, and are coming off a 28-26 win over Duke.
For Miami's seniors, it will be their last game at Hard Rock Stadium and for all of the Hurricanes, it will be one last opportunity to secure bowl eligibility.
After Saturday's game at Clemson, the Hurricanes stressed they wanted to make sure they finish the year off on a positive note.
And Cristobal said he expects nothing less than a strong effort from his team this week.
"They'll do well, expect them to do well. Expect to get on the plane with pride and get right back to work," he responded, when asked how he expected the Hurricanes to respond after the loss to Clemson. "I wouldn't expect anything else. If you can't do that, you shouldn't even get on the plane…There's no way around this stuff. You've got to work it into reality."