ProCanes Kick Off 2022 Season
While the college baseball regular season is heading into the final stretch, Hurricanes Baseball alumni are starting to show out in the pros.
More than 15 players are spread out from Single-A to The Show, including two active players in Major League Baseball.
Check below to see how Miami's alumni are performing:
Zach Collins '16: Toronto Blue Jays, AL East
Collins has been off to a hot start with his new team north of the border. The catcher, who was traded from the Chicago White Sox to the Toronto Blue Jays at the beginning of the season, has not missed a beat being inserted into a new lineup. The former 10th overall pick has three home runs and seven RBI over his first 47 at-bats as a Blue Jay.
Yasmani Grandal '10: Chicago White Sox, AL Central
The 2010 ACC Player of the Year is in his 12th season in Major League Baseball, and his third with the Chicago White Sox. Grandal is coming off a campaign where he smacked 23 home runs and totaled a .940 OPS. The two-time NL All-Star has a hit in six of his last seven games, heading into May.
Bryan Garcia '16: Toledo Mud Hens (Detroit Tigers), Triple-A International League
Garcia has tossed 7 2/3 scoreless innings to begin the season. Miami's all-time saves leader has allowed just four hits, serving as a key late-inning arm for the Mud Hens. The 2016 NCBWA Stopper of the Year holds a 2.84 ERA over five seasons in Minor League Baseball. In his last outing on May 4, Garcia pitched an 1 1/3 scoreless innings against the Worcester Red Sox.
Romy Gonzalez '18: Charlotte Knights (Chicago White Sox), Triple-A International League
Gonzalez, who became the 65th Hurricane to make it to the big leagues in 2021, has emerged as one of the top prospects in the White Sox organization. The utility man is starting off the 2022 campaign with the Charlotte Knights. With a home run against the Memphis Redbirds on April 13, Gonzalez has smacked five career homers at the Triple-A in only 100 at-bats.
Jacob Heyward '16: Richmond Flying Squirrels (San Francisco Giants), Double-A Eastern League 
The 18th round selection of the San Francisco Giants in 2016 is in his sixth season in Minor League Baseball. Heyward, who is in his third year with the Flying Squirrels, got off to a strong start, hitting .333 with three multi-hit performances across his first 10 games.
Evan McKendry '19: Montgomery Biscuits (Tampa Bay Rays), Double-A Southern League
McKendry has made the jump to Double-A after spending last season with the Bowling Green Hot Rods, the High-A affiliate of the Tampa Bay Rays. McKendry has thrown 8 1/3 shutdown frames to begin his 2022 season. In his first career Double-A on April 26, McKendry struck out four across three scoreless innings.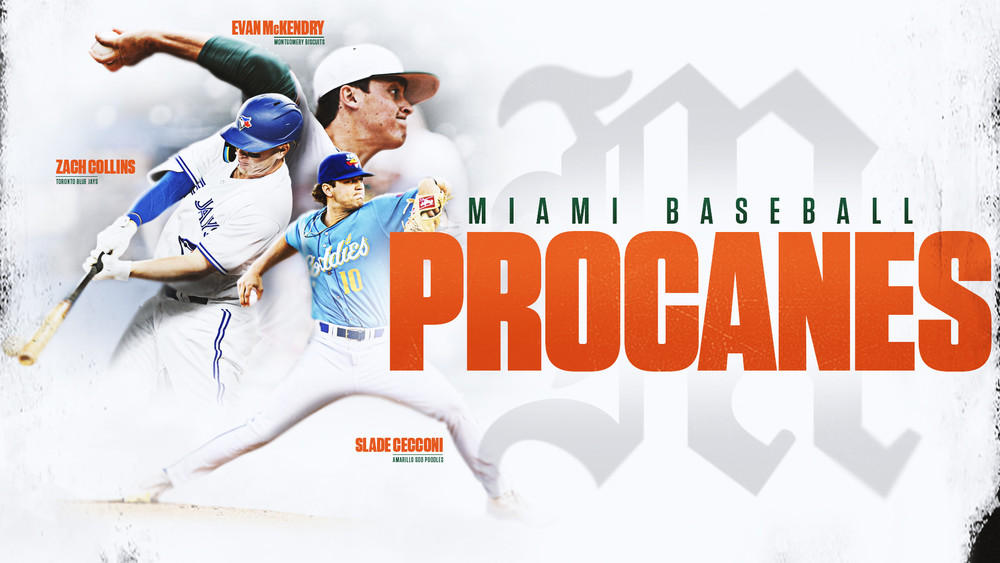 Slade Cecconi '20: Amarillo Sod Poodles (Arizona Diamondbacks), Double-A Texas League
The 2020 first round pick has vaulted into Double-A in only his second full season in pro ball. Over his first three starts in Amarillo, Cecconi has a 3.29 ERA in 13.2 innings pitched. The Diamondbacks farmhand has recorded a 7.7 strike-out-walk-ratio, punching out 23 hitters and yielding only three free passes.
Brian Van Belle '20: Greenville Drive (Boston Red Sox), High-A South Atlantic League:
Van Belle is entering his second season with the High-A Affiliate of the Boston Red Sox, the Greenville Drive. Over 23 career starts, Van Belle has a 4.70 ERA across 105 1/3 innings pitched, punching out 106 batters.
Jake Smith '21: Tri-City Dust Devils (Los Angeles Angels), High-A Northwest League
Smith has turned in four starts to begin 2022 for the Tri-City Dust Devils, the High-A Affiliate for the Angels. The right-hander has a 3.31 ERA in 16 1/3 frames, striking out 19 batters along the way. In his last outing on April 27, Smith pitched five innings, surrendering only one earned run on three hits.
Anthony Vilar '21: Fort Wayne Tin Caps (San Diego Padres), High-A Midwest League
The 2021 All-ACC second team selection is at the High-A level in his first full professional season. The former infielder turned catcher tallied knocks in three consecutive contests to begin the year. Vilar is hitting .250 with two RBI in his first 20 at-bats.
Greg Veliz '19: Inland Empire 66ers (Los Angeles Angels), Single-A California League
Veliz opened his 2022 campaign, totaling a 3.68 ERA in April with the Inland Empire 66ers, the Single-A Affiliate of the Los Angeles Angels. Over his time in the Minors, the Key West, Fla., native has notched a 4.20 ERA with 66 strikeouts in 49 1/3 innings.