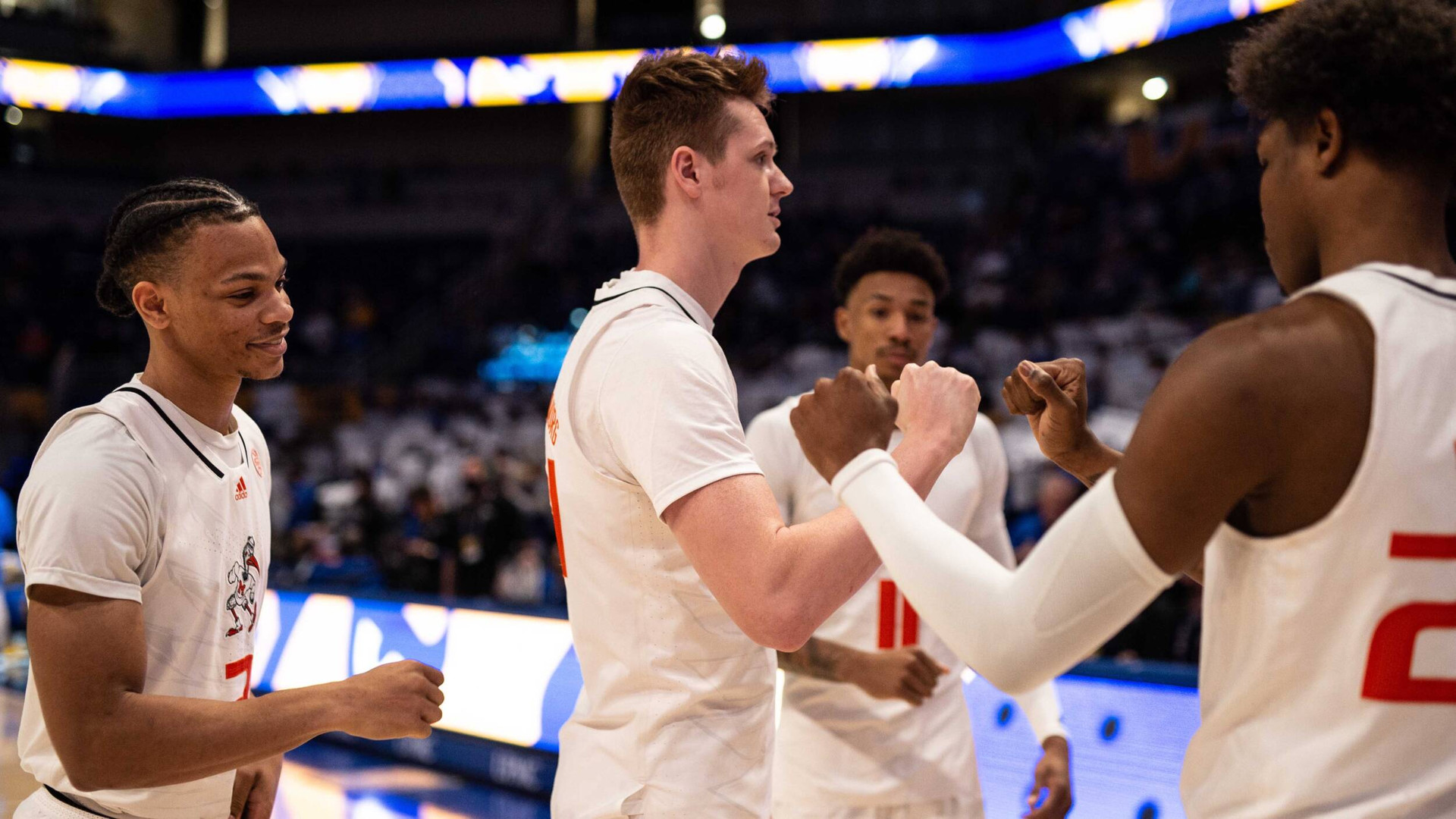 CORAL GABLES, Fla. – The University of Miami men's basketball team started the 2021-22 season with low expectations from external prognosticators.
The Hurricanes, coming off a 10-17 (4-15 ACC) campaign, were picked No. 12 in the 15-team Atlantic Coast Conference. They had many vital parts expected to play big roles who did not compete for them last year.
Despite all that, the Hurricanes are in the NCAA Tournament, earning a No. 10 seed, the third-highest mark of any team in the league.
Miami (23-10, 14-6 ACC) is one of just 16 Division I teams that has improved its winning percentage by at least 32 percent from last year. Its reward is a trip to the "Big Dance" for the first time since 2018.
"I think it's a tremendous accomplishment for this team knowing that we had to overcome [working in] a lot of new faces and a new system," Miami head coach Jim Larrañaga said. "We basically implemented a five-out offense and a scramble defense to give ourselves the best chance. Once the players kind of adopted that style and become proficient at it, it gave us the best chance for success. To finish fourth in a very competitive ACC, I think, was a tremendous accomplishment for this team."
After a 4-3 start that included a 16-point defeat against Dayton and a 32-point setback versus then-No. 10/9 Alabama, both in Kissimmee, Fla., Miami began to fully embrace a small-ball system.
Beginning in December, the Hurricanes rattled off nine consecutive victories. They are 19-7 since departing that tournament in Central Florida.
Miami got more and more comfortable, at both ends of the floor, playing a lineup that usually consisted of four guards and a forward. Much of that success came from its shortest and tallest player among the group, both of whom were among the several key cogs who did not play for the Hurricanes in 2020-21.
"From an offensive standpoint, the most important thing was to develop really good team chemistry and to have guys be very unselfish. With Charlie Moore and Sam Waardenburg sharing the ball with the other starters, it made for a very cohesive and efficient offense," Larrañaga shared. "And then, at the defensive end of the floor, we felt like we had to force more and more turnovers because we weren't a big, physical team. We had to create mistakes by the opponents. The more we did it, the better we got at it. By the end of the [regular] season, we were the best team in the ACC at forcing turnovers and getting steals."
The Hurricanes assuredly now know exactly who they are as a team.
What many of them do not know, however, is what March Madness is like. Just four Miami players—Moore, Waardenburg, Kameron McGusty and Rodney Miller Jr.—have played in an NCAA Tournament game. One other, Deng Gak, has made the field.
The Hurricanes' roster has a combined 11 points in NCAA Tournament action, nine from McGusty, now a sixth-year redshirt senior, when the guard was at Oklahoma in 2018. The other two are from Moore, also a sixth-year redshirt senior guard, when he was at Kansas in 2019.
Despite its inexperience in the event, Miami is a veteran team that has consistently proven it can handle any situation that comes its way. Larrañaga wants his team to enjoy this next one.
"The message is going to be to have more fun than you've ever had before playing basketball, to just enjoy the event, enjoy the environment," the two-time ACC Coach of the Year said. "[There should be] no complaining, no whining, no excuses; just enjoy playing with your teammates and your friends."
While many of the Hurricanes have not played in the NCAA Tournament, they did get a little taste of what it is like last week in Brooklyn, N.Y.
There, fourth-seeded Miami went 1-1 in the ACC Tournament and advanced to the semifinals for the fourth time in program history. The Hurricanes won the first contest, 71-69, over No. 13-seeded Boston College in overtime and then dropped a hard-fought 80-76 decision against top-seeded and seventh-ranked Duke the next day.
The first matchup, in particular, is one their coach thinks could help them as they prepare for the NCAA Tournament.
"The game was so intense, it took a last-second layup by Jordan Miller to win," Larrañaga said. "Really, the message this Friday is, 'You're going to play another really close game. Everybody is good and you've got to be prepared to win a close game and enjoy being in a close game.'"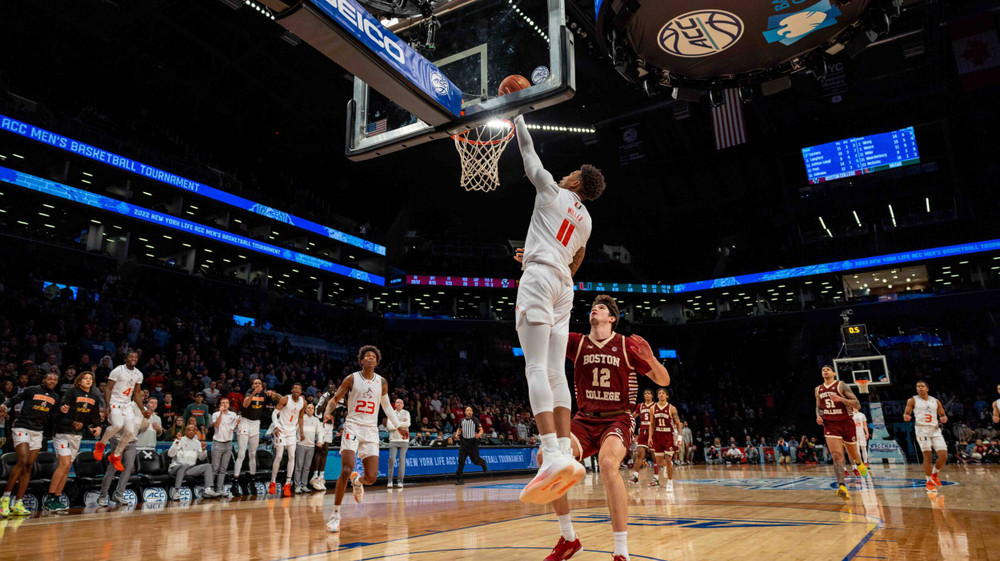 Larrañaga has led Miami to half its NCAA Tournament wins in program history and two of its three Sweet 16 berths. He knows just what it takes for his players to get ready to excel in March, beginning Friday at 3:10 p.m. against seventh-seeded USC in Greenville, S.C.
One important element of that is a mental approach that the team needs to carry on into the next step of its journey after using it all year.
"The first thing is, visualization is very important. You've got to visualize how well you want to play," Larrañaga shared. "As a player, you've got to visualize yourself playing defense, playing offense and executing the game plan. But you also have to visualize the opponent and who you're playing against and what is the best way to defend them and attack them. I think our players have gotten really good at that."
The Hurricanes assuredly have a difficult task ahead of them with USC, a team ranked No. 21/22 nationally. The Trojans are a stellar 26-7 (14-6 P12) on the season and finished third in the Pac-12.
In fact, last year, under the direction of head coach Andy Enfield, USC went all the way to the NCAA Elite Eight. The Trojans also possess one essential trait the Hurricanes are, well, short on.
"They're the fourth-tallest team in college basketball. With their size and skill, they are going to be a handful. We're one of the smaller teams in terms of height and bulk, probably, in the Tournament," Larrañaga said. "With that in mind, we have to take advantage of what we are good at and that is tremendous guard play, highly skilled at all five starting positions and really great chemistry. So, we've got to bring out our best. Our synergy has to be at the highest level."
During an appearance on ACC Network's "Packer & Durham" Tuesday morning, McGusty, a First Team All-ACC honoree, was asked who USC reminds him of. He said Wake Forest, a team that won 23 games and finished fifth in the ACC.
That assessment is one his head coach certainly agrees with.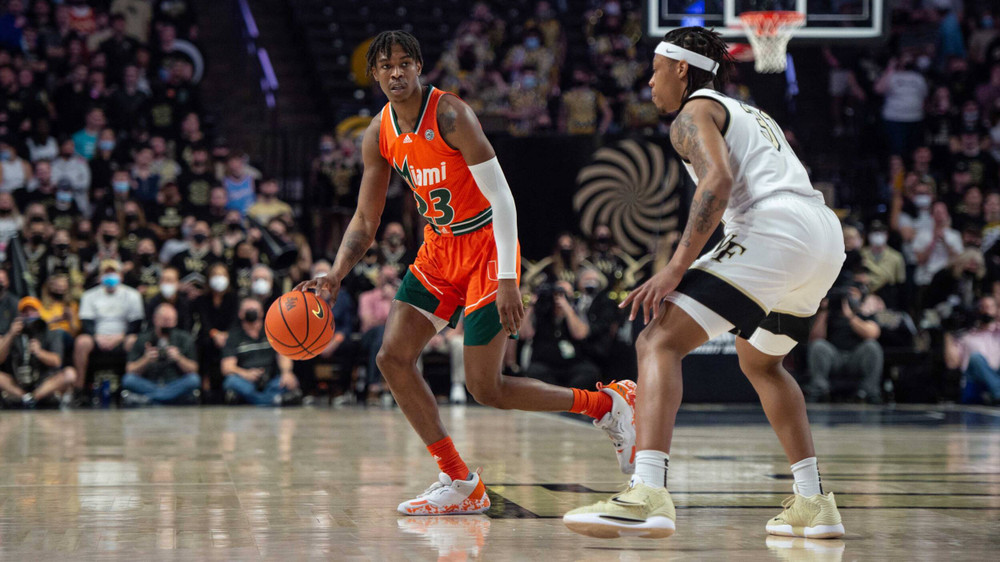 "I think their size is similar to Wake Forest. I think that is a good comparison," Larrañaga said. "We've played Wake twice. They're very big, much bigger than us. They have similar size to Southern Cal."
The go-to player for USC is junior forward Isaiah Mobley, who is averaging 14.3 points, 8.5 rebounds and 3.2 assists per game. The Murrieta, Calif., native earned First Team All-Pac-12 honors.
The older brother of former top-five pick Evan Mobley, Isaiah has developed into one of the top big men in the nation in his own right. Miami is well aware of just that.
"Isaiah Mobley is not only their leading scorer [and rebounder], but he's also [nearly] their leader in assists. He's very skillful," Larrañaga said. "He's a complete offensive player. He's big, strong. He loves to back his man in, but he can shoot the three, as well. He's someone we're going to have to pay very close attention to and try to slow him down."
Miami is 0-2 all-time against USC, including 0-1 in neutral-court affairs. The two sides, however, have not met since Dec. 27, 1992, nearly 30 years ago, when the Trojans earned an 86-66 victory in West Palm Beach, Fla.
The Hurricanes own an 8-10 all-time record in the NCAA Tournament, including a 4-4 ledger under Larrañaga. Including the NIT, Miami is 19-22 all-time in postseason play, with a 9-6 mark during Larrañaga's tenure.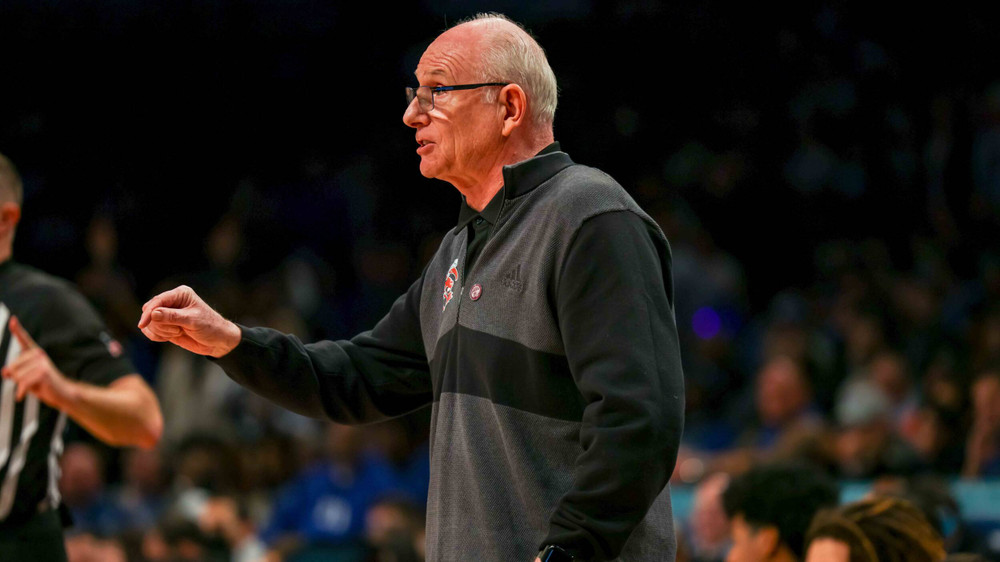 Miami's NCAA Tournament opener will be broadcast live on truTV HERE, with Jim Nantz, Grant Hill, Bill Raftery and Tracy Wolfson on the call. Joe Zagacki will have the radio broadcast on AM 560 Sports WQAM HERE, while Bill Rosinski and Jordan Cornette will call the game for Westwood One HERE. In addition, live stats will be available HERE.
The victor of Friday's matchup will play Sunday against second-seeded Auburn or No. 15-seeded Jacksonville State in the NCAA Tournament Round of 32. The game time and TV designation are to-be-determined.
To keep up with the University of Miami men's basketball team on social media, follow @CanesHoops on Twitter, Instagram and Facebook.