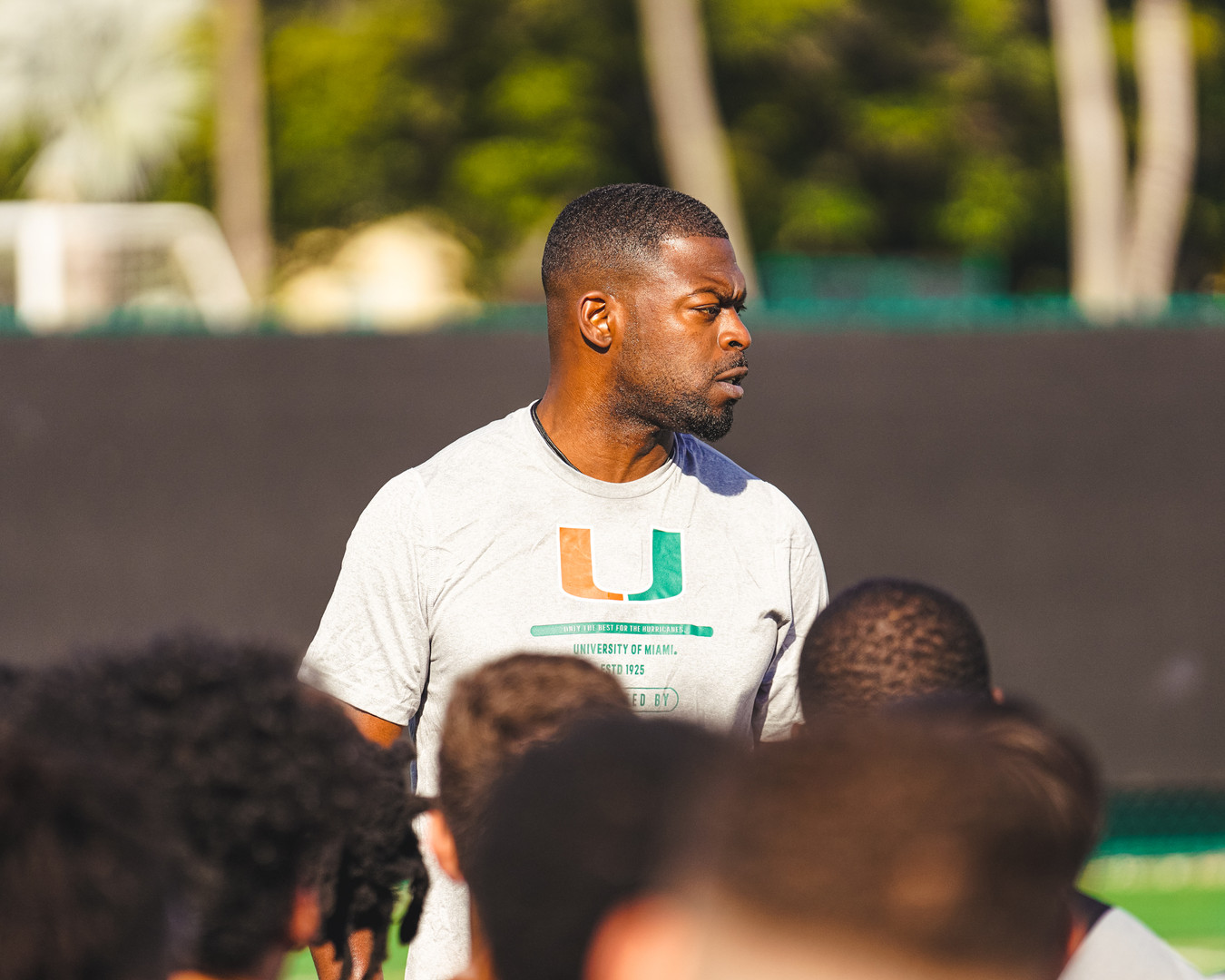 CORAL GABLES, Fla. – He was 16-years-old, a freshman learning his way, figuring he'd redshirt.
Then the safety ahead of him on the depth chart – veteran Rick Sherrod – got hurt and suddenly, Jahmile Addae was called upon to make the first start of his West Virginia career.
Against the 2001 Miami Hurricanes. On a Thursday night. At the Orange Bowl.
"It was one of those environments that you said to yourself as a player 'If I can get through this, there's nothing I'll go through within my career that's going to be an issue for me,'" Addae recalled with a smile. "I used it, really, as a springboard into my career as a player. But being across from those guys, you respected what they were and who they were.
"Miami got the best players and then they worked harder than anyone else. You could tell."
That evening didn't quite go the way Addae and the Mountaineers hoped.
Though the young safety managed five tackles, the top-ranked Hurricanes notched a 45-3 win, improved to 6-0 and went on to win the national championship with a team that is still widely considered one of the best to ever play college football.
Today, Addae finds himself walking through the same facility and working on the same practice field as those 2001 Hurricanes and his mission is quite simple.
Miami's new secondary coach wants to do his part to help shape a new generation of Hurricanes that can compete for conference and national titles sooner rather than later.
"I think a lot of universities run with the tag of 'DBU, the home of the DBs,' but there are only a few universities that can actually say that and the University of Miami is one of them," said Addae, who earlier this month joined head coach Mario Cristobal's staff. "We all know who's come through here and who's played here. When you take this job, you're carrying the flag for some real dudes on the back end. Some Hall of Famers, some All-Americans, and not just those guys, even the guys that played good football for this University. You become the bearer for all those guys. It's a big responsibility and it's one I don't take lightly. I'm excited."
Addae brings with him to Miami a championship pedigree.
Last fall, he coached the defensive backs at Georgia where the Bulldogs' secondary ranked No. 12th in the nation in pass defense, allowing just 189.1 passing yards per game.
During Georgia's run to the College Football Playoff National Championship, the Bulldogs hauled in 16 interceptions, which ranked eighth in the country. And Georgia was No. 1 in red zone defense, with opponents scoring just nine touchdowns in 32 attempts and No. 2 nationally in total defense with opponents managing an average of only 267.9 yards per game.
Before coaching at Georgia, Addae coached at his alma mater, where in 2020, the Mountaineers had a passing defense that ranked first nationally in fewest passing yards allowed (159.6) and finished fourth in the country in total defense (291.4 yards per game).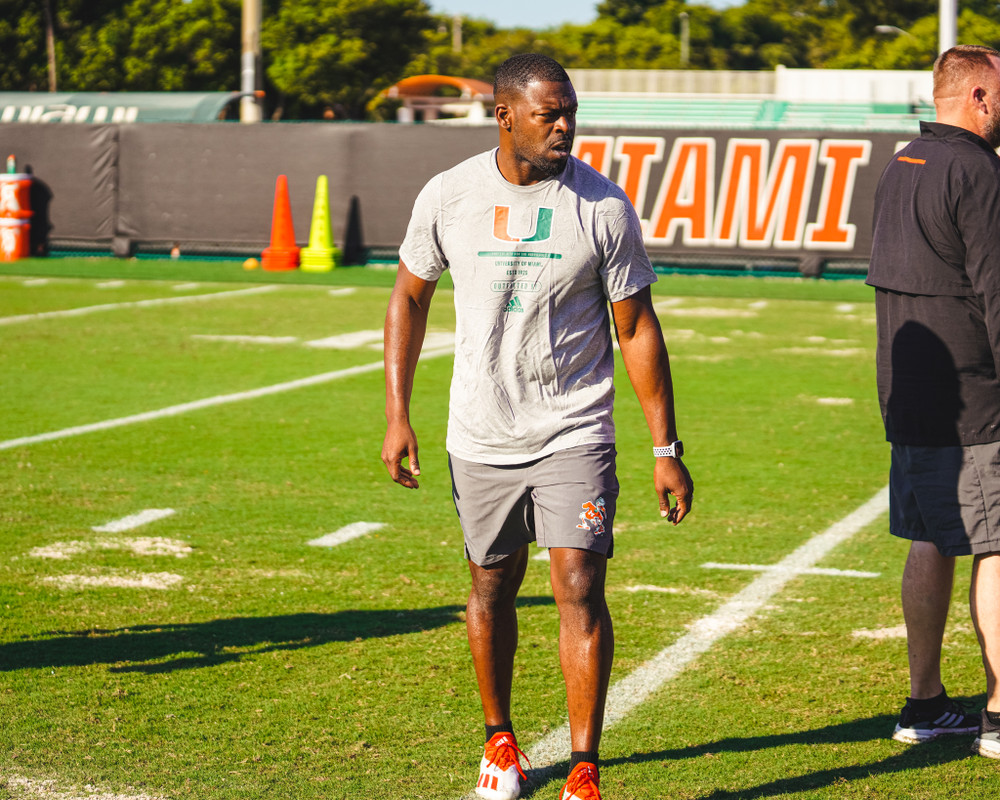 Addae has also coached at Minnesota, Arizona, Cincinnati and Michigan, each stop helping him develop a coaching style he likes to describes as "informative."
His goal? Make sure his defensive backs are learning and improving on a week-to-week basis.
"What I want to do is make sure that what I know, my players know and that they can recall it in situations in which they need it," Addae said. "For me, it's all about educating these guys, teaching them, allowing them to fail up and just grow and grow. I think if you have continuous growth, what ends up happening is you end up with a finished product you like. It's all about the maturation process and that starts with giving them the information.
"Secondly, I'm going to make sure they're held accountable. We're going to do things the right way on and off the field. I think there's a correlation between the two and also in life. That's going to be a part of what we do and I think, a big part of who I am as a coach. Our players are our main focus and we're going to make sure they get the information they need."
And though he's only been in Coral Gables a short time, already, both the players he'll be working with have made an impression, on the field and in the football facility.
"Our guys are eager and hungry to learn and to work…These guys are active, they ask questions. They want more and more and more," Addae said. "As a coach, you have to be able to capture that. That's a great time for you to build relationships and really lock arms with these guys. They've been great…These guys really want to be great and that's the first step to being great. The next step is actually putting in the work and they're doing that as well. I can tell you this: they're going to be a treat to coach."
The chance to work with Miami's players in the secondary isn't the only thing that appealed to Addae when the opportunity to join the Hurricanes presented itself.
Coming home to Florida was appealing for the Valrico native whose parents still live in Tampa and have already visited South Florida to reconnect with their son and grandchildren. Addae was intrigued, too, by the opportunity to recruit talent-rich South Florida for Miami.
But, he says, the biggest factor was the opportunity to work with Cristobal – a coach whose vision he believes in and who he says is intent on helping the Hurricanes return to championship form.
"I think if you spend two or three minutes around him, you'll realize this isn't a job for him," Addae said. "He's not a hired gun. He's not somebody that's coming in to do this job to catapult him to the next one. This is where his feet are. That's here, at the University of Miami. Every day, when he comes in, you can see the energy and the passion that he works with. And what that does to a staff, it forces everybody else to raise their bar up and match that energy, match that gumption, match what he's doing for the program. It creates a competitive environment, not only for the players, but also the coaches. I think it breeds the best out of everyone."