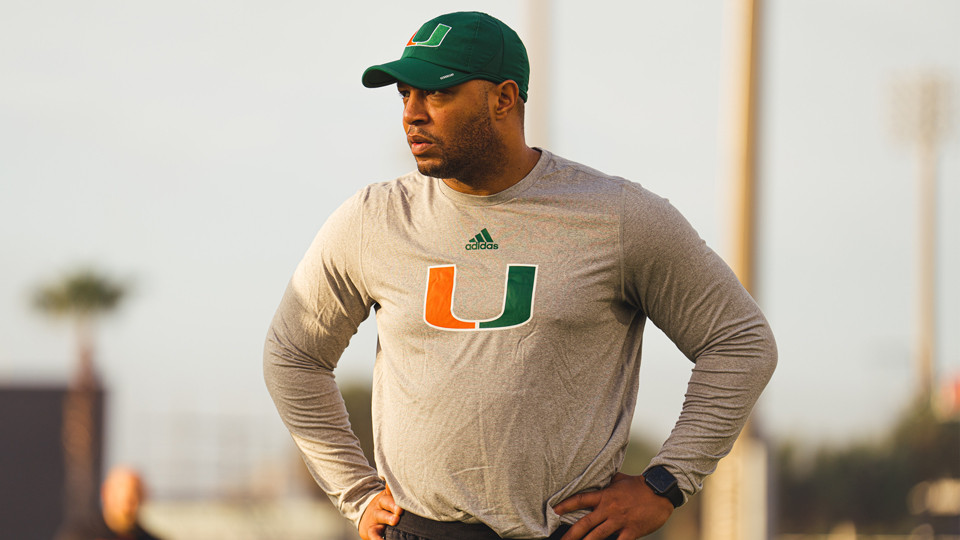 CORAL GABLES, Fla. – Josh Gattis researched the roster and was impressed by what he discovered. He studied the film. And there were plenty of conversations with head coach Mario Cristobal.
The more he learned about Miami, the more intrigued he was by the Hurricanes' potential.
There was one little thing, though, that wasn't quite what he hoped.
"I was actually a little bit disappointed that Duke and North Carolina play here this year because I kind of wanted to go on the road," smiled Gattis, a North Carolina native who played at Wake Forest. "All my family is in North Carolina and my family's everything. They've traveled many miles and across many states to support me. That's something I'm thankful for."
While the Hurricanes may not visit Tobacco Road this fall, there will still be plenty of opportunities for Gattis to reconnect with his Carolina family now that he's living – and coaching, of course – in Miami.
Gattis, who in December was named the Broyles Award winner as the nation's top assistant college football coach, is the latest addition to Cristobal's staff, joining the Hurricanes as Miami's new offensive coordinator earlier this week.
He most recently held the same position at Michigan where last season, the Wolverines advanced to the College Football Playoff and averaged 443.1 yards and 35.8 points per game, both of which ranked in the top 25 nationally.
The Wolverines also ranked 15th in rushing offense (214.4 yards per game), 16th in third-down conversion (46.03 conversion percentage) and 24th in red-zone offense, scoring 90 percent of the time they got inside the 20-yard line. They won the Big Ten Championship and in Gattis' first two seasons at Michigan, he coached 13 All-Big Ten players.
Prior to his three-year stint at Michigan, Gattis worked as the co-offensive coordinator and receivers coach at Alabama, where he mentored All-American and 2018 Biletnikoff Award winner Jerry Jeudy and Miami Dolphins first-round NFL pick Jaylen Waddle, who last month was named to the Pro Football Writers Association All-Rookie team.
Gattis has also coached at Penn State, Vanderbilt and Western Michigan, holding various offensive responsibilities at each stop. It's been a shift of sorts for the former second-team All-ACC safety, but Gattis believes his background as a defensive player has only helped him on the offensive side of the ball.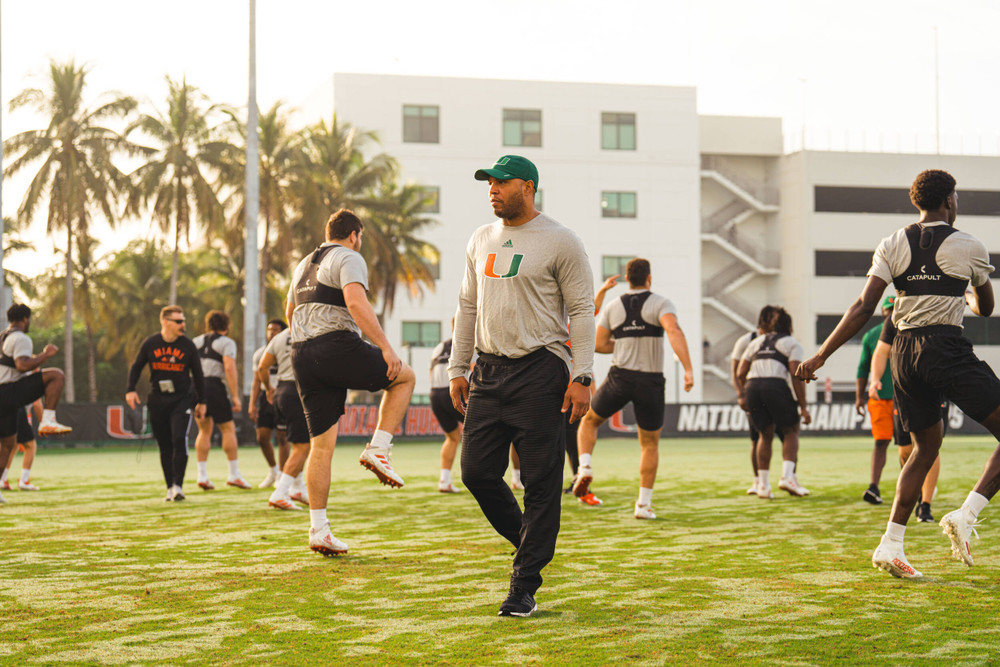 "My first opportunity that presented itself in coaching was on the offensive side of the football and I was fortunate to work for a tremendous offensive coordinator who's been a mentor to me by the name of John Shoop," said Gattis, who started his coaching career as a graduate assistant at North Carolina. "Coach Shoop challenged me. He said, 'Hey, come over to offense…just learn it. It'll be great for your defensive career' and little did I know I was going to dive all in and fall in love with offensive football. Early on in my career, it really allowed me to develop an appreciation to learn because I had to learn it each step of the way, each place I went to because I didn't have that previous experience on the offensive side.
"But what I did do as a defensive player is I always studied different offenses. I always studied route running, receivers, little intricate details like that. So I was able to teach my players from the opposite side of things and allow them to understand what a defense is trying to do…I haven't looked back since. I'm fully converted. I'm an offensive guy, but with a deep background on the defensive side."
Now, Gattis will use that background to work with an offense led by the reigning ACC Rookie of the Year, Hurricanes quarterback Tyler Van Dyke.
Gattis will also get to work with a stable of talented running backs, including Jaylan Knighton and Donald Chaney, Jr., transfer and Miami native Henry Parrish and four-star signee TreVonte' Citizen. Young receivers Key'Shawn Smith, Romello Brinson, Jacolby George and Brashard Smith are all back, as are tight ends Will Mallory and Elijah Arroyo, who will be joined by four-star signee Jaleel Skinner.
All of that – and the rest of Miami's offensive roster – has Gattis excited about what Miami's offensive potential can be.
"It's exciting because you look out there and you see our athleticism. You see the talent that we have. And remember, I put on the tape. I didn't come into this situation blind. I wanted to do the research," Gattis said. "You look at our quarterback room and our depth, our running back and room, the talent, our tight end room. I'm really excited.
"When I look at it, we have a ton of youth. So you know, we're really kind of ready to be shaped and molded. A lot of guys got valuable game experience last year, thrust in critical situations. That game experience, that's going to allow them to come into this year with much more confidence in themselves, confidence in their abilities. Now we've got to develop that confidence within our coaches and our players…Collectively, we're going to do this together. This isn't going to be about Josh Gattis or Coach Cristobal. This is going to be about Miami. This is going to be about how we play together as Miami, as a football team and come together and join together as a family."
Like the rest of the coaches on Miami's staff, Gattis understands that coaching the Hurricanes comes with expectations. The program's former greats are always watching. Fans are hungry to see Miami return to championship form.
And Cristobal, the Hurricanes' new head coach is a two-time national champion who wore orange and green and has returned to his alma mater driven to see Miami succeed.
Gattis welcomes all of that – and is eager to get started.
"This is a special place. This is a place that's built on standards and expectations and the expectation here is to achieve all of our goals at the highest level, to win championships," Gattis said. "That's something we embrace. You look at Coach Cristobal's history, my history, we embrace challenges like that. I'm not afraid to take things head on, but we're going to do it together. We've got a great staff. We've got a great offensive staff. The opportunity to team up with Coach [Kevin] Steele on the defensive side. When you start looking at the outline that's being put in place, it just makes you really excited to be here and I'm so thankful for Coach Cristobal giving me this opportunity, believing in me and we're going to work hard at this thing, every day. We want to make sure that everyone knows we'll give our all to the University of Miami and we're going to help bring it back."