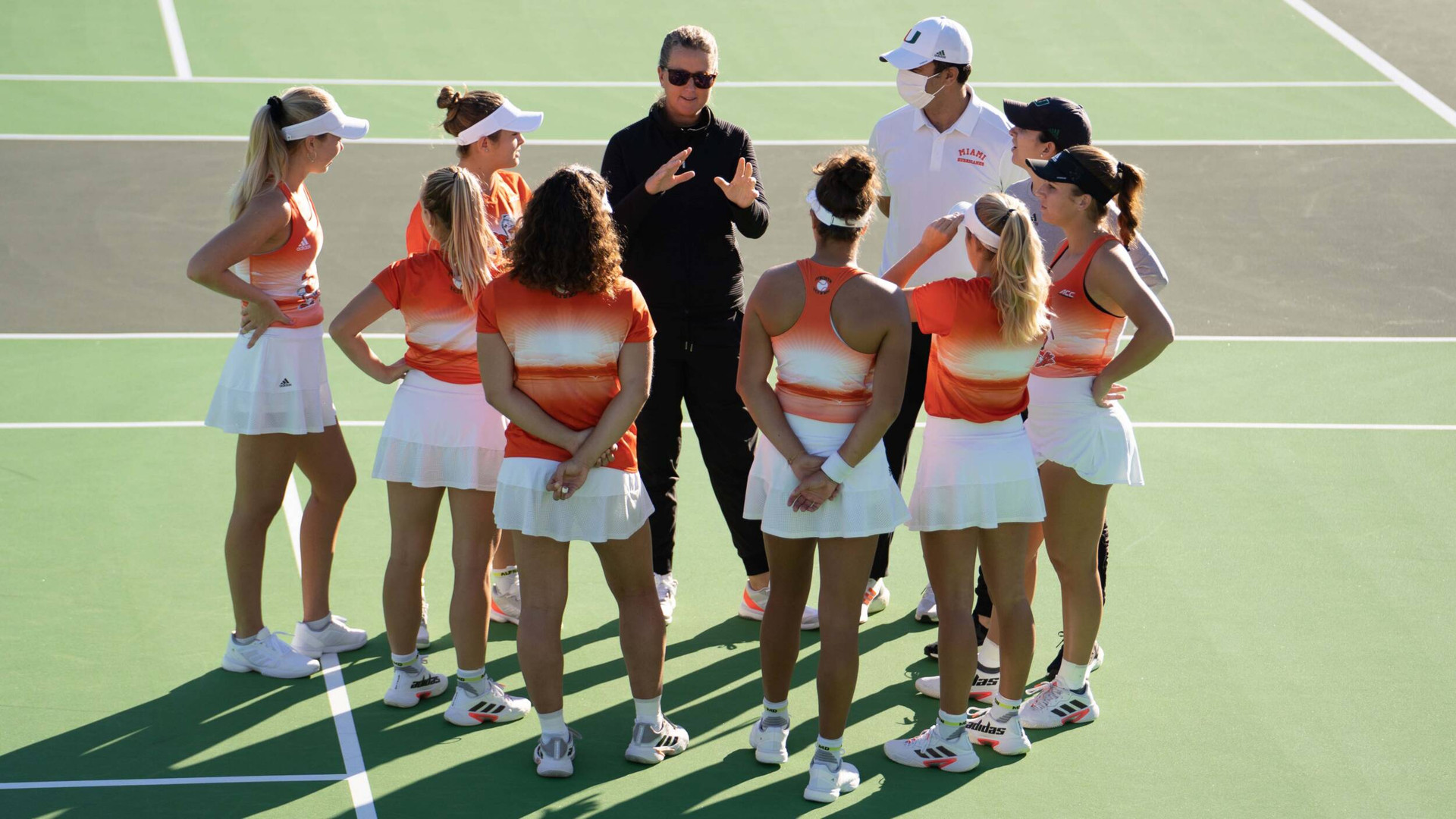 CORAL GABLES, Fla. – For the first time in over nine months, the University of Miami women's tennis team is set for a dual match on its home court.
Just like the last one—all the way back on April 16, 2021—the Hurricanes will be facing nearby Florida Atlantic. The contest is slated for Wednesday at 11 a.m. at the Neil Schiff Tennis Center.
"They always have some big hitters in their lineup," Miami head coach Paige Yaroshuk-Tews said of the Owls. "They're always pretty fired up to play us. We've got to be on our toes."
Miami and Florida Atlantic actually met twice last year, as the Hurricanes also opened the spring slate in Boca Raton, Fla., on Jan. 23, 2021. In both meetings, Yaroshuk-Tews' team earned a 6-1 victory.
The Hurricanes are 33-0 all-time versus Florida Atlantic, their most wins against any team without a loss. The 33 wins are also Miami's third-most against any foe, trailing only USF (43-3) and Florida State (36-9).
However, none of that past history matters when the two teams square off Wednesday. All that matters are this year's players and coaches.
No. 24 Miami (1-0) enters the match after a 7-0 victory at FGCU last Thursday in its dual match opener. The Hurricanes also hosted the loaded Miami Spring Invite to begin the season in Coral Gables.
Yaroshuk-Tews, now in her 25th season at Miami and her 21st year as the head coach, liked the way her team played in its first dual match of 2022.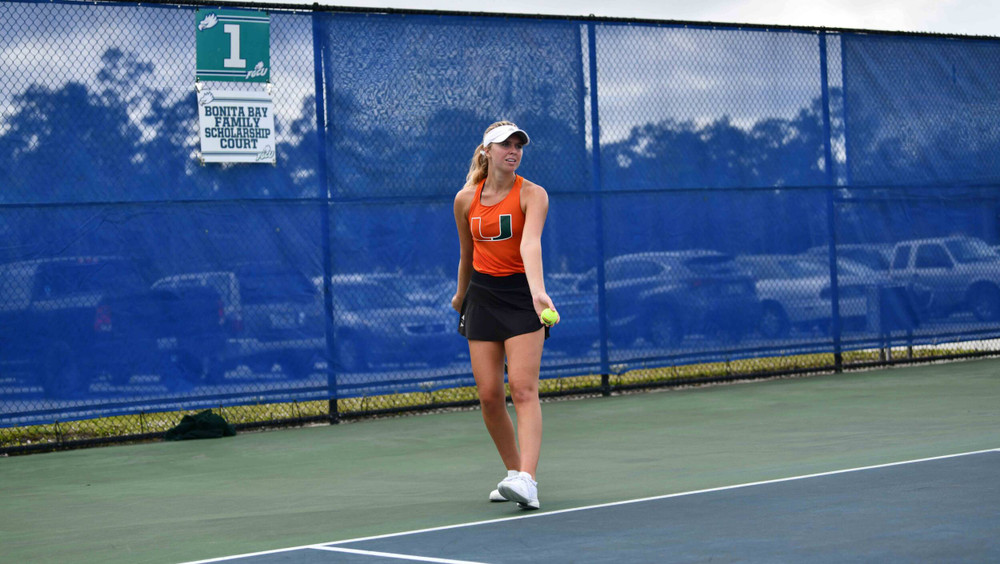 "I think we looked pretty solid. That's the best FGCU team I've seen in a few years," Yaroshuk-Tews said. "They were very scrappy. They were really competitive, especially up top at one, two, three. I think our girls handled it well. We played solid doubles and we got the job done in singles. Of course, there are still things that we're working on and we're tweaking, and they were able to do some of those things in the match. Moving forward, we're looking forward for another competitive match tomorrow."
Florida Atlantic is 2-1 on the year after defeating Middle Tennessee and Georgia State—6-1 and 4-1, respectively—in the FGCU Invite, at which it also dropped a 5-2 decision to Minnesota.
The Hurricanes head into the tri-county showdown with two ranked singles players in sophomore Isabella Pfennig and fourth-year junior Daevenia Achong, who place No. 76 and No. 104, respectively. Achong and fifth-year senior Eden Richardson also come in at No. 40 on the doubles list. Florida Atlantic, meanwhile, does not have any ranked players or pairs.
Live stats for Tuesday afternoon's match between the Hurricanes and Eagles will be available HERE.
After playing Florida Atlantic, Miami heads to Waco, Texas, for ITA Kick-Off Weekend, opening play Saturday at noon ET against No. 17 USC.
"Like I told the girls today, this [match against Florida Atlantic] is going to be the last taste in our mouth before we step on the court to play SC in Waco," Yaroshuk-Tews said. "So, I think it's important to set the bar really high and, regardless of the scores and the matches, just to be kind of working on our games and working on our emotions."
To keep up with the University of Miami women's tennis team on social media, follow @CanesWTennis on Twitter, Instagram and Facebook.
Internal story image is courtesy of Adam Koszo