A Week Full of Opportunities
CORAL GABLES, Fla. – For the fourth time in eight days, the University of Miami women's basketball team will suit up for competition, taking on the Boston College Eagles on Sunday afternoon to close out a week full of ups and downs.
The Hurricanes were tasked with playing four games in eight days following schedule changes due to COVID protocols. Miami's game against Duke, which was originally slated to be played on Dec. 19, was rescheduled to Jan. 18, creating a week full of opportunities for the Canes.
All four of Miami's opponents in this stretch sit above them in the NET rankings and they all rank in the top-60 in the nation – Georgia Tech (25), Duke (38), Florida State (58) and Boston College (47) – making these games very valuable for the Canes.
Miami has already taken advantage of the opportunities to face highly-regarded opponents, posting a pair of wins over No. 15/16 Georgia Tech and Florida State.
"[Florida State] was really an important game to win," head coach Katie Meier said. "It really keeps us in the middle of the pack here and it's really important to win road games in the conference and we already have two road wins."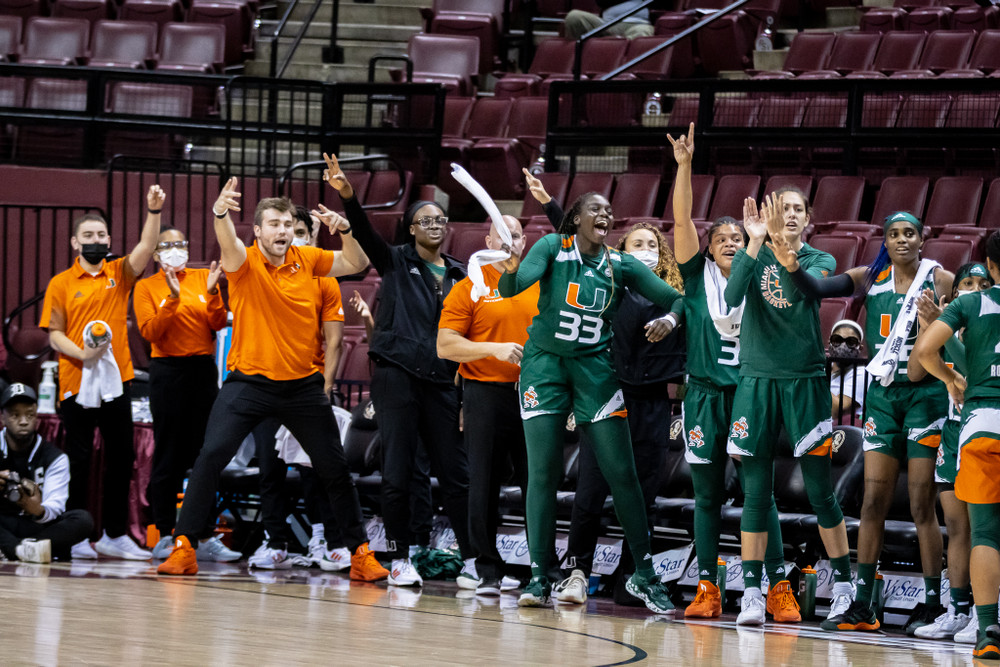 The Canes had a slight hiccup against Duke, with lack of focus resulting in a 58-49 loss for Miami. However, the team stayed resilient and refocused their efforts to beat the Seminoles in Tallahassee, Fla., for the first time since 2014.
"We were extremely focused," graduate student Kelsey Marshall said. "We came into this game with a lot more focus than last game. And we are going to put our heads back down and continue to fight and compete."
Heading into the final game in this four-game, eight-day marathon, the Hurricanes have worked hard to balance the physical and mental sides of the game.
"We're doing a lot of mental reps," Meier said. "We can't do physical reps as much when we have a game every other day. We challenged them to talk through the plays with their teammates and they are really understanding the whys of what we do."
The mental preparation will be crucial in Sunday's contest as Miami takes on the best shooting team in the ACC in the Eagles.
However, the Hurricanes are never ones to back down from a challenge having hung with the best of the best in multiple games this season.
"All I can say is I really love my team," Marshall said. "We like to fight, compete and give our all."
Sunday's contest will tipoff at 12 p.m. and will air on Bally Sports. Fans can also listen to the game on WVUM 90.5.
Single-game and season tickets for the 2021-22 women's basketball season are on sale now and can be purchased here.