Canes Open ACC Play Against Wake Forest
CORAL GABLES, Fla. – Prior to Dec. 19, the University of Miami women's basketball team was riding high. The Hurricanes were in the midst of a three-game win streak and had just scored their most points this season in an 86-45 victory over Robert Morris.
"Lola [Pendande] had a double-double and Paula finally played, so we had all this great news and were rolling," head coach Katie Meier said. "We got through finals and were ready to start ACC play."
Then, adversity hit.
Miami was forced to postpone its ACC opener against Duke and a non-conference game against North Florida due to COVID protocols in the program. The confidence and momentum that the Canes had built over the last few weeks all but disappeared.
"Right when we had a chance to really ramp it up, we got shutdown," Meier said. "But you have to be a team that can sustain and withstand adversity because it happens. I think physical everyone is going to be fine, but emotionally and mentally, no one was ready for another year of unknowns."
When Miami suits up on Thursday, it will be for the first time in 25 days. The Canes are the only conference team who has yet to play an ACC game, but they are ready to take the court.
"We're ramping it up again," Meier said. "We have the potential to be a very threatening team in terms of attacking the rim and playing fast. We have some really electric players that can generate for us."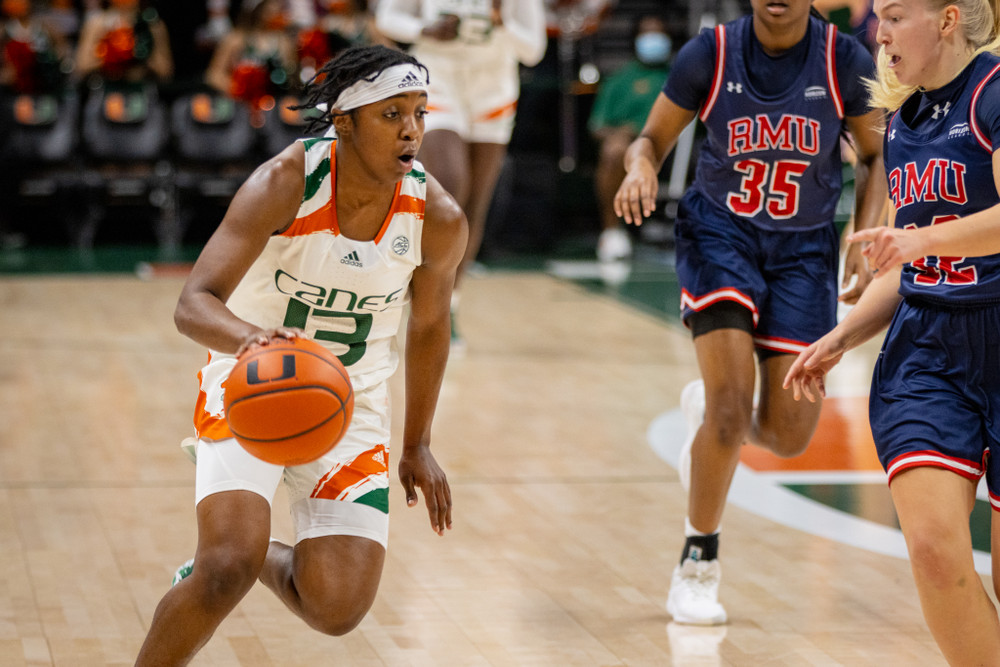 Among those players are freshmen Lashae Dwyer and Ja'Leah Williams. The duo has become the backbone of Miami's defense, ranking tied for fourth in the ACC for steals per game at 2.4. The Canes are the only ACC school with two players in the top five for steals.
"Ja'Leah and Lashae have really taken advantage of Mykea [Gray] and Destiny [Harden] not being at full strength and have gotten some incredible playing time," Meier said.
Along with the freshmen, veterans Karla Erjavec and Kelsey Marshall have bolstered the Miami offense this season, averaging 23 points per game between the two of them.
It will take a full team effort to beat the Wake Forest Demon Deacons Thursday night at the Watsco Center as the Deacs enter the game 11-3 (1-2 ACC).
Miami is 15-10 all-time against Wake Forest and holds a 7-3 advantage when playing at the Watsco Center.
For Wake Forest, sophomore Jewel Spear not only leads the team in scoring, but also paces the entire league, pouring in 20.8 points per game.
Thursday's game is slated to tipoff at 7 p.m. and will air on ACC Network Extra with Alex Schwartz and Miami legend Tamara James on the call.
Single-game and season tickets for the 2021-22 women's basketball season are on sale now and can be purchased here.