Seniors Enjoy Memorable Home Finale
MIAMI GARDENS, Fla. – It was a play, a touchdown, a moment Mike Harley will never forget.
And late Saturday night, after Miami's 38-26 win over Virginia Tech, the senior receiver couldn't help but chuckle when recalling how, initially, he wasn't even supposed to be on the field.
But with the Hurricanes looking to pad a five-point lead in the fourth quarter, Miami offensive coordinator Rhett Lashlee turned to Harley on the sideline and sent him into the game.
The ultimate result? Harley, in stride, caught a beautifully thrown 55-yard deep pass from Tyler Van Dyke and scored Miami's final touchdown of the night.
It turned out to be Harley's final touchdown at Hard Rock Stadium as a Hurricane, too and the receiver relished the moment, blowing kisses to the crowd and celebrating with his teammates.
"That moment meant a lot. That moment meant a lot," Harley said. "I wasn't supposed to be in on that play, but Coach Lashlee looked at me and was like 'Get in' and I just ran in there. It was so crazy. I was smiling, literally smiling. I lined up smiling and I saw the kind of coverage they were running…and I was wide open in the middle of the field. As I was running, I was smiling and I was like 'Throw the ball, Tyler.' I could hear the stadium saying 'Mike, Mike,' because I was wide open…I caught the ball and I scored, but I was smiling the whole time. It was crazy."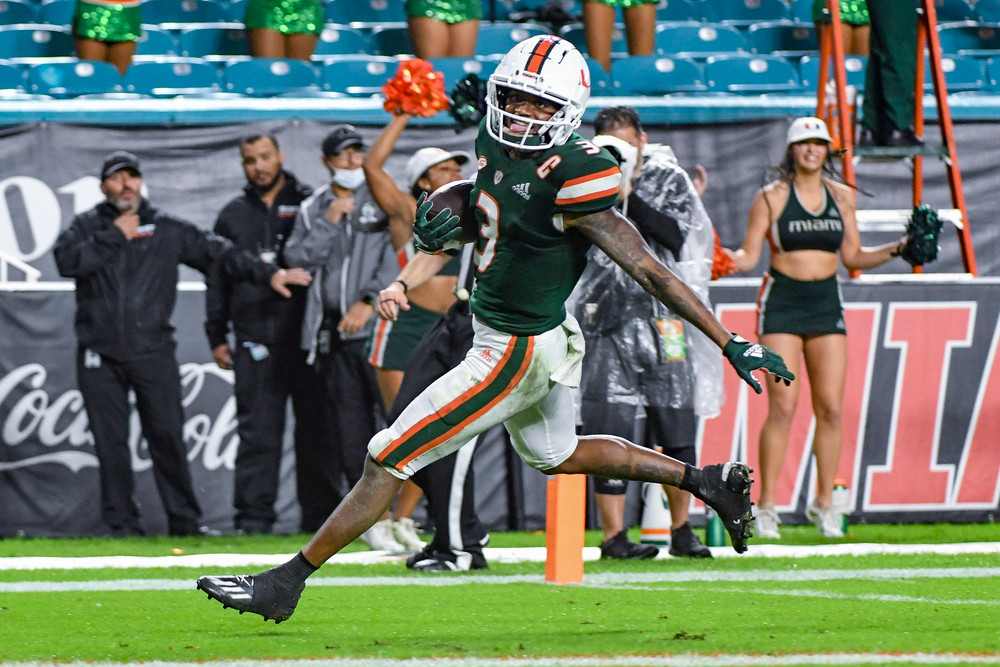 Harley was one of 24 Hurricanes seniors honored Saturday ahead of Miami's home finale. And he wasn't the only senior to have an impact in the game.
Defensive end Zach McCloud, who entered the game with a team-high five sacks, recorded his first strip-sack of the season and got to wear the Turnover Chain one last time at home.
Receiver Charleston Rambo had a game-high seven catches and 116 yards. The always-reliable Lou Hedley, a Ray Guy Award semifinalist, averaged 41.2 yards on his four punts, with two of those landing inside the 20-yard line. And defensive tackle Nesta Jade Silvera and striker Gilbert Frierson were both among Miami's defensive leaders with six tackles each.
"I am just proud of our seniors. I am proud that they get to leave Hard Rock Stadium for the last time as winners," Hurricanes head coach Manny Diaz said. "Their leadership this week and the way they have set the example for the young guys on this team will be their legacy in a season where we didn't win as many games as we wanted to. In terms of laying foundations, I think the way that these guys have continued to play hard and set the example is beyond commendable."
Ahead of Saturday's home finale, more than a few of Miami's underclassmen – including Van Dyke – stressed how important it was for them to help send their senior teammates out on a memorable note, especially after the Hurricanes' heartbreaking loss at Florida State last week.
On that front, Miami's younger players delivered.
Van Dyke, a second-year freshman, completed 19 of his 33 passes and threw for 357 yards and three touchdowns. He's just the first quarterback this season to throw for more than 300 yards against the Virginia Tech defense.
Second-year freshman Jaylan Knighton scored on a pair of short touchdown runs. Freshman receiver Brashard Smith scored on a 75-yard touchdown and junior Will Mallory opened the scoring for Miami with a 9-yard touchdown grab on the Hurricanes' opening possession.
"We were really driven tonight," Van Dyke said. "After last week with the loss, I knew we were still going to come out and play hard, with a lot of fight. It means a lot to those guys, their last time at Hard Rock as a college player and I just feel really good for them."
Said Mallory, "Obviously, coming into this week, that was what we wanted to do. It was huge for us. With the way the season has gone, the way the guys have battled, the seniors deserved to go out on that note."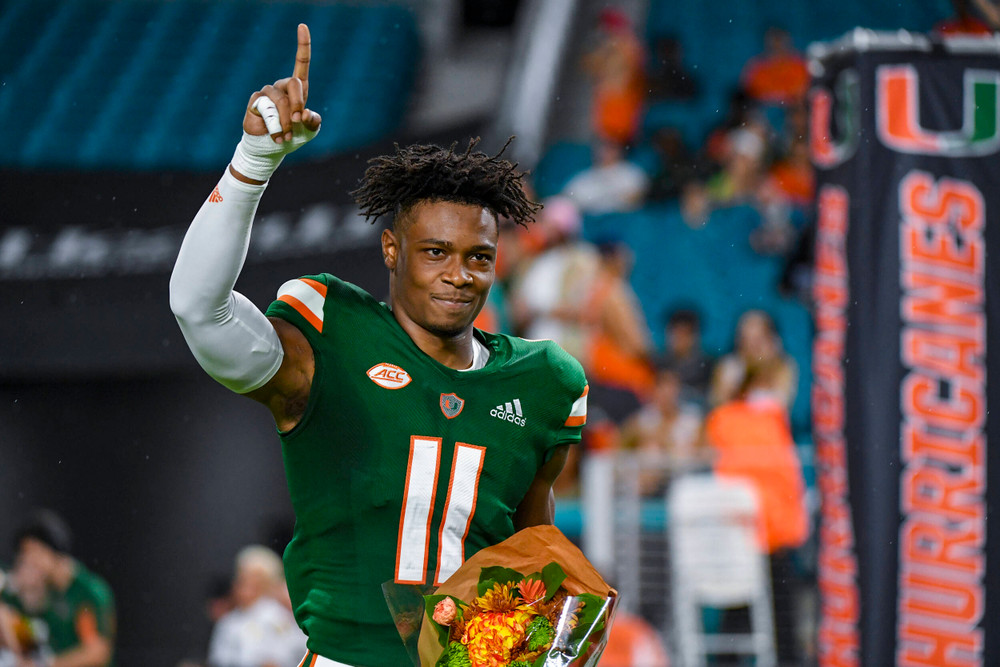 And once the game was over and the win was secured, Miami's underclassmen found one more way to celebrate their seniors, carrying many of them off the field in a driving rainstorm.
There were laughs, there were cheers, and for the seniors, there was a well-earned celebration – combined with the realization that many will have one more chance to wear orange and green with Saturday's win giving the Hurricanes bowl eligibility.
"It's always important for the program to go to a bowl game and it's more about—for this team, the story has always, really this year, been [about] persevering and fighting through the adversity," McCloud said. "I feel like it's the same thing. Every team's going say you've got to fight through the adversity, but this year has been a little bit different in that way we went about it. So, the result is a bowl game. We weren't thinking 'Okay, we've got to win this game so we can get to get to a bowl game.' It was more just, 'We've been fighting a lot of downs and let's turn this into a positive and go out and send the seniors out on a high note.'"