Miami Turns Focus to Stetson
CORAL GABLES, Fla. – The University of Miami women's basketball team is shifting its focus to Sunday following a scrappy win over the Bethune-Cookman Wildcats Friday night.
"Bethune-Cookman came in here fighting hard," head coach Katie Meier said. "We have got to find some go-to player and some go-to sets that we can execute. We're struggling right now and searching for an identity."
The Canes have been extremely dominant in the first quarter this season, outscoring their opponents 42-18 in the first 10 minutes of the game. However, both Jackson State and Bethune-Cookman battled back to compete with the Canes in the second half.
On Friday, the Wildcats executed a 16-0 run in the third quarter to make it a single-digit game.
"We got out-scrapped [in the third] for sure," Meier said. "I just know emotionally and physically we got completely out-worked and out-hustled."
When the Canes needed leadership to stop the bleeding, senior Mykea Gray stepped up. The guard scored six points in the first two minutes of the fourth to put the Canes back up by double-digits. Gray finished the night with a game-best 12 points and tallied four assists in the contest.
"I always look for my teammates and get them the ball first so the basket can open up for me," Gray said. "So, that's what I did the majority of the first half. By the second half it was close and I realized it was my time to step up and take over the game."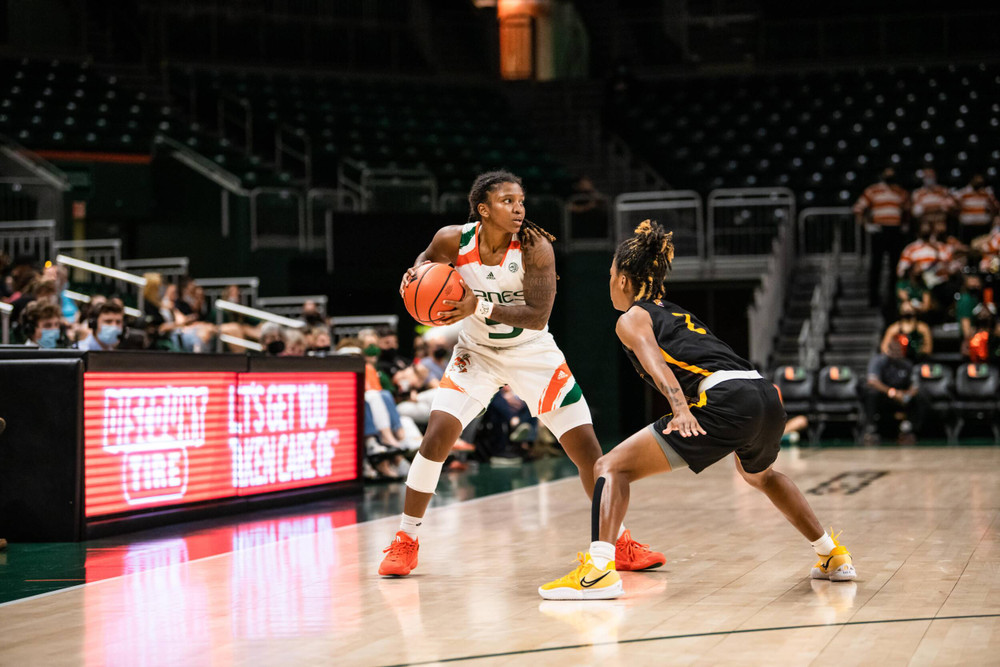 In addition to Gray, junior Moulayna Johnson Sidi Baba was a bright spot for Miami, leading the Canes in rebounding with nine boards.
"I thought [Moulayna Johnson] Sidi Baba came in with toughness," Meier said. "She went hard to the basket, she rebounded and that was a real positive."
The Canes will need that toughness from the whole team on Sunday as they take on the Stetson Hatters at 2 p.m. at the Watsco Center.
"Coach [Meier] mentioned [Stetson] played in the postseason last year, so we're not taking it lightly and making sure we're locked in and ready to play them," Gray said."
While Miami and Stetson have met 23 times before in program history, the two teams have not played each other since the 2014 season. The Hatters came out on top in 2014, beating the Canes 70-63 in the Women's National Invitational Tournament.
Prior to the WNIT meeting, Miami boasted an 18-game winning streak against Stetson, dating from 1981-1991.
Sunday's game will air on ACC Network Extra with Alex Schwartz and Cane legend Tamara James on the call. Fans can also listen to the game on WVUM 90.5.
Single-game and season tickets for the 2021-22 women's basketball season are on sale now and can be purchased here.