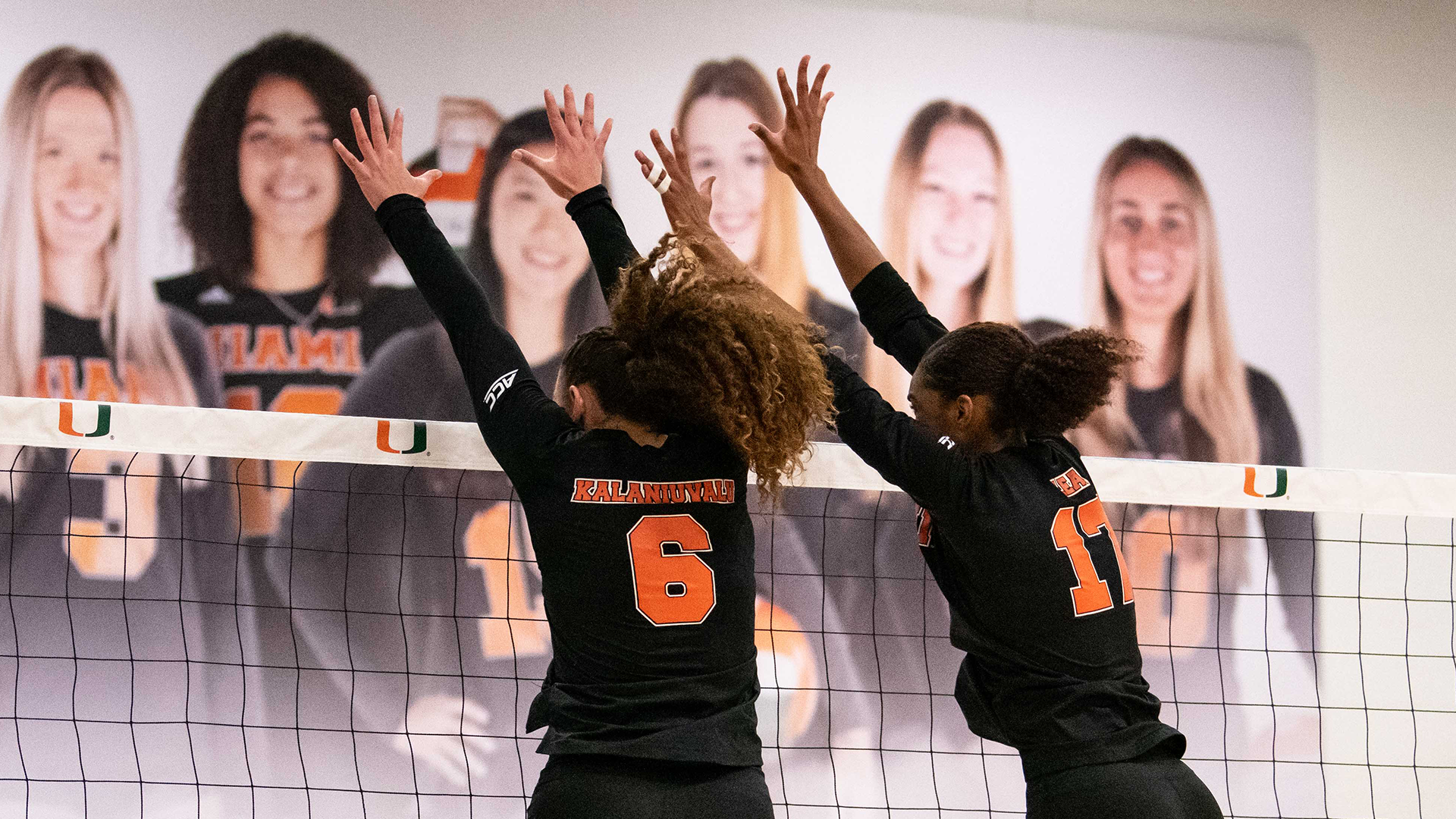 CORAL GABLES, Fla. – Another pair of wins at home improved the University of Miami volleyball team to 19-3 (10-2 ACC) this season.
As the Hurricanes continue to mow down their competition week-after-week, they will be presented with a new challenge this weekend in Georgia Tech and Clemson.
On Friday night at 7 p.m., Miami will take on the Yellow Jackets in Atlanta. The 14th-ranked Georgia Tech team heads into the weekend with the same 19-3 (10-2 ACC) record.
Not only do the Yellow Jackets present a difficult task on the court with the second-best attacking percentage in the ACC, .288, but there is also the factor of the environment as the match is set to be played in front of a sold-out crowd.
"Georgia Tech is ranked as high as they are for good reason," said head coach Jose "Keno" Gandara. "There might not be a better offensive team in the country. Both [Mariana] Brambilla and [Julia] Bergmann are conference player of the year favorites. If you add in the fact that Georgia Tech is maybe the toughest environment to play in the ACC and it's senior night that has been sold out for weeks, and we have a huge challenge in front of us. But we've handled some tough matches and made some improvements, and we want to be playing in these types of matches."
Following a tough road battle in Atlanta, the weekend for Miami continues in Clemson, S.C., with a 1 p.m. matchup on Sunday against Clemson.
In what is just a one-game series lead in history, the Hurricanes hold a 15-14 series record against Clemson after the teams split last year's two matches. This year looks to be no different.
"We split with Clemson last year at their place," added Gandara. "They have always played pretty fast offensively and if their passing and setting gets going, they can beat anyone. It's going to be on our serving to neutralize that offense and tilt things in our favor."
Heading into this weekend, Peyman Yardimci is riding high off 22 kills and a .391 attacking percentage in the previous two matches which garnered her ACC weekly honors. She will look to lead the Canes this weekend as they seek to keep rolling.
"The plan is for Peyman to continue her Freshman of the Week form against both opponents," Gandara said. "We feel like she's been overlooked a bit this year, so that recognition was both well-deserved and overdue. If we walk away from this weekend with two wins, I have a hunch it will be because she was excellent again."