Guard Group Mix of Old and New
CORAL GABLES, Fla. – Depth. Experience. Hunger. These are the traits that define the 2021-22 guard group on the University of Miami women's basketball team.
Like the whole team, the unit is a mix of old and new, with a pair of fifth-year seniors – Mykea Gray and Kelsey Marshall – a pair of upperclassmen – Karla Erjavec and Kenza Salgues – and a pair of freshmen – Lashae Dwyer and Ja'Leah Williams.
"We have a lot of new faces and have some great returners and not a lot in between," head coach Katie Meier said. "You can feel it in practice – when we need energy and hype and freshness and people diving on the floor, we have that. When we need poise and confidence and calm and tight execution, we have that as well."
The Hurricanes are fortunate to have confidence and execution in the form of not only their returning leading, Marshall (13.2 ppg), but also in Gray, who missed the 2020-21 season due to an ACL tear suffered in preseason practice.
This duo, who enters its fifth-season in Meier's program, is the backbone of the Miami team.
"[Mykea] is the captain of the ship," Meier said. "She is the one who has to steer the direction of the team, so she is not settling for anything less than excellence. She is raising the bar and demanding a lot from her teammates. She sets the standard and tone on this team."
A career double-digit scorer and member of the ACC All-Defensive Team in 2019-20, Gray is a significant contributor on both sides of the ball. Unable to play last season, the Upper Marlboro, Md., native spent the last 12 months growing her leadership skills and knowledge of the game.
"Sitting out last year taught me I need to talk and lead more," Gray said. "I was always a 'lead by example' person and, when I wasn't able to do that, I had to find other ways to lead. Using my voice was definitely one of those ways. I also spent a lot of time with my coaches to understand the game better."
Gray's goal for the season is to leave a legacy behind after she graduates.
"Coach [Meier] is always talking about the imprints you leave and I just want people to know that when Mykea Gray was at Miami, it was a great time," Gray said. "I want to kill this season and make a statement."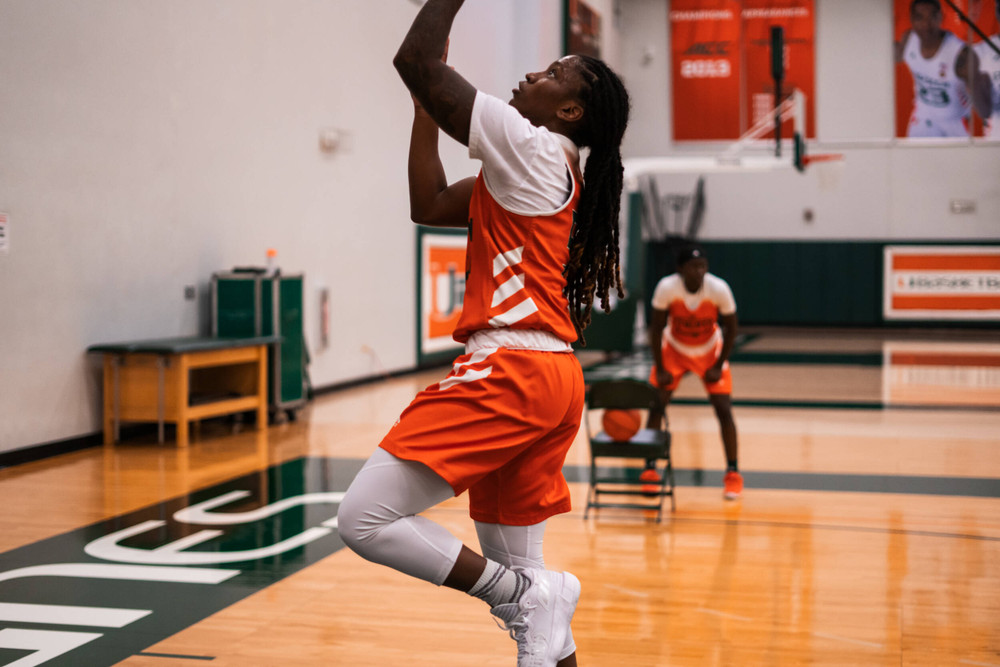 Another player who wants to leave her mark on the Miami women's basketball program is Marshall.
"I feel like last season didn't end in a way how I wanted to end my time at Miami," Marshall said. "Coming back this year, a lot of things have changed, like my motor and my will to win. I want to make it to the [NCAA] Tournament and make it deep into the tournament."
Marshall has the opportunity to etch her name in the Miami record books forever in multiple categories. The guard currently sits in second in career 3-pointers made at 241, just 31 made threes behind Cane great Riquna Williams (272). That milestone is just on the horizon for Marshall and one that she is cognizant of.
"I want to be able to get past the Miami 3-point record, shoot more consistently from the 3-point line and just being able to help my team win more games this season," Marshall said.
In addition to their dominance in the backcourt, Gray and Marshall have played critical roles in mentoring the younger guards, especially freshmen Dwyer and Williams.
"Every time I make a mistake or put my head down, [the older guards] always lift me up or tell me, 'It's okay, you've got the next one,'" Dwyer said. "They just uplift me so I can feel better on the court."
Dwyer comes to Miami as the reigning Tennessee Gatorade Player of the Year after helping The Webb School to a 32-2 record and the Division II-Class A State Championship title. The Toronto, Ontario, native was the No. 79 player in the nation according to espnW HoopGurlz and has already made an immediate impact at Miami.
"The younger guards have so much energy and are so capable," Marshall said. "We've been playing scrimmages and they are coming in without messing up the rhythm that the upperclassmen already have. Them being able to contribute to the game in the way they have already has really impressed me."
Playing with an experienced group of veterans can sometimes be intimidating, but for Dwyer it has helped instilled confidence in her game.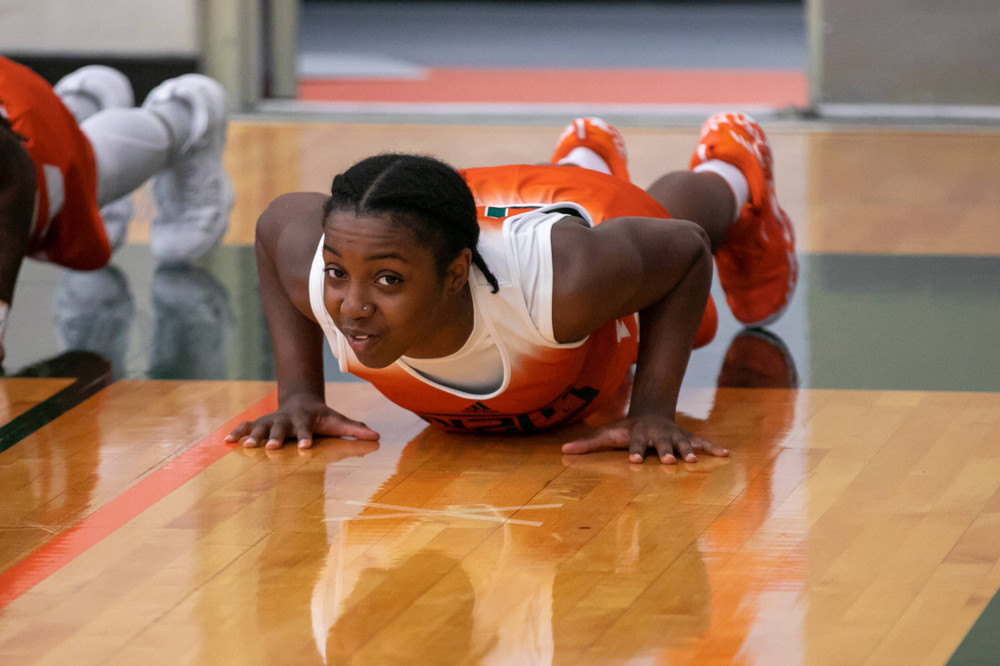 Another young guard with supreme confidence is Williams.
"[Ja'Leah] is a special kid who has a lot of confidence and a lot of swag, but in a respectful way," Meier said. "She will be very impactful for this program and she is not looking back. People will fall in love with how hard she plays and how fun she is."
A South Florida product, Williams brings immense speed and unmatched energy to The U. She plays with intensity and competitiveness, according to Anthony, and has been a spark for this year's team.
After five months of learning to play at a collegiate level, Williams is ready to lace up her basketball shoes for the first game.
"I'm looking forward to getting to know the game – the speed, the transitions, the way it goes," Williams said. "It is going to be a different ball game than in high school. I want to get the feeling of collegiate games so I can get used to it. Then I can just play my game."
The 2021-22 guard group features a vast amount of versatility, from play-callers to facilitators to shot-makers, which creates depth in the position for Meier and her staff.
"What excites me most about our guards this year is our speed and versatility," assistant coach Shenise Johnson said. "Any one our guards can be the point or trail four in our system. I love this group."
One of the players who has really taken advantage of the pace and space system that Meier runs is Erjavec.
"[Coach Meier's] system really allows me to play like I played back home [in Croatia]," Erjavec said. "The space that Coach Meier gives us is something that allows me to really be me on the court and really see everything and focus on passing the ball when it's needed."
The guard leads all returning players in assists per game from last season, averaging 2.0 dishes per contest in 2020-21. Erjavec totaled five games with three or more assists and logged 3.3 assists per game over the final seven games of the season.
As a junior last season, Erjavec faced a unique challenge in that her first year as a Cane came during a season full of unknowns. However, the guard feels that the obstacles she and the team faced helped her grow as a player and a leader.
"It was really challenging to find your voice last season, especially during COVID because it was so uncertain," Erjavec said. "You didn't really know what to expect, who to lean on or what was going to happen the next day and facing all of those things helped me to grow as a person and find a way to help someone who was struggling."
Like Gray and the freshmen, Salgues is also extremely ready to get back on the court this season, after missing 18 games last year due to a shoulder injury.
"I want to come back and show what I can do," Salgues said. "I know that I can be a big player for this team, Coach Meier does too, so I just really want to play my game."
A native on Montpellier, France, Salgues possesses a high basketball IQ, which she developed playing internationally at numerous FIBA events. Salgues is a shooter at heart and is poised to be a 3-point a threat for Miami this season.
While the guard group is so diverse in raw talent and playing style, the unit has bonded to form a cohesive core.
"We are so close and the chemistry is so good as the whole," Salgues said. "I'm excited to see how we do under the pressure and see how far we can go. I really think we can go really far."