Toughness and Chemistry Defines Swing Group
CORAL GABLES, Fla. – University of Miami head women's basketball coach Katie Meier is known for cultivating teams full of players who can play multiple positions. These are players who can pivot from shooting guard to power forward on a change of possession.
On the 2021-22 roster, this group of players who swing between the guard and forward position is primarily made up of redshirt senior Destiny Harden, junior Moulayna Johnson Sidi Baba, senior Naomi Mbandu and freshman Jasmyne Roberts.
The unit relies heavily on experience as Harden, Johnson Sidi Baba and Mbandu combined for 43 starts during the 2020-21 campaign. Harden leads the pack, ranking first on the team in rebounding (5.4) and second on the team in scoring (10.7) last season.
"Destiny is a tough kid that you want on your team," assistant head coach Fitzroy Anthony said. "You don't want to go against her because she is going to do the little things that it takes to win games. She'll dive on the floor and crash the boards to get offensive rebounds. Once the ball goes up, she is going to compete because she wants to win."
Over the summer, Harden has worked to be a more consistent shooter from the 3-point line and to increase her ball-handling skills, both of which will make her threat wherever she plays on the court.
"I have been getting in with the coaches, doing film and skill work," Harden said. "I just try to stay confident and comfortable on the court. I have to trust the plays the coaches call and play Miami basketball."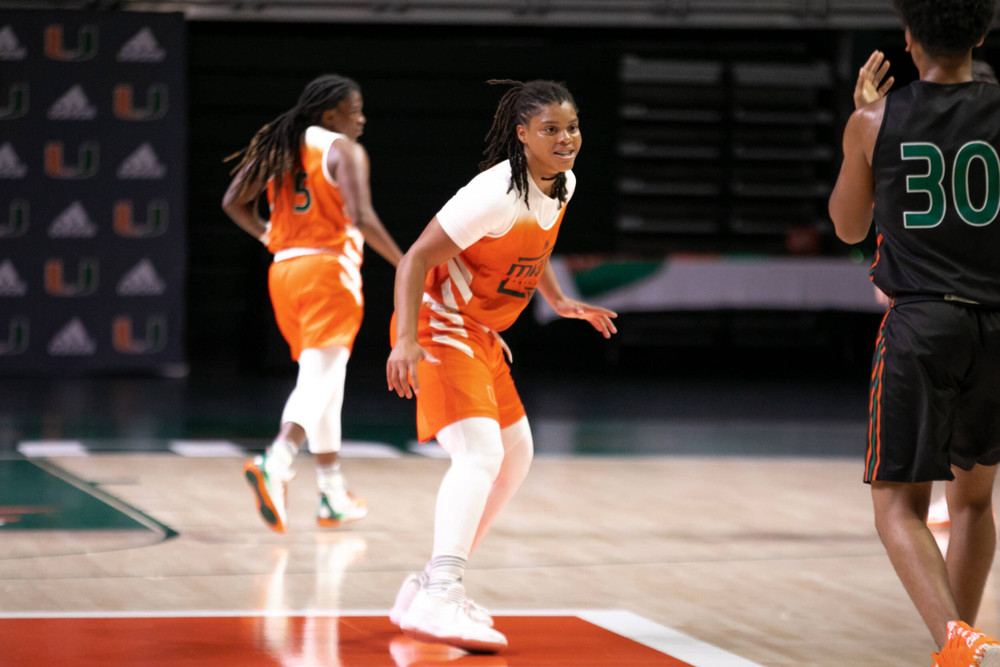 A key aspect of Miami basketball is unselfish play and the willingness to dive for loose balls or make the extra pass. One of the best facilitators on the team in 2020-21 was Mbandu. The guard/forward finished last season with 36 assists over 22 games, in addition to averaging 8.0 points and 4.7 rebounds per contest.
Mbandu truly embodies a versatile Miami basketball player.
"Naomi's size gives us versatility offensively and defensively," Anthony said. "She can bounce around to different positions for different matchups. She plays hard and also shot the ball well last year, which will hopefully make her a threat on the perimeter with Kelsey Marshall."
For Mbandu, the goals for the upcoming season are clear – play in ACC Championship game and make the NCAA Tournament. To do that, the Amiens, France, native must work together with the newer Canes to form a cohesive wing unit on the court.
"The younger players have a lot of energy and came to play," Mbandu said. "They work hard and I really like that."
Since stepping on campus in June, Roberts has worked relentlessly every day to be a contributor on the court for the Canes.
"I've had to get used to the pace and keeping up with the upperclassmen," Roberts said. "I think I've matured a lot and have enhanced parts of my game and increased my aggressiveness."
Roberts, the USA TODAY Greater Jacksonville Female Athlete of the Year, comes to Miami after leading her high school to back-to-back state championship appearances. She averaged 18.6 points, 8.5 rebounds and 3.0 assists per game as a senior, while serving as a captain for Bishop Kenny.
"The most challenging part of making the transition from high school to college is just learning the system," Roberts said. "I think I've just had to adjust to that very quickly because [Coach Meier] expects a lot out of us."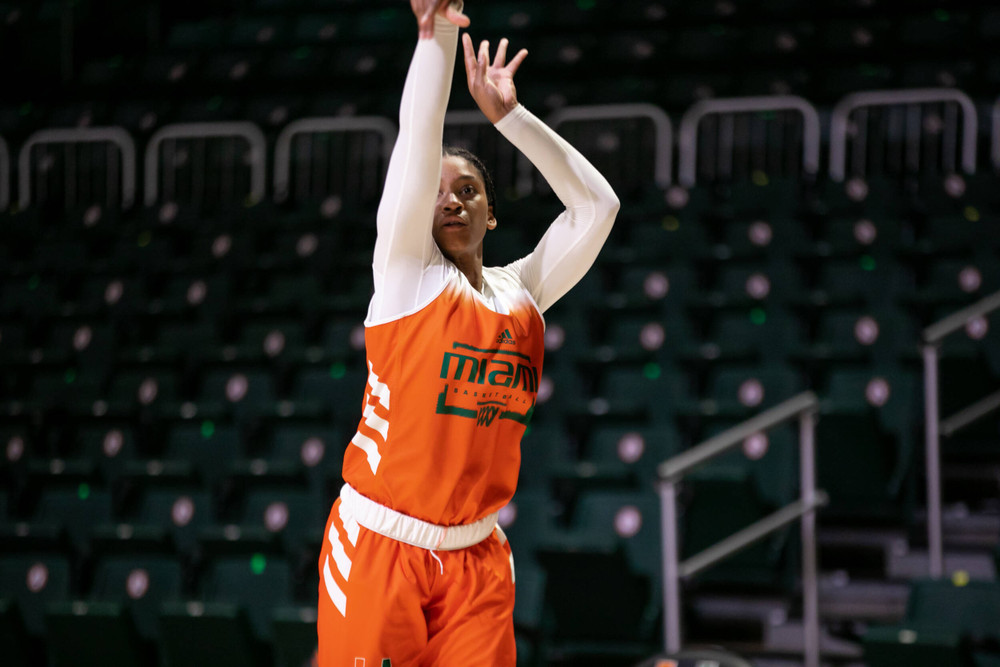 Expectations are also high, personally, for returning swing player Johnson Sidi Baba, who started six of 19 games for the Canes in 2020-21.
"I want to be more consistent in my playing, both offensively and defensively," Johnson Sidi Baba said. "I want to do whatever it takes to win, on and off the court, and be supportive as a player."
Averaging 18.9 minutes per game last season, Johnson Sidi Baba's high basketball IQ was critical for the Canes in key games. The wing finished the 2020-21 season on a high note, tallying 13 points and eight rebounds in the ACC Tournament game, including a .400 shooting clip from the 3-point arc.
Heading into her junior season, Johnson Sidi Baba is particularly excited about the chemistry on this year's squad.
"We have so much chemistry and positive energy," Johnson Sidi Baba said. "I feel like we, as a team, can be really good and be a really scary team this year."
With the team chemistry at an all-time high, the swing group is ready to dominate the court this season.
The Hurricanes kick off the season on Nov. 9 against Jackson State at 4 p.m. at the Watsco Center. Fans can purchase season tickets here.