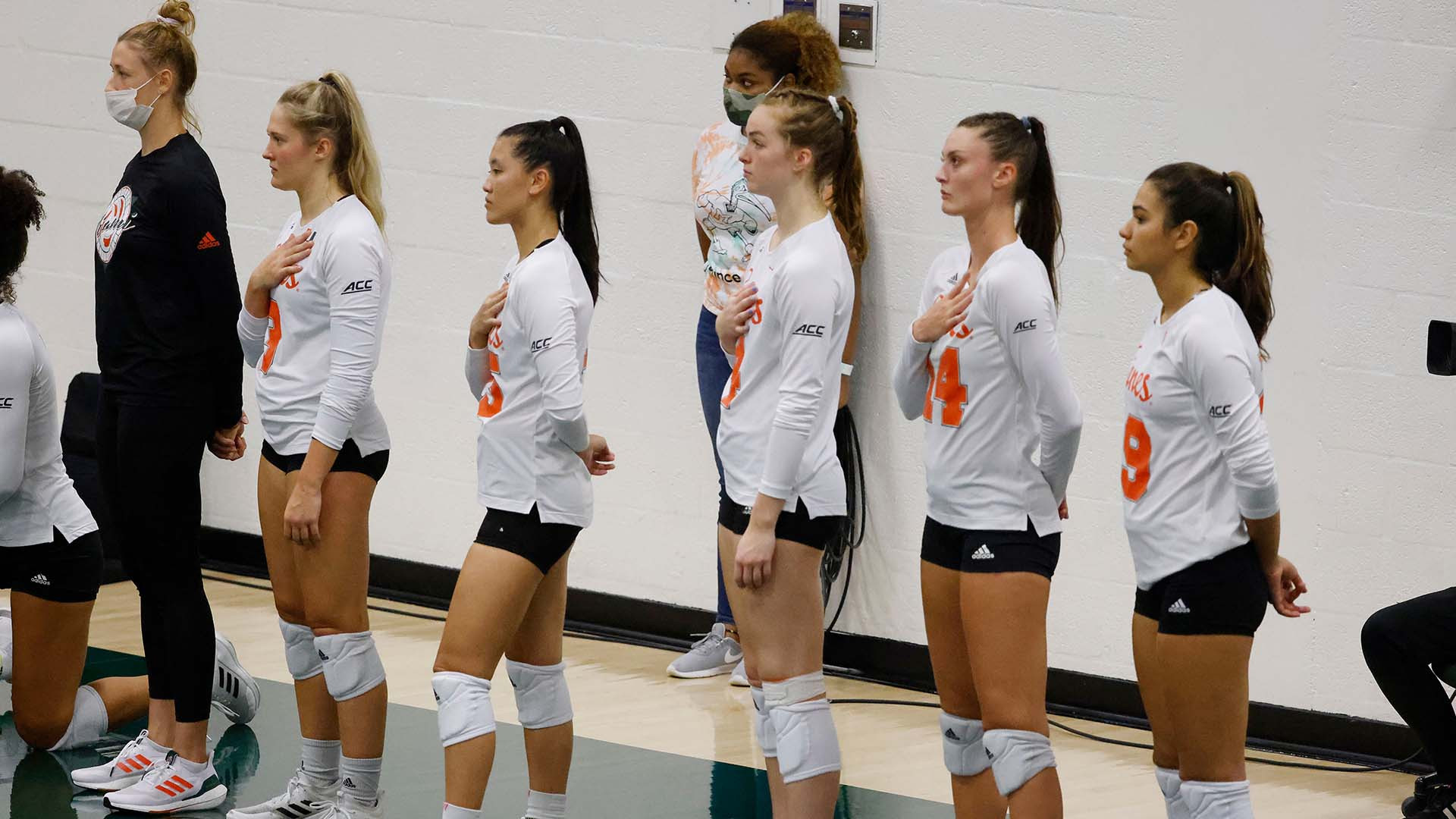 CORAL GABLES, Fla. – The University of Miami volleyball team will be back on the road this weekend after facing its first true road test of the season last weekend, traveling out of state for the first time in 2021.
The Hurricanes passed the test with flying colors in San Marcos, Texas, as they swept Texas State and Alabama to improve to 7-0 on the year, along with answering some lineup questions about their young roster along the way.
"Our lineup is still in a bit of flux, though we feel comfortable about the group we used last week, said head coach Jose "Keno" Gandara. "We have a few more additional pieces that are healthy this week, and still waiting to get completely healthy, so we're constantly monitoring and evaluating, but we're much more comfortable with many of the questions we've been trying to answer over the first three weeks.
"Ultimately, I'd imagine you'll see the girls you'd expect in some capacity: Angie Grieve, Savannah Vach, Janice Leao, Prissy Hernández. In what roles are always flexible, and all the girls are in the mix, but based on the body of work so far, those four have earned the right to be in the lineup consistently."
Miami has had success this season thus far against in-state foes, currently 3-0 after earning a road sweep of Florida International on Aug. 28 at the FIU Invitational and claiming back-to-back wins over South Florida on Sept. 3 and 5 in a home-and-home series.
After a conference-only schedule last season, the Sunshine State Classic returns this week just up the road in Boca Raton, Fla.
This tournament provides a unique opportunity for the Hurricanes as they look to not just continue their Florida winning streak, but also playing for the pride of the state.
"I love the state of Florida aspect of this weekend," Gandara said. "You can field a championship level team from talent in Florida, so having a chance to compete with teams from the state isn't just about the wins and losses – it's about the impact it has on recruits and how they perceive these programs in comparison to one another come decision time. Winning this tournament consistently signals that we're a great option, hopefully the best option, for Florida kids to stay in state."
This weekend features host Florida Atlantic, Central Florida, and Florida Gulf Coast.
In back-to-back weekends, the Hurricanes will have a quick turnaround between matches with just a mere 9.5 hours between their opening match on Thursday at 10 am (ET) against UCF and the second match at 7:30 pm against host FAU. The third and final match will be just 16 hours later as they cap the weekend off against FGCU at 1:30 pm on Friday.
Historically, the Canes have found success in the tournament as they have amassed a 7-2 record since it began in 2017. Miami is 3-0 against UCF and FAU, while sitting at a 1-2 record against FGCU.
"This tournament has been awesome for us for the past few years for a number of a reasons," added Gandara. "The competition level is excellent, the travel demands are minimal, and it always seems to boost the RPI of all the teams involved. We're really grateful we've had this opportunity the past few years."
All three of Miami's games this weekend can be watched live on Conference USA.tv HERE, with live stats available HERE.
To keep up with the University of Miami volleyball team on social media, follow @CanesVB on Twitter and Facebook, as well as Canes_VB on Instagram.