Vach Named to Preseason All-ACC Team
CORAL GABLES, Fla. – University of Miami volleyball standout Savannah Vach earned Preseason All-ACC accolades, as announced Friday morning by the league office.
A junior from nearby Winter Springs, Fla., Vach is one of 18 players who made the cut and is among the lone three setters in the group.
"We're excited for both our team and Savannah for the upcoming season," Miami head coach Jose "Keno" Gandara said. "She's become a central piece of our identity and this recognition, though not the most important thing, is confirmation that the league thinks as highly of her as we do."
Already one of the most accomplished players at her position in program history, Vach earned Second Team All-ACC honors and AVCA All-East Coast Region distinction as a sophomore in 2020-21. She placed third in the conference with 10.07 assists per set, logging a team-high 675 total in the condensed season.
Additionally, Vach tallied 147 digs, 34 kills and 12 services last year, while playing in all 67 sets for the Hurricanes. Through two collegiate campaigns, she ranks sixth all-time at Miami with 1,703 assists.
Miami has now placed at least one player on the Preseason All-ACC Team each year since joining the league in 2004, a streak of 18 consecutive seasons.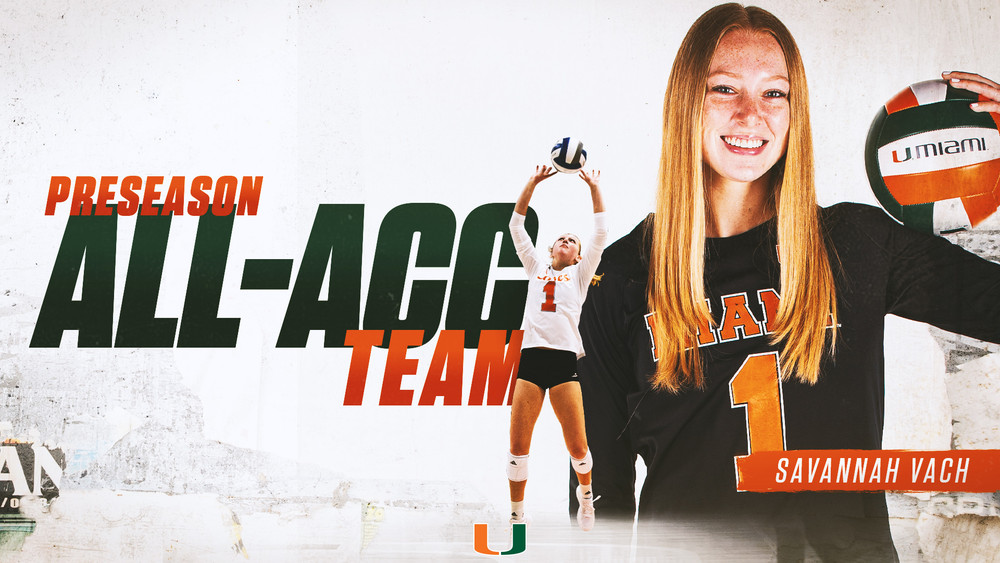 Along with Vach's recognition, Miami placed eighth in the ACC Preseason Coaches' Poll, earning 106 points in the balloting, just seven shy of seventh-place North Carolina.
Vach and the Hurricanes open their 2021 slate Friday 6:30 p.m. when they host Nova Southeastern in an exhibition match at the James L. Knight Sports Complex.
To keep up with the University of Miami volleyball team on social media, follow @CanesVB on Twitter and Facebook, as well as @Canes_VB on Instagram.
2021 ACC Volleyball Preseason All-ACC Team
Camryn Hannah, Clemson, So., RS/OH
Mackenzie Cole, Duke, Sr., DS/L
Emma Clothier, Florida State, Jr., MB
Julia Bergmann, Georgia Tech, Jr., OH
Mariana Brambilla, Georgia Tech, Sr., OH
Anna DeBeer, Louisville, So., OH
Tori Dilfer, Louisville, Gr., S
Aiko Jones, Louisville, Jr., OPP
Anna Stevenson, Louisville, Gr., MB
Savannah Vach, Miami, Jr., S
Melissa Evans, NC State, Gr., OPP
Charley Niego, Notre Dame, Sr., OH
Zoe Nunez, Notre Dame, Sr., S
Serena Gray, Pittsburgh, Sr., MB
Kayla Lund, Pittsburgh, Gr., OH
Chinaza Ndee, Pittsburgh, Gr., RS/MB
Marina Markova, Syracuse, Jr., MB
Polina Shemanova, Syracuse, Sr., OH
2021 ACC Volleyball Preseason Coaches' Poll
1. Pittsburgh (195 points, 13 first-place votes)
2. Louisville (182 points, two first-place votes)
3. Georgia Tech (168 points)
4. Notre Dame (159 points)
5. Florida State (135 points)
6. Syracuse (127 points)
7. North Carolina (113 points)
8. Miami (106 points)
9. Duke (96 points)
10. NC State (92 points)
11. Clemson (62 points)
12. Boston College (44 points)
13. Virginia Tech (38 points)
14. Wake Forest (33 points)
15. Virginia (25 points)