CORAL GABLES, Fla. – University of Miami head men's basketball coach Jim Larrañaga announced Wednesday the addition of Bensley Joseph to the Hurricanes' 2021 recruiting class.
A 6-foot-1, 165-pound guard from Arlington, Mass., Joseph is a graduate of Putnam Science Academy in Putnam, Conn.
"We are thrilled to welcome Bensley and his entire family into our Hurricane basketball program," Larrañaga said. "Bensley is an outstanding point guard, a great leader, an excellent defender and a terrific passer. He is a valuable addition to our team."
Joseph is considered the top recruit in the state of Connecticut by all three major recruiting websites—247Sports, ESPN and Rivals. The former two label him a four-star recruit, as does the 247Sports Composite.
ESPN pegs Joseph as the No. 80 overall player in the country, placing No. 14 among point guards. The 247Sports Composite rankings list Joseph at No. 101, including No. 16 at his position.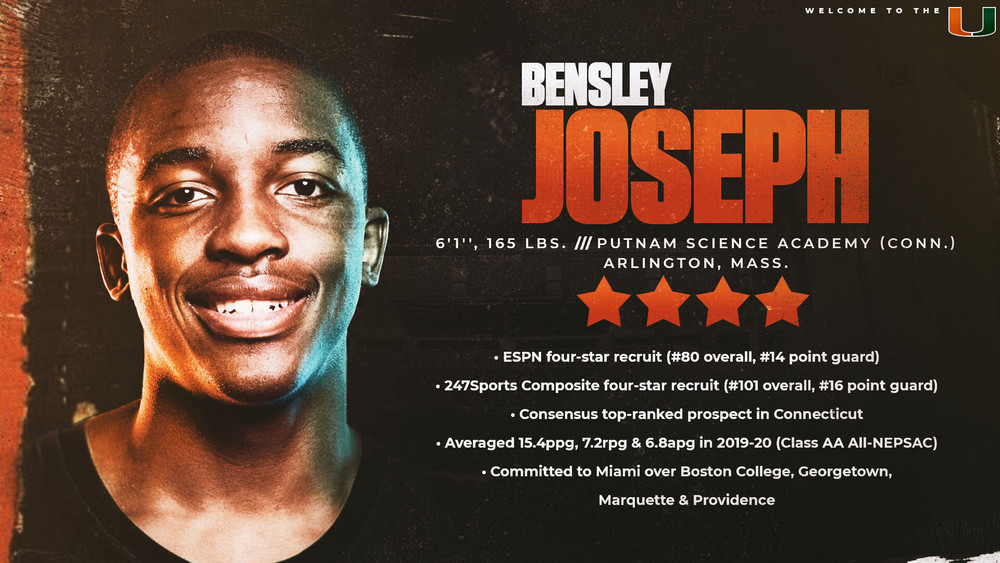 Joseph spent the 2019-20 academic year at Cushing Academy in Ashburnham, Mass. There, he posted a dazzling stat line of 15.4 points, 7.2 rebounds and 6.8 assists per game, en route to earning Class AA All-NEPSAC distinction.
A highly-sought-after recruit throughout his high school tenure, Joseph played on the AAU circuit with Expressions Elite. He committed to the Hurricanes over offers from Boston College, Georgetown, Marquette, Providence and others.
Joseph is the third high school player to sign with Miami in the class of 2021, following fellow guards Nisine Poplar and Jakai Robinson, both of whom did so in November. The Hurricanes have also inked a pair of transfers in Jordan Miller from George Mason and Charlie Moore from DePaul.
To keep up with the University of Miami men's basketball team on social media, follow @CanesHoops on Twitter, Instagram and Facebook.