Seasoned Canes: Fans Share Their Stories
Mark Thibault
It was on his first day of law school at the University of Miami when Mark Thibault asked himself the question for the first time.
"What was I thinking?"
Thibault walked out to the patio at the Norman Whitten Center Pool and was overwhelmed by the beauty of the campus, wishing he had just maybe spent his undergraduate career there as well.
Having grown up in New England and attending college in the northeast, Thibault said he didn't have much exposure to college football growing up.
"There wasn't really any college sports other than college basketball in New England," Thibault said. "But when Doug Flutie had that great game against Miami, it sort of got me into college sports. Everyone was always cheering against Miami, and I said, 'Well I'm going to cheer for UM. I like this.'"
His first game at the Orange Bowl against Iowa was one he'll never forget – but for all the wrong reasons.
"The Hurricanes still had the long winning streak going, but I was clueless in my first year of law school," he said. "I got there late, jammed into the very, very back of the student section of the Orange Bowl underneath the overhang. It was hot as hell and I couldn't see anything.
"I realized I had to get organized, because these people are on their stuff."
Thibault eventually figured it out, parking near Spring Gardens – where he eventually lived in a bungalow years a few years later – before games at the OB. He eventually bought season tickets in Section C in the second row of the stadium.
One of Thibault's favorite memories was flying with some law school friends to Tallahassee for a trip to watch Wide Right I in person.
Now, he tailgates with a good friend who works in the Miami Police Department and a few other friends.
"There are about 10 or 15 people with us now. We park in the green lot and make it an eight- or nine-hour day," he said. "It was awful not going to games last year. I'm excited. We're booked for our hotel in downtown Atlanta for the Chick-Fil-A Kickoff Classic. I'm looking forward to seeing us back on the field."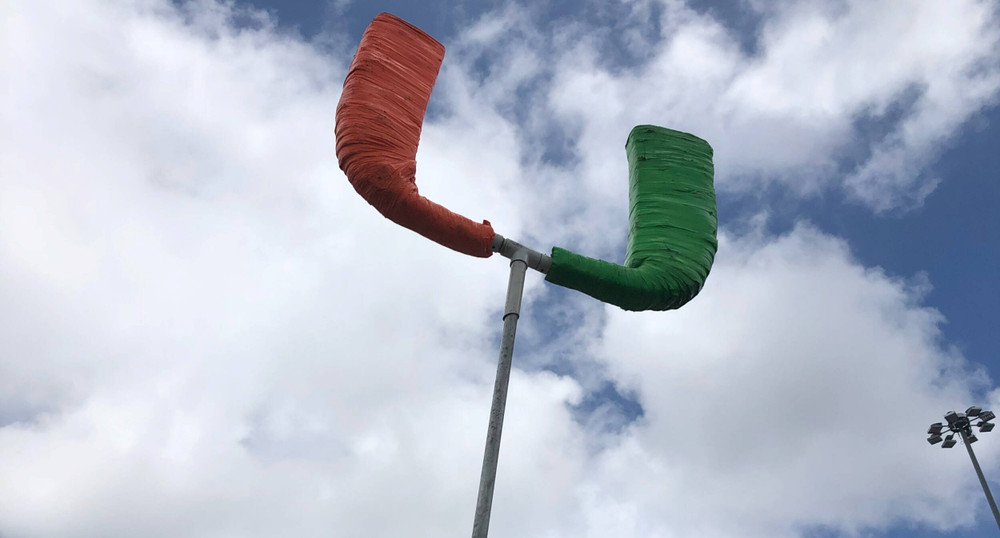 Wendy Levinson
It might have started with their daughter Melissa, but the Levinsons' love for the Hurricanes is now being passed on to the next generation.
Wendy Levinson and her husband attended their first Hurricanes game when their daughter, Melissa, was a student at Miami. Fast forward nearly 15 years later, and the Levinsons are now season ticket holders on their own.
"She was a freshman in 2007, and the first time we went, we were right next to the student section," Levinson said. "It was exciting and gave us a really good introduction – especially for two people who had never been before."
Levinson spent several years growing up in Columbus, and even attended the other Miami University – the one in Ohio – for two years, but never immersed herself in football.
Until, of course, her daughter arrived at The U.
"The atmosphere at the Orange Bowl was so electrifying," she said. "We look forward to it so much now. We've been there through the ups and the downs, and my husband knows that no matter what the score is, we don't leave until the alma mater is played."
Levinson and her husband live in Parkland and aren't big tailgaters. They usually arrive early to get a good parking spot at Hard Rock Stadium, and usually watch warm-ups before the Hurricanes run through the smoke.
Their gameday group might soon be expanding, though.
Melissa and her husband are relocating from the northeast to St. Augustine with their four-year-old son, and are hoping to join in on the fun for at least a few games this coming fall.
"They came down a couple years ago when their son was two years old and we all introduced him to his first Canes game at the age of two," she said. "Now, he watches games with his dad."
Jeff Livingston
Everyone remembers their first Miami Hurricanes game, right?
Jeff Livingston certainly does. It just happened to be on January 2, 1984 at the Orange Bowl.
"I was a senior in high school in Fort Lauderdale and my brother was a student at the University of Miami School of Medicine," Livingston said. "He had an extra ticket for the game against Nebraska and was kind enough to invite me."
The Livingston group was sitting just a few yards away when Kenny Calhoun swatted down a 2-point conversion, elevating the Hurricanes to the pinnacle of college football.
Afterwards, Livingston remembers buying a t-shirt with the game's final score – hot off a printing press outside the stadium – to hang in the car for the way home.
"At that moment, I became a Cane for life," Livingston said.
Livingston ended up spending 11 years at Miami, spending his time working in a research lab, attending post-baccalaureate classes and medical school. He completed two years of residency in general surgery and another four years of residency for otolarynology.
Some of his favorite memories were spent at the Orange Bowl, but he has also traveled across the country to watch the Hurricanes, taking in everything from the 2001 Rose Bowl to the 2017 ACC Championship Game.
Now, he drives down from Vero Beach for games, and has passed along his love for the Canes to his sons.
"Meeting up with great friends at tailgates and eating arepas at the game remind us of our unforgettable times at the Orange Bowl," he said.