Toral Named ACC Player of the Week
CORAL GABLES, Fla. – University of Miami first baseman Alex Toral was named the ACC Player of the Week for April 19, as announced Monday by the conference office.
Toral entered the season as one of the most feared power hitters in the country and the fourth-year first baseman flexed his muscles all week, crushing three homers while slugging 1.231 to help Miami go 4-0 on the week.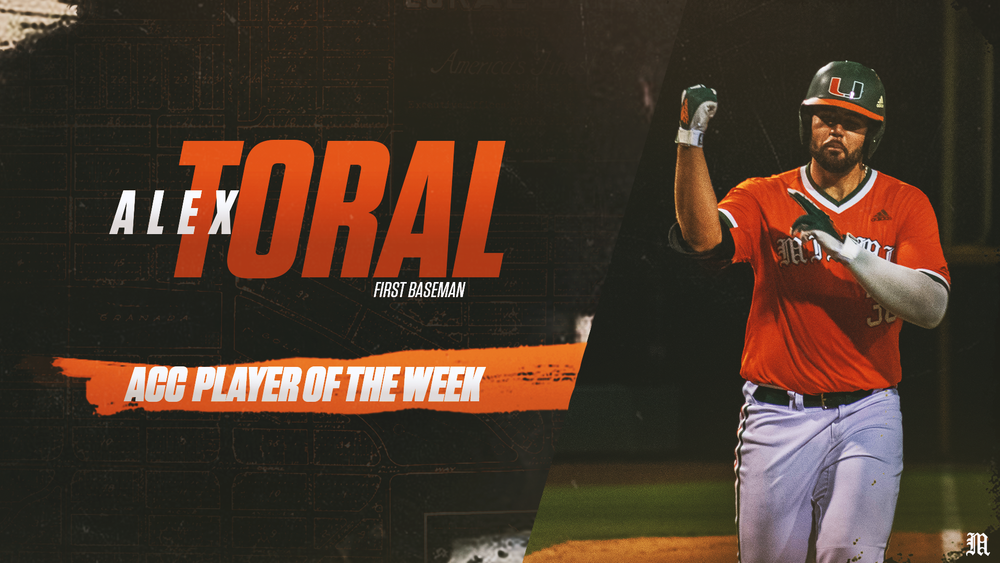 The slugger kicked off the week with a 2-for-3 showing against FGCU, clubbing a leadoff solo homer in the fourth inning that hit the parking garage beyond the right field fence.
The blast off the Ponce Garage set the tone for the week, as the herculean first baseman peppered the Ponce Garage on Friday night against Clemson. Toral hit two bombs over 430 feet in the series opener against the Tigers, leading a five-homer barrage that resulted in a 12-3 victory.
The first went 432 feet to lead off the fourth inning, getting out in a hurry and hitting the garage. An inning later, Toral destroyed a ball 437 feet that landed on top of the five-story garage – a feat head coach Gino DiMare had only ever seen done one other time in a game in over 20 years at Miami.
Toral went 2-for-4 with an RBI in Saturday's 10-2 win and added a base hit in Sunday's sweep-clinching win. The veteran first baseman hit .538 (7-for-13) with three homers, four RBI and a 1.856 OPS for the week.
Toral joins outfielder Christian Del Castillo (Feb. 22), right-hander Alejandro Rosario (Mar. 15) and catcher Adrian Del Castillo (Apr. 5) as Hurricanes earning ACC weekly honors in 2021.
The Hurricanes return to action Wednesday, hosting FGCU in a game slated for a 6 p.m. first pitch.