A $1.5 million legacy for business and baseball
A deeply held desire to help future generations of 'Canes moved longtime University of Miami supporter Charles M. Durham, Jr. to establish a lasting legacy at the U through an estate gift. Durham's planned $1.5 million bequest will create the Charles M. Durham, Jr. Endowed Business Scholarship Fund in the Patti and Allan Herbert Business School and the Charles M. Durham, Jr. Endowed Hurricanes Baseball Scholarship Fund in the Department of Intercollegiate Athletics.
Once fully funded, these endowed gifts will support Miami Herbert business students and baseball student-athletes for years to come.
Durham, who says he would not have been able to attend the University of Miami without the Stanford scholarship, is excited about the direct impact his gift will have on future generations. "I wanted to be able to help students directly and to give someone else the opportunity to attend the U," he said. "The best thing you can in life do is to help enrich the lives of people who haven't had the opportunities that you've had, and to hopefully propel them on to greater things."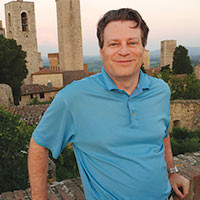 A self-described 'rabid sports fan' who travels once a year from his home in North Carolina to attend a Miami Hurricanes home game, Durham was particularly moved by the financial burden that baseball student-athletes face. Most college baseball players only receive partial scholarships, and the cost of attending the U can often be a deterrent for prospective student-athletes. He hopes his gift will help grow the endowments to continue to help future student-athletes.
Among those who expressed gratitude for the extraordinary gift is Baseball Head Coach Gino DiMare. "As a University of Miami graduate and former Hurricanes baseball player, I know first-hand the opportunities that being a Miami student-athlete give to our players both academically and athletically," DiMare said. "Mr. Durham's generous gift is something that will impact our program forever and we are thankful for his perpetual support."
It was watching the Miami Hurricanes win their first football national championship in the Orange Bowl game in 1984 as a high school senior that first sparked Durham's interest in the University of Miami. He later attended the Miami Herbert Business School, which he says laid the foundation for his career in finance and entrepreneurship. A former member of student government, he remembers the U as 'an oasis in Coral Gables' that hosted a diverse set of students from across the world.
Since then, Durham has stayed connected and remained a devoted and passionate supporter of the U. A baseball aficionado from an early age, his dream is to see the Hurricanes baseball team win another national championship in Omaha. "My heart is always at the U," he said.