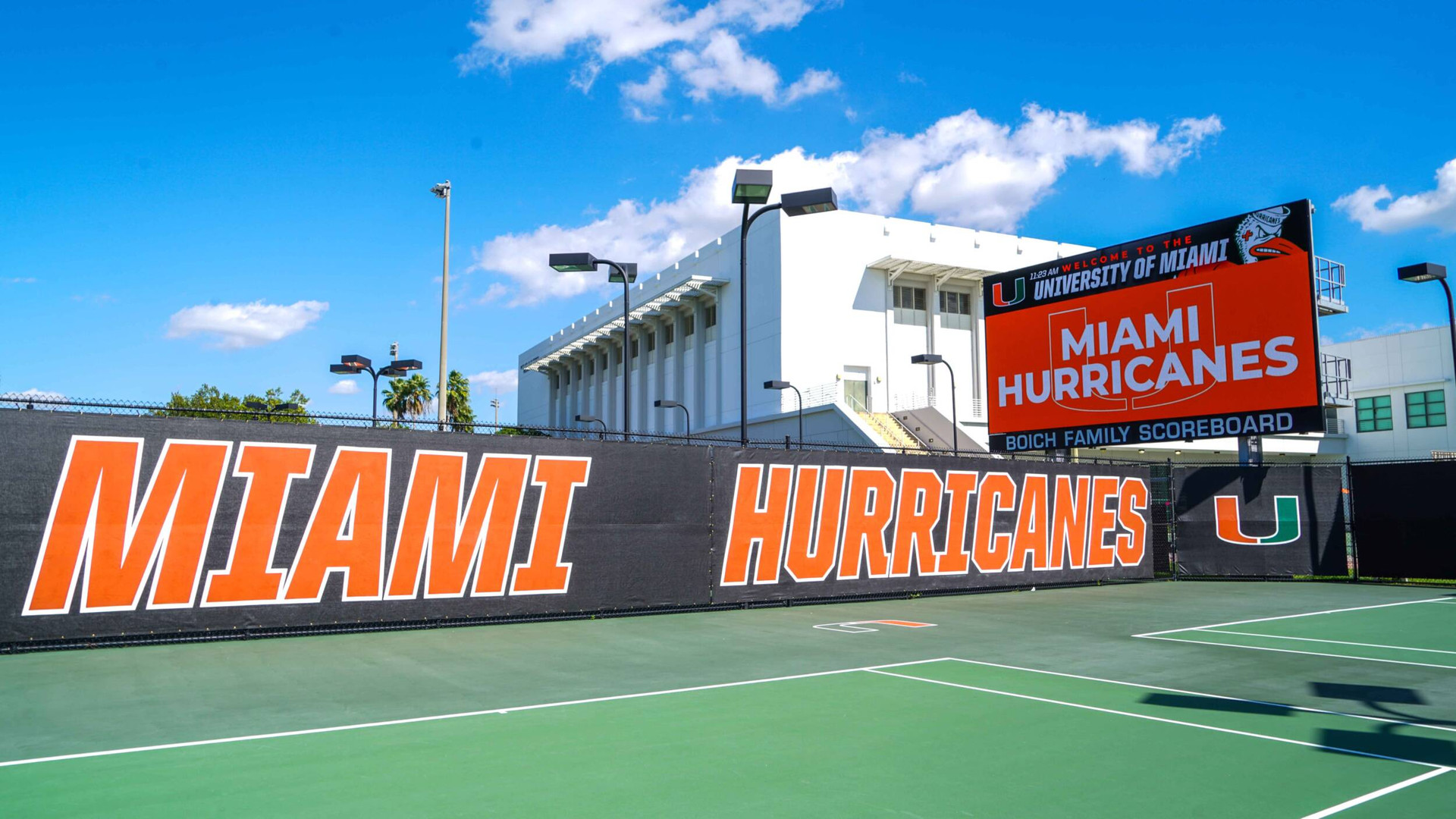 CORAL GABLES, Fla. – Winter weather in Miami feels like summer in many other places; it is warm, sunny and beautiful.
For the University of Miami women's tennis team, the good news is that means it can practice outside year-round, a luxury few programs across the country have. However, Miami also rarely has the chance to practice indoors.
Thus, when the Hurricanes travel north to places such as Syracuse and Boston College, they must adjust to the different conditions created by an indoor match. That is something Miami has handled quite successfully through its history, sporting an 11-3 road record against the two schools.
That mark includes a pair of victories last week, as the Hurricanes logged a 4-3 win Friday over the Orange and then a 5-2 triumph two days later against the Eagles.
"We saw toughness this weekend," Miami head coach Paige Yaroshuk-Tews said. "They were tough in an uncomfortable situation and … they did what they were supposed to do, but the situations up there aren't easy and they handled it well."
There is no doubt Yaroshuk-Tews was pleased with the mentality her team displayed to earn those road wins. However, she also knows there is a lot of season left and No. 34 Miami (5-5, 3-3 ACC) needs to maintain that same mindset.
In her 20th-year hear at the helm of the Miami program, Yaroshuk-Tews knows what it takes to navigate throughout a full campaign.
There are keys, according to the 2012 UM Sports Hall of Fame inductee, to keeping focused and staying tough for an entire season.
"I think it's about consistency. It's about staying humble. It's about staying hungry. It's about doing it every day. It's about not getting excited when you get a couple wins that truly don't do anything to help you [in the rankings]," Yaroshuk-Tews said. "It's about understanding that if we want to get back to where we need to be, we need to keep all those teams behind us and then we need to start taking down teams in front of us. It's just understanding the long haul, not getting too excited when we get some wins under our belt, not getting too upset when we lose and just showing up every day and doing our jobs."
One player who has started to demonstrate the necessary mindset of late is second-year freshman Diana Khodan.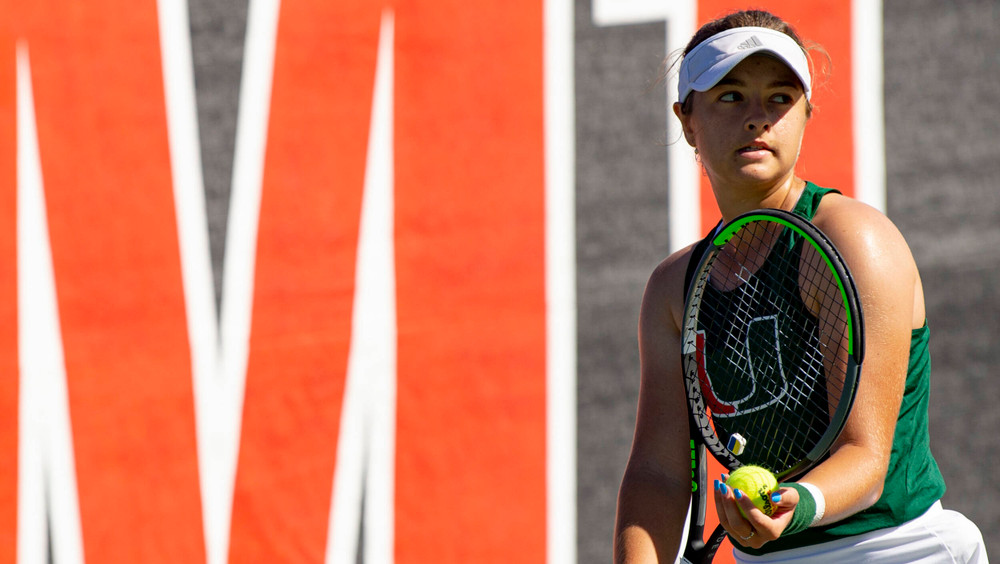 Following the first ranked win of her career—a straight-set, top-50 decision—March 7 at eighth-ranked Duke, she continued her strong play up north last weekend. Khodan tacked on two more straight-set singles victories in Miami's outings in Syracuse, N.Y., and Weymouth, Mass.
The Ivano-Frankivsk, Ukraine, native now has as many singles wins in her last three matches as she did in her career previously.
"We've seen her actually just listening a little bit better. We've seen her trusting herself a little bit better. We've seen really just doing what we've been asking her to do, which is just competing and being relentless," Yaroshuk-Tews remarked. "I think she's starting to understand that position a little bit better, like what types of opponents she may see. Her preparation is better, which I think is enabling her to bring more confidence into her matches. And let's be honest, that point at six just as important as Stela's point at one. That's something that we're reiterating at practice a lot. All these points count the same. If we're pulling in points at six, then we're going to have a pretty darn good season."
One other point Miami picked up in both of its matches last weekend was the first one. The Hurricanes took the doubles point against both the Orange and the Eagles.
After fiddling with the doubles duos early in the season, looking to find the right pairings, it seems Yaroshuk-Tews has done just that.
Fifth-year senior Estela Perez-Somarriba and freshman Isabella Pfennig have settled in at the top spot, followed by Khodan and second-year freshman Maya Tahan at No. 2. Third-year sophomore Daevenia Achong and second-year freshman Florencia Urrutia round out the current Miami lineup.
"What we've been seeing with these three pairs is they're complementing each other all around, tennis-wise, personality-wise, leadership-wise," Yaroshuk-Tews said. "It's nice because it's enabling us as coaches to have more time to just spend with them and not be flip-flopping teams. We're really kind of diving into the teams we have and we're loving the teams we have and I think they're loving the teams we have. They're believing that if one team lays an egg, they're believing that we can bring it in at the other two spots, regardless of where the egg might be laid.
"I think that's shown," Yaroshuk-Tews continued. "We went out at Syracuse, we lay an egg at one and then they have each other's back at two and three. And then [Sunday at Boston College], we lay an egg at two and then one and three show up. It's like they're playing with more of a sense of responsibility in doubles. They're starting to see like, 'Shoot, if we win the doubles point, we're going to be pretty freaking hard to beat.'"
The new doubles pairs will get to put their abilities on display in Coral Gables for the first time this weekend, as Miami finally opens its home slate.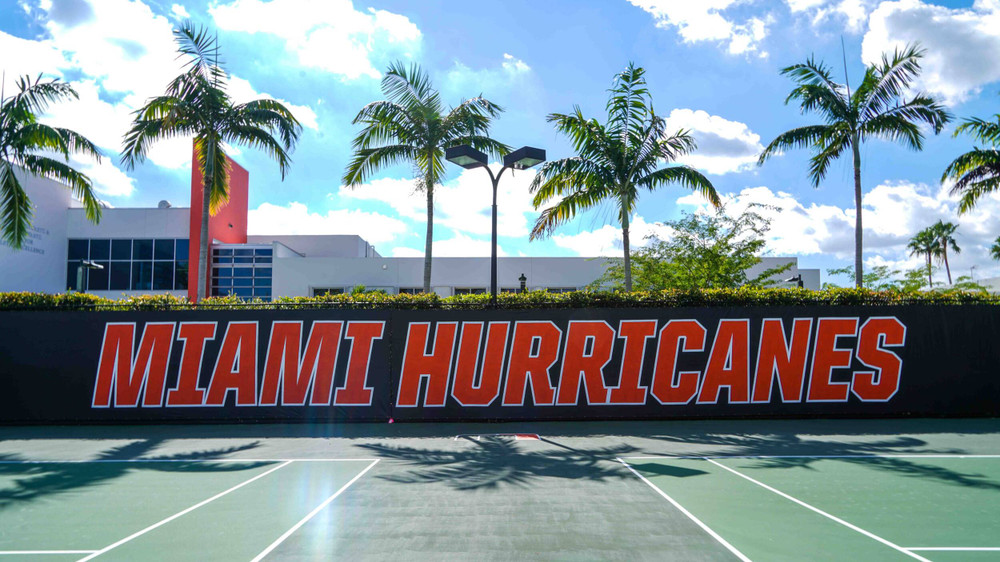 After 10 consecutive matches away from home, including nine true road contests, the Hurricanes open play this week at the Neil Schiff Tennis Center.
Miami is scheduled to play three matches in five days on its home court. The first one is Wednesday at 11 a.m. against USF. Then comes Notre Dame Friday at noon and Louisville Sunday at noon.
"We're excited to be home, we're excited to be playing at our facility. It seems like it's been a while since we've played a home match," Yaroshuk-Tews said. "But again, not getting too excited, not getting ahead of ourselves. We're where we want to be and we're … playing the tennis that we want to be playing right now. So, it's about continuing to step it up a notch and just enjoy being at home and playing in front of some of our fans finally."
While the only fans permitted into the facility, due to COVID-19 protocols, will be immediate family members of the competitors, it will still be a pleasant change for Miami to have them in attendance.
And, as Yaroshuk-Tews alluded to, it has been a considerable amount of time since the Hurricanes last played at the Neil Schiff Tennis Center. In fact, it has actually been over a full year.
Miami's last outing there was Feb. 23, 2020, when it notched a 6-1 victory over Florida Atlantic in the second-to-last match of its abbreviated campaign.
"I think we're still kind of far from normal," Yaroshuk-Tews said, "but the fact that we're sleeping in our own beds and the fact that we're just in our facility is nice."
One other adjustment for Miami this week is the setup of its schedule. Unlike a usual week during league play where the team only takes the court Friday/Sunday or Saturday/Sunday, it has three matches in five days.
The midweek non-conference affair against the Bulls gives Miami its lone jam-packed week of the season. However, Yaroshuk-Tews is not at all concerned about her team's ability to play so many matches in a short period of time.
"I think that tennis players are used to this. We're used to playing tournaments. We're used to playing back-to-back matches. We're used to not having days off," the two-time ITA Southeast Region Coach of the Year said. "So, this really shouldn't [be too difficult] if you're fit and you're ready to play and you're ready to go. Some on our team are more so than others, but if you're taking care of your body and we're in mid-March and you're a D1 college athlete—three matches in five days for a tennis player, we shouldn't be blinking an eye."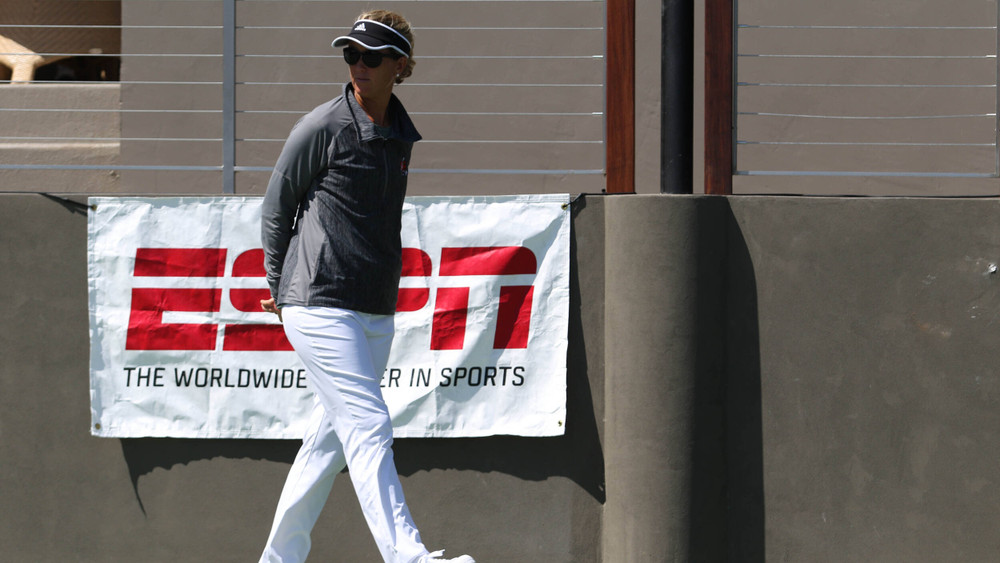 Miami's first test of the week comes against USF, which is 5-7 on the season and have yet to begin league play in the AAC. The Bulls do not have any ranked singles players or doubles duos.
The Hurricanes are 42-3 all-time versus USF, good for their most wins over any team, and boast a 19-2 ledger at home. The sides' only meeting in the last nine years came on May 13, 2017, in the opening round of the NCAA Team Championship, with Miami logging a 4-0 victory in Gainesville, Fla.
After facing the Bulls, Miami heads right back into ACC play against the Fighting Irish, who sport at 9-7 (3-5 ACC) record on the season and are receiving votes in the ITA poll.
Cameron Corse is Notre Dame's lone ranked singles player at No. 109 in the nation and she pairs with Page Freeman to form the No. 19 doubles duo on the ITA list.
The Hurricanes own a 13-11 mark all-time against the Fighting Irish, including a 9-6 mark at home and a 9-1 record in the last 10 meetings. The teams did not square off in last year's shortened season, but Miami won, 5-2, on March 15, 2019, in Coral Gables in the last matchup.
To cap the weekend, the Hurricanes meet a Louisville program that is 6-7 (3-5 ACC) on the year and is also in the receiving votes section of the ITA poll. The Cardinals do not have any ranked players or pairs.
Miami is 6-0 all-time versus Louisville, including 2-0 at home. In the most recent contest, which proved to be the final one of the Hurricanes' 2020 slate, Miami logged a 6-1 road triumph on Feb. 28, 2020.
"All [three are] very good teams. Our preparation is no different for the next three matches than it is if we're heading to Duke and UNC to play the number one team in the country," Yaroshuk-Tews said. "Tennis is interesting; if you don't put the ball between the lines and you don't play your tennis, anybody could beat you. It doesn't matter how good they are. So, our preparation is [such that] we're ready to play high-level tennis, we're ready to have high-level opponents come in here.
"We've got to be ready to go," Yaroshuk-Tews added. "We've been inside, now we're playing outside. So, we're getting a couple practices in today to get ready for that tomorrow. We're excited to play three high-level matches."
The Hurricanes enter the week with three ranked singles players, led by Perez-Somarriba at second in the country. She is followed by Achong at No. 87 and second-year freshman Selma Cadar at No. 102. The team does not have any ranked doubles pairs.
Live stats for Miami's matchup with USF can be found HERE, while live stats for its meeting with Notre Dame will be available HERE and live stats for its outing versus Louisville can be found HERE.
Fan attendance at the Neil Schiff Tennis Center for Miami home matches will be limited to immediate family members of the participating teams.
To keep up with the University of Miami women's tennis team on social media, follow @CanesWTennis on Twitter, Instagram and Facebook.