Bats Heating Up Ahead of Midweek Test
No. 25 FAU (8-2, 0-0 C-USA) vs. No. 5 Miami (5-4, 3-3 ACC)
Roster | Schedule
March 9, 2021 | 6 p.m.
Alex Rodriguez Park at Mark Light Field | Coral Gables, Fla.
CORAL GABLES, Fla. – The bats are heating up and that is good news for the No. 5 Miami Hurricanes as they prepare to open a four-game week with a matchup against No. 25 Florida Atlantic.
The Canes (5-4, 3-3 ACC) had struggled to flex their muscles at the plate, hitting just two homers over the first six games. But Miami's power came alive in Raleigh, N.C., as the Hurricanes homered in each of the three games against NC State – including a four-homer barrage in the series finale on Sunday.
"It was nice to see us have a big inning because we haven't had too many big innings and put a bunch of hits together this year and it was really nice to see us hit the ball out of the ballpark," head coach Gino DiMare said following Sunday's victory. "We need to get some more power and thump in our lineup, which is something we should have, so it was good to see that today."
The big inning DiMare is referring to was a five-run top of the sixth in which Miami sent 11 batters to the plate. The Hurricanes also made a bit of history on Sunday afternoon, as Anthony Vilar, Yohandy Morales and Adrian Del Castillo belted consecutive home runs to mark Miami's first back-to-back-to-back homers since Randy Batista, Michael Burns and Romy Gonzalez all went deep in the ninth inning at Boston College on April 29, 2017.
"Today was a big day for us in that department and it's part of our offense, having some of the power guys that we have," DiMare said following the Sunday win. "Yoyo, obviously, he's got some power and so does Del and Vilar hit one out today, too. We're still trying to get a feel for it, but I feel better after this series. We went with the same lineup a couple days in a row for the most part and I'd like to see these guys play for a little bit and see how consistent we can be. I really like it with Dom playing short and Yoyo at third. I just think it solidifies our defense and of course, both guys had good weekends swinging the bat."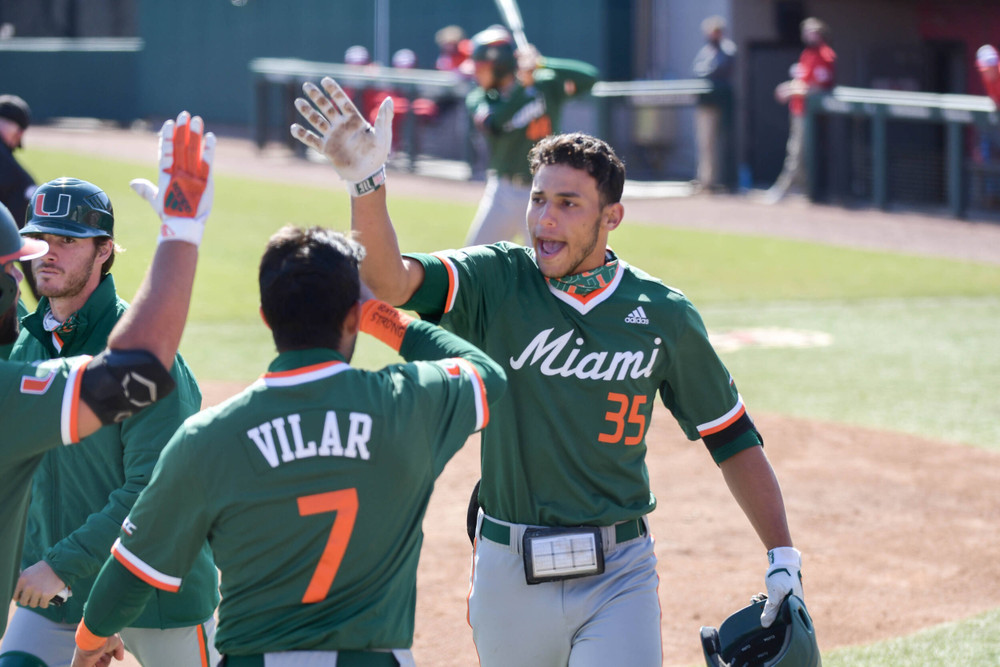 Morales has been Miami's top hitter in 2021, leading the Hurricanes with a .359 batting average and three homers while his nine RBI are tied for the team-high with Christian Del Castillo. The Miami native has been on a tear since making his collegiate debut on opening day this season, reaching base in eight of nine games – including Miami's last seven.
A starter in all nine games this season, Morales has delivered several clutch hits for the Canes and that continued over the weekend in Raleigh.
On Saturday, he led off the top of the eighth with a ground-rule double to right and later evaded a tag at the plate to score the go-ahead run in Miami's 6-4 victory.
A day later, Morales crushed a solo shot to center that tied the game at 3 as part of a five-run Miami sixth. Then Morales led off the top of the seventh with another solo bomb to center, closing out his second career three-hit game and recording his first multi-homer performance as a Hurricane.
"I just wanted to make contact and not try to do too much," Morales said after Sunday's win. "I had to get on base, no matter what, to get everyone going. It was an amazing feeling. I was pumped the whole way rounding the bases knowing I just tied the game with one swing of the bat."
But Yoyo is not the only Cane swinging a hot bat these days, as Vilar has been on a tear over the previous six games. The third-year second baseman has hit .385 (10-for-26) with a homer and four RBI while building up a six-game hitting streak.
"I feel really good at the plate right now," Vilar said. "At Florida, I was hitting the ball hard and they just weren't falling so, I just kept the same approach, stayed confident in my swing and my approach and just try to hit the ball hard."
Approach has been a major talking point among the Hurricanes as they looked to jumpstart their offense ahead of the NC State series.
"At the beginning of the season, we were struggling a lot," said leadoff hitter Jordan Lala. "Our coaches told us we were taking too many pitches and that we should start being more aggressive. I think this past weekend, we were pretty aggressive in the box and I think hopefully we'll just get better from here."
Lala had a productive trip to Raleigh, going 3-for-10 with a double, a three-run homer, five runs scored, five RBI, two walks and two hit-by-pitches. The table setter for Miami's offense, Lala has reached base safely in 16 of his last 17 games dating back to last season.
"Gino always tells me I'm a spark for the team and if I get on base, we're going to score," Lala said. "So, my main goal is to try to get on base. I know if I get on base, I've got guys behind me that are going to drive me in."
While Miami has struggled to drive in runs at times this season, the Hurricanes have always remained confident in their ability at the plate. It was always just a matter of time before their bats would get rolling again.
"We knew that eventually we were going to get our bats going," Vilar said. "There's still some guys that haven't picked it up, but we know eventually we all will and once we all connect in the lineup, it's going to be hard to stop us."
Del Castillo, who is Miami's top prospect and one of the top hitters in America, is one of several big bats starting to heat up for The U. A feared hitter in the middle of the order, he smashed his first homer of the season and believes all the Canes are starting to feel more like themselves at the plate.
"It's huge to see us get it going a little bit at NC State," Del Castillo said. "The middle of the order, other than Yoyo, hasn't been doing like we want to be doing. It's actually been the bottom of the order that has been producing most of the runs and I think that's a good thing because when the middle of the order and the top of the order gets going, we are going to be a really strong and deep lineup and that's going to be really good for us. Hopefully that started this last weekend at NC State."
But an ACC road series win does not mean Miami can relax going forward. In fact, the Hurricanes have a tough test on Tuesday, as they open midweek play with a matchup against No. 25 FAU.
"This weekend is over. We celebrated last night when we got back, but now it's time to focus for the next game and win our first midweek game," Vilar said. "FAU is a great team and they've always had high energy. They're a team from Florida and any team from Florida is good. The guys from FAU are mostly from Florida and all of Florida is good in baseball, so we know they're going to come in ready to play. We've just got to treat it as we would any other game, whether it's ACC or midweek, treat it the same and just try to come out with a win."
The Canes went 3-1 in midweek games a season ago, dropping a road tilt at FAU on March 4. Miami knows the importance of midweek games as it looks to earn a 47th berth in the NCAA tournament this season.
"Midweek games are huge," Lala said. "If you look back in 2019, we had a chance to host a regional and we didn't get it done probably just because we lost a few midweek games that we should have won. Gino always emphasizes the midweek games and reminds us that we can't take them lightly. Our midweek games are always tough and we're going to have to get the job done."
Miami will host the Owls Tuesday at 6 p.m., and Vilar believes the Hurricanes will have the right mindset going into their first midweek test of the year.
"A lot of the veteran guys have been talking after the games, telling everyone to stay strong, stay up in the dugout and have a lot of energy," Vilar said. "A lot of times, it's that energy and momentum that helps us win games so we're just preaching that and trying to stay high energy and use our momentum to keep winning games."