Miami Closes Out Regular Season at Clemson
CORAL GABLES, Fla. – After a season full of schedule changes, a season filled with highs and lows, the Miami Hurricanes hit the road for the final game of the regular season on Sunday.
"It's a blessing to say that we've been able to play all of our games without COVID issues on our team," senior Endia Banks said. "It's truly a blessing to make it to the last regular season game."
Miami rides a two-game win streak into Sunday's contest against Clemson and looks to carry momentum from their its gritty win over Wake Forest into the game.
"That was a huge win against Wake Forest, an NCAA [tournament] team," head coach Katie Meier said. "We did every single special situation in the book, in shootaround and practice planning, because every time we play Wake Forest, it is close. They are a great basketball team."
Four Canes scored in double-figures in the game, including seniors Kelsey Marshall and Endia Banks, who tallied 12 and 11 points, respectively. Redshirt junior Destiny Harden paced the Canes in scoring, pouring in 15 points, to go along with five rebounds and two assists. Junior Naomi Mbandu joined the aforementioned trio in double-figures with 12 points in the contest.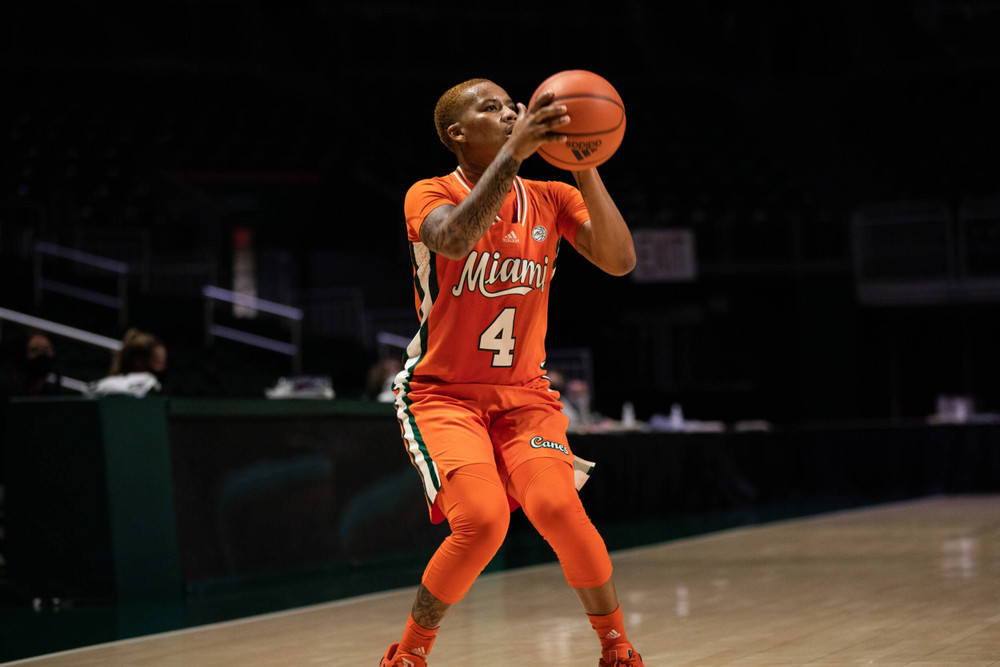 While they are riding high from the two-point victory on Senior Day, the Canes know they need to quickly turn their focus to the next game.
"Clemson is a very different team than Wake Forest," Meier said. "They are an aggressive team that won't give you time to play calm basketball.
The Canes and the Tigers have already met this season, with Miami coming out on top, 80-17, in Coral Gables, Fla. Seniors Endia Banks and Kelsey Marshall were dominant on offense for the Canes, recording 20 and 19 points, respectively.
Miami is looking for its second sweep of the season, already besting North Carolina twice this season. The Canes have swept Clemson in the regular season twice before in program history in 2013 and 2020.
But to complete the sweep will require a full team effort from the Canes.
"We have to come prepared and focused," Banks said. "We have to play together and play hard because we know they are going to be a physical team."