Feb. 20 | 12 p.m. | RSN
Watsco Center | Coral Gables, Fla.
Miami (7-12, 3-11 ACC) vs. Georgia Tech (10-8, 6-6 ACC)

By Alex Schwartz
MiamiHurricanes.com
CORAL GABLES, Fla. – The NBA is often referred to as a "make or miss league." That description can also, at times, be applied to the college game.
One such example was Sunday night at Purcell Pavilion in Notre Dame, Ind. The University of Miami men's basketball team repeatedly got good looks, but simply did not make shots.
The Hurricanes posted a season-low 32.4 percent (22-of-68) clip from the field and the unfortunate misses led to a 71-61 setback against the Fighting Irish.
"I don't think we took a lot of bad shots. We took a few," Miami head coach Jim Larrañaga said. "We got a couple of blocked shots because of Notre Dame's size in around the rim. They were able to block a couple of attempts, but it wasn't even that those shots were that bad."
Despite its shooting struggles, Miami used an 11-2 run to build a 54-52 edge with 6:44 to play before going cold from the floor.
Even down the stretch, though, as Notre Dame closed the contest with a 19-7 burst, Larrañaga liked his team's efforts on the offensive end. The shots, however, simply continued to miss.
"Here's the way our staff looked at it. When the score was 54-all, we had three layups—I mean, at-the-rim shots—that all three missed," the two-time ACC Coach of the Year shared. "And we gave up a three-point play and a two, and ended up giving them a five-point lead with like five minutes to go. They were able to hold onto that lead.
"You've got to give Notre Dame's players some credit for finding the holes in our defense in the last five minutes," Larrañaga added. "And you can give our players some credit for getting some really good looks. [We had] three layups right inside the defense and unfortunately the ball didn't go in, but our shot selection was very good."
Sophomore guard Isaiah Wong paced the Hurricanes with 17 points in the defeat, while redshirt senior guard Kameron McGusty posted 12 and senior guard Elijah Olaniyi logged 11.
Additionally, sophomore forward Anthony Walker notched 14 points and 10 rebounds to register his team-leading third double-double of the season, including his first off the bench.
The Baltimore native is averaging 12.0 points and 5.0 rebounds per game over his last six outings. In his first 12 appearances of the season, he averaged just 6.7 points and 3.2 board per contest.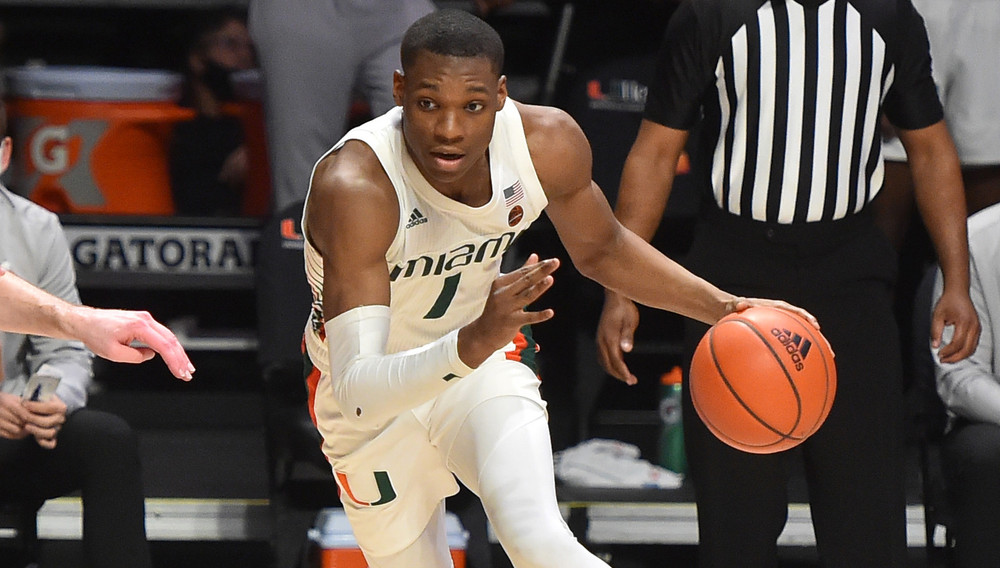 "First of all, he's getting a lot more playing time. He's earned that with the way he has played, but he also is a very gifted athlete who has a very high ceiling," Larrañaga said of Walker's recent increase in production. "His double-figure points and half-dozen rebounds or so are just the tip of the iceberg for him. He has a lot of improvement to make and has the ability to get to a whole other level."
Outside of Walker's continued surge, another positive takeaway from the Hurricanes' outing in the Hoosier State was the way it took care of the ball.
Miami (7-12, 3-11 ACC) committed just five turnovers, matching the program's fourth-lowest total ever in ACC play and tying the second-lowest mark by any ACC team this season.
"I'm not really sure why we had so few turnovers except Notre Dame does not try to force turnovers. So, we didn't just throw the ball away," Larrañaga said. "The difference [in our next game is] Georgia Tech tries to turn you over every time. They try to steal it, they swipe at it, they grab, they foul … but Notre Dame is the opposite. They never foul. They don't go for steals and so our guys just did some simple things."
Miami's matchup with the Yellow Jackets is set for Saturday at noon at the Watsco Center, the first game in six days for both sides. The long break for the Hurricanes allows the team ample time to get ready for such a different style of defense than the one it faced Sunday night.
While it may still be difficult to prepare for, Larrañaga has already started to stress to his team what it needs to do to take care of the ball against this type of foe.
"What we shared with the players yesterday is you really have to be prepared mentally for what they're going to try to do. If we try to play the same way we did against Notre Dame, we'll end up with 15 turnovers instead of five," Larrañaga said. "You've really got to be strong with the ball. You've got to be aware every time you make a pass that someone's going to be trying to steal it. They change their defenses regularly. You have to be able to recognize the defense and then know our game plan against each defense and then you have to execute that plan. So, if they're playing the 1-1-3, we attack it differently than the 1-3-1."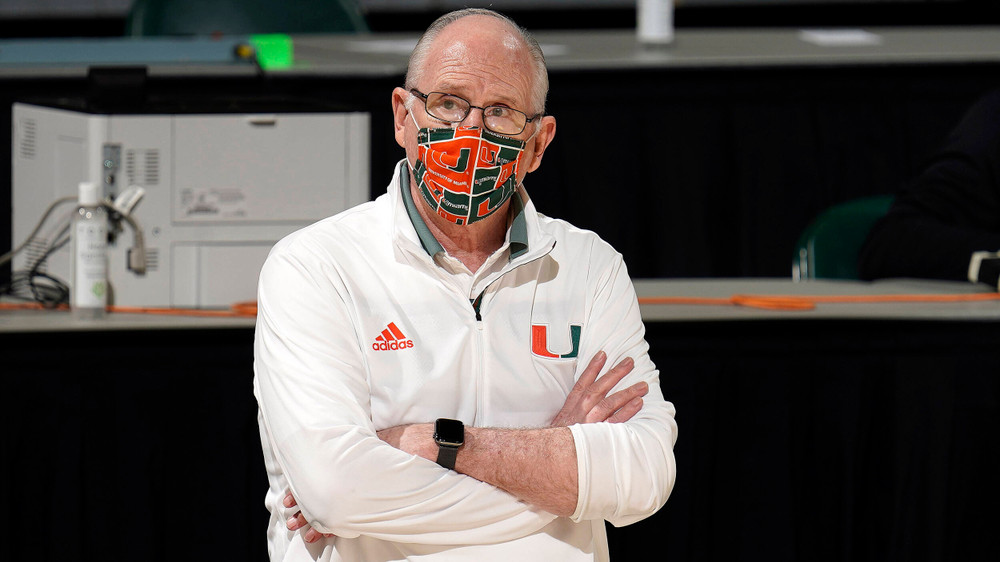 Along with the havoc Georgia Tech can create on the defensive end, it also boasts a high-powered offensive attacked filled with capable scorers. Fifth-year head coach Josh Pastner's team is averaging 74.6 points per game, fourth-best in the ACC.
Three of the league's top 20 scorers reside in Atlanta, including two of the top six, in senior guard Jose Alvarado (fifth), senior forward Moses Wright (sixth) and junior guard Michael Devoe (No. 18).
Those are not the only talented offensive players in the Georgia Tech arsenal, however, making them a difficult group to contain.
"Jose Alvarado is a nuisance. He is just a hard guy to guard. He keeps his dribble alive. He's very good at finding the open man. He can make a three," Larrañaga said. "He's an all-conference player and his sidekick, Michael Devoe, is one of the outstanding scorers in our league. He also is someone that keeps his dribble alive, can make threes, can get fouled a lot. And then you add to that Moses Wright, who is having a sensational season, and Jordan Usher, who is a dynamic athlete, can drive the ball to the basket and is great in the open court. And then Bubba Parham and … Khalid Moore, those guys are a good complement.
"They've got a very, very good team," Larrañaga added. "…I think they're playing very well. They're shooting the three well. So, it's going to be a major challenge for us."
Alvarado is leading the Yellow Jackets not only leading the Yellow Jackets in scoring at 16.8 points per game, but sports a team-best mark of 4.1 assists per contest.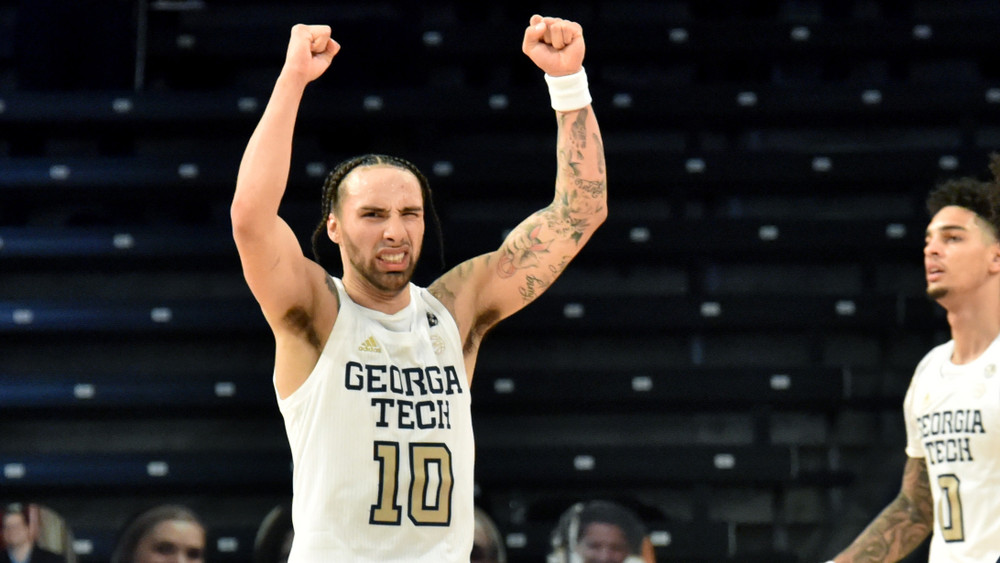 The Yellow Jackets head into the game at 10-8 (6-6 ACC) on the season and own three top-25 victories thus far. Georgia Tech was picked ninth in the ACC preseason poll after tallying a 17-14 (11-9) record and finishing fifth in the conference last year.
Miami owns a 14-10 all-time mark versus the Yellow Jackets, including a 7-4 ledger at home and a 7-4 record in Larrañaga's tenure. Georgia Tech won the most recent meeting, 63-57, on Feb. 29, 2020, in Atlanta in a game during which Miami trailed by 20 in the second half and rallied to take a two-point lead before falling.
Saturday's contest will be televised live on RSN—that is FOX Sports Sun locally—and FOX Sports GO, with Tom Werme and Brian Oliver on the call. A full affiliate is available HERE and it can also be seen on WatchESPN, subject to blackout, HERE.
Joe Zagacki and Danny Rabinowitz will have the radio broadcast on 560 The Joe WQAM HERE, while action can also be heard on WVUM 90.5 FM HERE and in Spanish on WMYM 990 AM HERE. Live stats for the game can be found HERE.
After taking on the Yellow Jackets, Miami faces No. 16 Florida State in a second straight home game, with action set for Wednesday at 8:30 p.m., live on ACC Network.
To keep up with the University of Miami men's basketball team on social media, follow @CanesHoops on Twitter, Instagram and Facebook.
The 2020-21 Miami Hurricanes men's basketball season is presented by First National Bank.