Castellano-Mugica Inks Pro Deal with Poland's Medyk Konin
CORAL GABLES, Fla. – Former University of Miami soccer standout Lexi Castellano-Mugica has officially signed a professional contract to continue her playing career overseas.
After earning her master's in exercise physiology strength and condition in December, Castellano-Mugica recently joined Medyk Konin, which competes in Ekstraliga, the top level women's soccer league in Poland.
"It means the world to me, honestly," Castellano-Mugica said. "It is the best feeling in the world and I am just so happy that I got to share the moment with my family, my girlfriend and my friends because it just feels so awesome, working so hard for so long and to have it all pay off. This is just the first step of the journey and I am excited for what is to come. I am super pumped, as well as grateful for everyone that helped me get this opportunity, as well as overwhelmed with joy and happiness to finally have signed my first professional contract.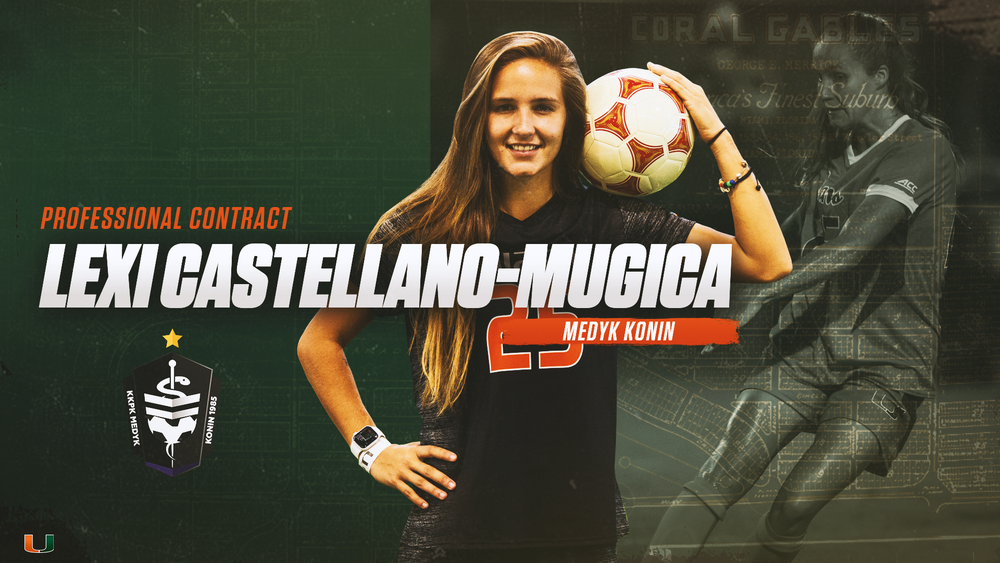 "What excites me the most is to finally play in my first professional game," Castellano-Mugica added. "I think that is just so awesome, as I finally will get to live my dream and it brings a smile to my face every time that I say, 'Wow, I really did that, I really made it, I have made my dream come true.' My goals are to play my heart out this season and to give it everything I have. To finally achieve my dream, it is just about continuing to do what I do and give everything I have to this team and club. And to just work my butt off and try and bring this team to the Champions League, like they have been a couple years ago and to just make it as far as we can."
Developing more and more as a leader over her five years as a Hurricane, the Boca Raton, Fla., native overcame a grueling procedure on her right leg just over 18 months ago.
Returning to action after a 2019 redshirt season, the central defender tallied a goal against Virginia Tech, the third of her career and first since notching a header against FIU on Aug. 19, 2018.
Gaining more and more strength and confidence throughout the 2020 campaign, Castellano-Mugica was ready to enter the professional ranks and quickly gained interest from multiple teams. However, the team that stood out to her most, immediately made her feel like she was part of a family.
"My initial interaction with the team was awesome. All of the girls here are super accepting, super loving, super nice. They are just an awesome group of girls," Castellano-Mugica said. "…It has just been a great experience overall. I am just excited to see how the season will be like and what the rest of this year holds. The coaches are also awesome, they help me understand the new tactics and what they need from me and also let me know when I am doing a good job or if I need to change something. So, I am very happy with the experience thus far and ready for what is to come.
"We just had our first week of preseason and we have the official season starting in March. Similar to college, the preseason has been a grind, but it has also been an awesome experience, as it already feels like we are a family," Castellano-Mugica continued. "For the future, I am here for a year, so not sure what will happen next. But, for this next year, I am just going to keep grinding and working hard for this team."