Ellis Named NCAA Top 10 Honoree
This story courtesy of NCAA.org
In January, 10 exceptional former student-athletes will be honored during the NCAA Convention as the 2021 Today's Top 10 Award winners.
The award recognizes former student-athletes for their successes on the field, in the classroom and in the community. Recipients will be recognized during a virtual Honors Celebration awards show on Wednesday, Jan. 13. The show will be streamed at 7 p.m. Eastern time on the NCAA Twitter account and on the ESPN app.
The honorees are selected by the NCAA Honors Committee, composed of representatives of NCAA member schools, conferences and distinguished citizens, including past awardees.
Before 2013, the award recognized eight student-athletes and was known as Today's Top VIII. The NCAA Honors Committee expanded the award to include 10 honorees to recognize the growing number of college athletes, sports and championship opportunities. This year's recipients competed in 10 sports, including one emerging sport.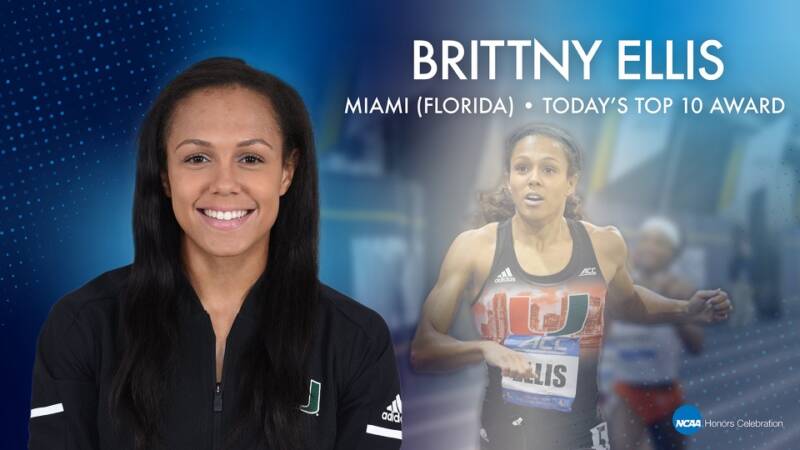 Miami sprinter Brittny Ellis earned five first-team U.S. Track & Field and Cross Country Coaches Association All-America honors in 2016, 2017 and 2019, and three second-team honors in 2019. The five-time conference individual and relay champion also contributed to indoor conference championships for Miami (Florida) in 2016, 2017 and 2019, and she earned 12 first-team all-Atlantic Coast Conference honors in 2016, 2017, 2019 and 2020. She was named to the USTFCCCA All-Academic Team all four of those years. Ellis was inducted into the Iron Arrow, the highest honor awarded at Miami (Florida), and earned an NCAA Postgraduate Scholarship. A four-year campus Student-Athlete Advisory Committee member, she was recognized as the Miami SAAC Most Valuable Participant in 2020. Ellis also was a member of Sigma Theta Tau nursing honor society and Omicron Delta Kappa national leadership honor society. Ellis volunteered with Soap for Hope, distributing donated toiletries to the homeless, and was a two-year volunteer for Second Spoon Community Dinner, providing weekly dinners for the homeless community. In 2017, she was recognized as a Miami (Florida) Top Six for Service honoree. She became a registered nurse in 2019 and is the first licensed nurse to have competed on a team at Miami (Florida). Ellis received her master's in health informatics from Miami (Florida) in 2020 and is working as a trauma nurse in Memphis.