Dec. 4 | 8 p.m. | ACCN
Watsco Center | Coral Gables, Fla.
Miami (1-0, 0-0 ACC) vs. Stetson (0-1, 0-0 ASUN)
CORAL GABLES, Fla. – The University of Miami men's basketball team opened the 2020-21 season Sunday night with a 77-59 victory over North Florida.
The Nov. 29 start date was the program's latest since 1992. For the Hurricanes, it was a joy to once again experience a gameday.
"It's great to be back with all the guys. I know I missed the preparation, between shootaround and team meals," sophomore guard Harlond Beverly said. "I feel like those are great team bonding times. I really missed those. It just feels good to be playing against other people, too. We've played against each other since maybe August; it's been a long time coming."
In addition to the long wait and facing a team that already had two games under its belt, the Hurricanes had another adjustment to make in their opener and that was the new COVID-19 protocols.
From the lack of fans to the spaced-out benches to a variety of other behind-the-scenes differences, there is no doubt that games in 2020 have a different feel.
Once the game begins, though, it is just basketball.
"Honestly, I didn't think about it one time when I was playing," Beverly said. "Maybe before the game, during the national anthem, you kind of look around and there's nobody there. But once the ball goes in the air, it was game time. I wasn't thinking about the fans at all."
It was clear Beverly was locked in against the Ospreys, as he logged the first double-double of his college career. In fact, the Detroit native says it was the first time in his life he compiled a double-double that included rebounds.
Beverly, who finished with 11 points, a career-best 11 rebounds, two steals and three assists, feels his success came from his commitment on one particular side of the court.
"I was locked in on the defensive end and my effort was really good. So, that just led to a lot of effort plays, which usually come on the defensive end," Beverly explained. "That's just something they've been trying to instill in me since last year and I feel like I've made a lot of progress in that area of playing hard and making effort plays. I appreciate Coach L pushing me to try to do that better."
Fellow sophomore guard Isaiah Wong also turned in a strong game for Miami, totaling 20 points and seven rebounds, while senior guard Chris Lykes scored 11 points. Freshman forward Matt Cross and redshirt senior guard Kameron McGusty each tallied 10 points and seven rebounds, helping their team finish with a 47-34 rebounding edge in the wire-to-wire win.
As a team, Miami did one thing particularly well in the victory that it hopes to repeat moving forward. It also showed one area where improvement is needed that it plans to work on.
The first chance to do both of those comes Friday at 8 p.m., when Miami (1-0) is set to host Stetson at the Watsco Center.
"We're trying to become a better team sharing the ball, which I feel like we did a good job [of doing] in the first game. I know we had more than 15 assists," Beverly said. "[In addition], we're trying to become a better team … defensively. I feel like you can never be too good defensively. So, we're going to try to improve that. That's really what we're working on."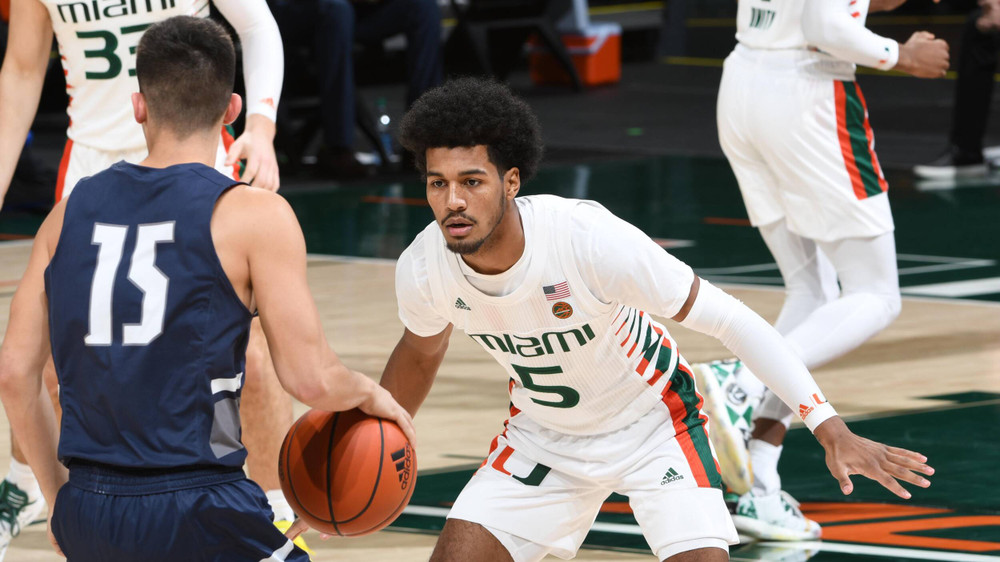 This will be the 83rd meeting between the Hurricanes and Hatters, good for Miami's second-most against any foe. The Hurricanes are 49-33 in the series, their most wins versus any current Division I team, in a series that dates back to 1927-28, the first year Miami played varsity foes.
The Hurricanes are 30-13 at home and 9-0 since the 1985-86 program rebirth against the Hatters, plus won their lone matchup of the Jim Larrañaga era, an 87-79 home triumph on Nov. 9, 2012.
Despite Miami's history of success against Stetson, the team knows it cannot overlook any opponent, especially one in-state.
"We try to take every game as if it's the biggest game of our lives," Beverly said. "So, we don't really look at if they're coming in trying to prove something to us. We know what we prepare for and we know what we're ready for. We take that preparation and try to go execute it against anybody on a nightly basis."
The Hatters are 0-1 on the young season after dropping a 64-61 home decision to Emmanuel (Ga.) College Monday night to begin the campaign.
Stetson is led by sophomore guard Rob Perry, a preseason all-league pick who totaled 26 points in the season opener. Sophomore forward/center Mahamadou Diawara also earned preseason all-conference status for the Hatters, who were picked to finish third in the Atlantic Sun after going 16-17 (9-7) a year ago.
Friday's affair will be televised live on ACC Network HERE, with Anish Shroff and Paul Biancardi on the call. Joe Zagacki and Danny Rabinowitz will have the radio broadcast on 560 The Joe WQAM HERE, while action can also be heard on WVUM 90.5 FM HERE. Live stats for the contest can be found HERE.
After meeting Stetson, Miami will host Purdue in the ACC/Big Ten Challenge. The matchup is scheduled for Dec. 8 at 5 p.m., live on ESPN2.
To keep up with the University of Miami men's basketball team on social media, follow @CanesHoops on Twitter, Instagram and Facebook.
The 2020-21 Miami Hurricanes men's basketball season is presented by First National Bank.