Week 5 ProCanes Report: Colbert Shining for Giants
The weekly ProCanes Report will weed through all the NFL highlights and news to bring you the information you care about the most… what the University of Miami Hurricanes did during the week prior. Safeties Sheldrick Redwine and Adrian Colbert have enjoyed impressive starts to the 2020 season – Redwine in his second year with the Browns and Colbert in his first year with the Giants – and both delivered Sunday. Read on for more from across the league.

Top Performers:
Adrian Colbert (New York Giants)  – career-high eight tackles, one tackle for loss
Adrian Colbert has been a part of five different organizations since being drafted by the San Francisco 49ers in 2017, but he may have finally found a home: New York. Colbert, in his first year with the Giants, made another start on Sunday against Dallas and finished with a career-high eight tackles, including one tackle for loss, in a narrow loss to the Cowboys. He played 76 percent of the Giants' snaps on defense Sunday.

Sheldrick Redwine (Cleveland Browns) – first interception of NFL career
When Cleveland Browns safety Ronnie Harrison went down with a potential concussion, in stepped Sheldrick Redwine. Shortly thereafter, the Browns' second-year safety took advantage of the moment with the first interception of his NFL career. Redwine, who had 41 tackles during his rookie season in Cleveland, could see an increased role for the Browns, who are 4-1 but have struggled with injuries across the board.

Jimmy Graham (Chicago Bears) – three catches, 33 yards, 1 touchdown
Coming off a disappointing season with Green Bay, Jimmy Graham signed a two-year deal with Chicago this past offseason looking for a new role. Graham has impressed, and after his touchdown grab Sunday against Tampa Bay, now ranks second among touchdown receptions by tight end. Not only does Graham's four touchdowns surpass his 2019 total of three, but it's one shy of his total (five) through two seasons in Green Bay.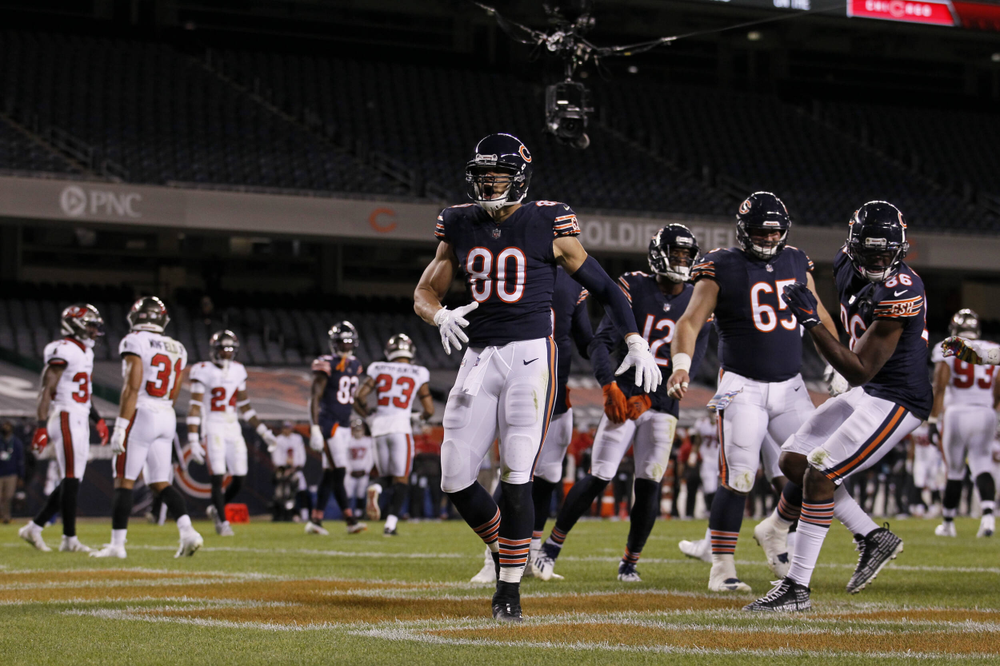 "I'd say AC [Colbert], he's a guy who comes to work every day, plays with a high motor...he's a guy we're happy to have out there. I think he's making some plays for us. He's been flying around with high energy, he's good for the defense out there, he's good for the team just being a good team player."

Giants head coach Joe Judge on Adrian Colbert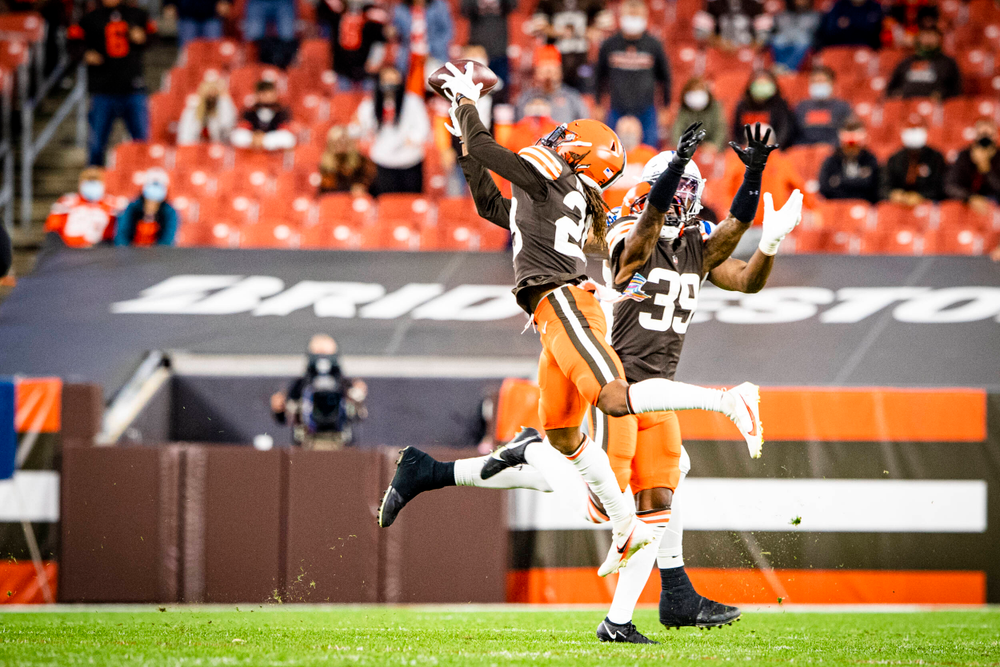 They Said It:
Sheldrick Redwine on his mentality after recording the first interception of his NFL career:
"It is just a process. I am a strong believer in trusting the process. Everything is going to happen the way you want it to happen. It is just a matter of time. It's just that belief in myself. I never got down about it. Just playing my role until my role expanded. They needed me to come in and play defense, and I came in and I just did what I had to do."
Other Notables:
Rayshawn Jenkins (Los Angeles Chargers) continued his strong start to the season with another standout performance on Monday Night Football; Jenkins had nine total tackles, including seven solo stops, in a close loss to New Orleans.
Pat O'Donnell (Chicago Bears) was strong once again Sunday, and he averaged 45.6 yards on his five punts in the win over Tampa Bay. O'Donnell landed three of his punts inside the Bucs' 20-yard line, including a long punt of 59 yards.
photos courtesy of New York Giants, Chicago Bears and Cleveland Browns.