Jenkins' Motivation is Homegrown
Tony Jenkins has always been motivated to succeed.
Growing up in Rockledge, Fla., Jenkins learned the importance of hard work, determination and dedication. Now in his fourth year at the University of Miami, Jenkins is looking to pass on that knowledge to his son, Jesiah.
"It definitely gives me a lot more motivation," Jenkins said of being a father to Jesiah. "I have to work harder and continue to work harder and get better and just perfect my craft. At the end of the day, I'm doing it for my family, I'm doing it for my son and I just want to lead the way."
Jesiah, who is two and a half, got to spend a lot of time with his dad over the last few months. With the COVID-19 pandemic shutting down all spring sports, Jenkins finished the semester in mid-May and returned to Rockledge to be with his family and his young son.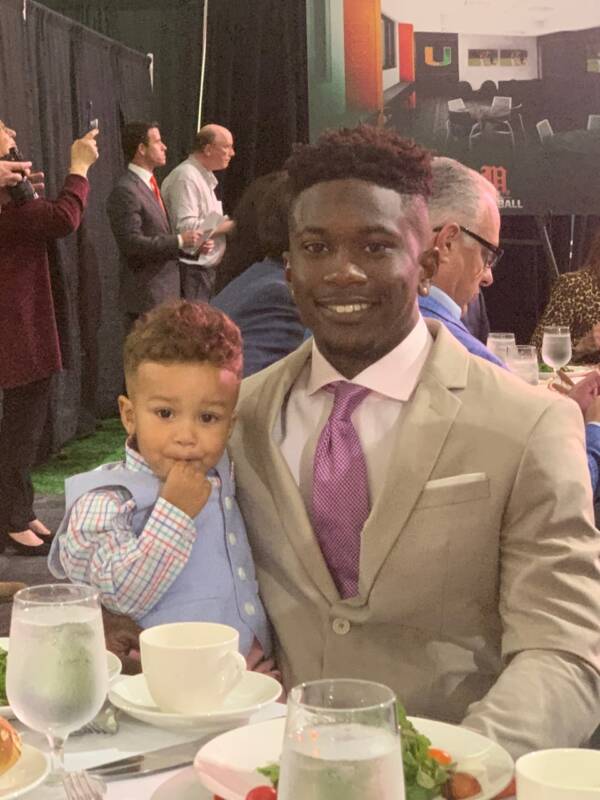 "After being away for quite some time, it was good to finally get to go back home and see everyone," Jenkins said. "It was great just to be there and spend quality time, have those dinners, watch movies and just do things like that together. It was really good and, for my son, just being there for him and being able to teach him things and be in his corner and just guide him in the right way, was big for me."
Most summers, Jenkins would be playing baseball somewhere. In the summer of 2020, there was a chance that Jenkins would have started June in Omaha at the College World Series and considered turning pro if he was selected in the Major League Baseball Draft. But this summer was not like most summers.
With the season halted in mid-March, there would be no trip to Omaha. And Jenkins did not get selected in the shortened five-round MLB Draft, so he went back to Rockledge and got a job screening people at the local courthouse.
"It was definitely tough to balance things while I was back home," Jenkins said. "That job I was working was eight to five, Monday through Friday and I was out in the sun, so it was pretty hot. Then I had to get my workouts in on the weekends and after work during the week to make sure I was staying in shape and staying ready for baseball."
In addition to his work and baseball requirements, Jenkins' biggest responsibility was being a dad to Jesiah.
"I was coming home late at night to my son, but I was spending time with him and sharing that bond," Jenkins said. "It was definitely tough, but honestly I wouldn't change it for anything. I'm glad I did it. I'm glad I was able to spend that time with everyone and just be there and be back home."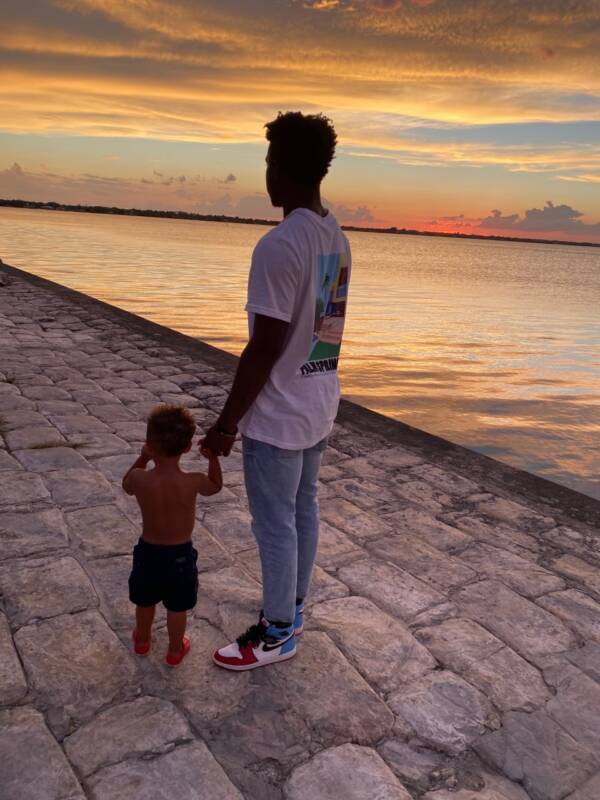 Tony and Jesiah Jenkins love being together. The father and son duo share a special bond that Jenkins cherishes deeply.
"We play ball a lot. He swings the bat pretty well and he can throw pretty well," Jenkins said. "He has a scooter and he had a little car, so he's on those a lot, too. We like to go to the park, just spend quality time together and try to build that bond together. I know he looks up to me, so I try to be there as much as possible for him."
With the fall semester starting last Monday, Jenkins is back in Coral Gables. While his family comes to visit and tries to go see him play during the season, Tony's time with Jesiah will be limited again.
"It definitely is tough, but when I do get to see him, it's great," Jenkins said. "He knows who I am and we get to spend that quality time together and I really enjoy it. I've just got to continue to work hard and do what I have to do to provide and do my best for him."
Jenkins was having a career year in 2020, batting .300 with a double, a home run and three stolen bases while starting all 16 games in centerfield for the Hurricanes. He scored 11 runs and drove in five RBI, posting four multi-hit games and one multi-RBI performance before the season ended prematurely.
His success comes in part from the hard work, determination and dedication instilled in him at a young age. But Jenkins also thinks he had his best year as a Cane because he finally learned to have fun again.
"For the first few years for me, I definitely got off to a slow start. I think I was just trying to do too much and that made it tougher at times," Jenkins said. "I dealt with a couple of injuries here and there and that made it tougher to get comfortable and stay in a rhythm. But this last year, I realized I needed to go out there and have fun. I couldn't put too much pressure on myself. I've been playing the game my entire life and I've been having fun with it, so why not have fun now?
"I decided what was best for me was to just go out there with the guys and work hard, do what I got to do and have fun," Jenkins added. "Everything else will take care of itself. That made a big difference for me. I felt comfortable, I had fun and I was having success. I'm definitely going to keep that mindset going forward."
For hitting coach Norberto Lopez, Jenkins' offensive surge came from an increased comfort level at the plate.
"Tony's always had all the tools. It's just about him building his confidence and that's what we saw last year," Lopez said. "He finally had that confidence that we've always seen in our fall games and in all the other intrasquad games that we play. During the season in his first two years here, he would always tend to put more pressure on himself and now with the experience that he's gained and being in that lineup every day, it was looking like that confidence was coming and the talent was starting to really come out as he started really believing in himself."
Lopez recalls how Jenkins always impressed Miami's coaches in the fall and in the weeks leading up to the season, giving head coach Gino DiMare and his staff the feeling that he was due for a breakout performance. But the results were uneven in his first two seasons, as Jenkins would put extra pressure on himself to perform and compound that with every perceived missed opportunity.
"If you look at the difference in his freshman year defense to today, it's huge," Lopez said. "He had no confidence coming in on fly balls and being that assertive guy and calling people off and he was the centerfielder. All of a sudden, his sophomore year, it took off and his defense was unbelievable. Then in his junior year last season, obviously his confidence was there. He knew he was a really good centerfielder and he acted like that when he played.
"Offensively, I think that same confidence was finally starting to happen," Lopez continued. "In his freshman year, he was a little overmatched because he needed to get stronger, but he got in the weight room and he got a lot bigger and got stronger. In his sophomore year, I think he went through a little bit of a transition because he finally got the strength and that showed him something. Now that he is physically where he needs to be and he is feeling more comfortable, he's playing these games with confidence."
Jenkins plans to continue with his confident mindset and is looking forward to another opportunity to play with his teammates at The U in 2021.
"It definitely is exciting to get another year with my guys. I know all the guys have been working hard and they know what it takes to be a Cane, so I'm excited to get back with all of them," Jenkins said. "We have a big recruiting class and we can help those guys because we've been here for four years and we can set that foundation with those younger guys. That way when we leave, they know the steps and they'll know what it takes to be a Cane, too."
Mentoring his young teammates is something Jenkins is eager to do.
"In the past, I really haven't been too vocal, but I'm looking forward to being more of a leader and being more vocal this year," Jenkins said. "I know that as an older guy, that's part of my responsibility to my team. I have to help set an example and show guys how we do things. And as a veteran guy, I can help the younger guys and let them know, 'Hey, you're going to go 0-for-3 or 0-for-4 sometimes. It's going to happen because everyone knows it's part of the game, but you have to have fun with it.' We all know that one day it's going to be over and you're not going to play anymore. You don't want to look back and wish you did something different or have any regrets. I think I can help out a lot as a leader and help our guys get in the right mindset to have fun and leave it all on the field."
Like every other Hurricane, Jenkins' main focus is getting to the College World Series and winning a national championship. After the 2020 season was cut short and Miami's Omaha dreams were erased, Jenkins heads into this fourth year as a Hurricane with even more motivation to reach the pinnacle of college baseball.
"I'm definitely going to be hungry because I've always been hungry," Jenkins said. "All I can do is just continue to better my game, work well with my teammates and work towards our ultimate goal, Omaha. If we all play well, we will get the opportunity to do great things."
Jenkins' desire to succeed is palpable. He knows his hard work, determination and dedication can put him in a position to help get the Canes back to Omaha for the first time since 2016. If his success from 2020 carries over to this season, the MLB Draft should call his name and Jenkins knows that can do a lot of great things for him, his family and, most importantly, Jesiah.
"I realized it's bigger than me now and forever," Jenkins said. "Everything I do is going to affect him, good or bad, so I've just got to continue to make the right decisions and do the right thing so I can provide for him."