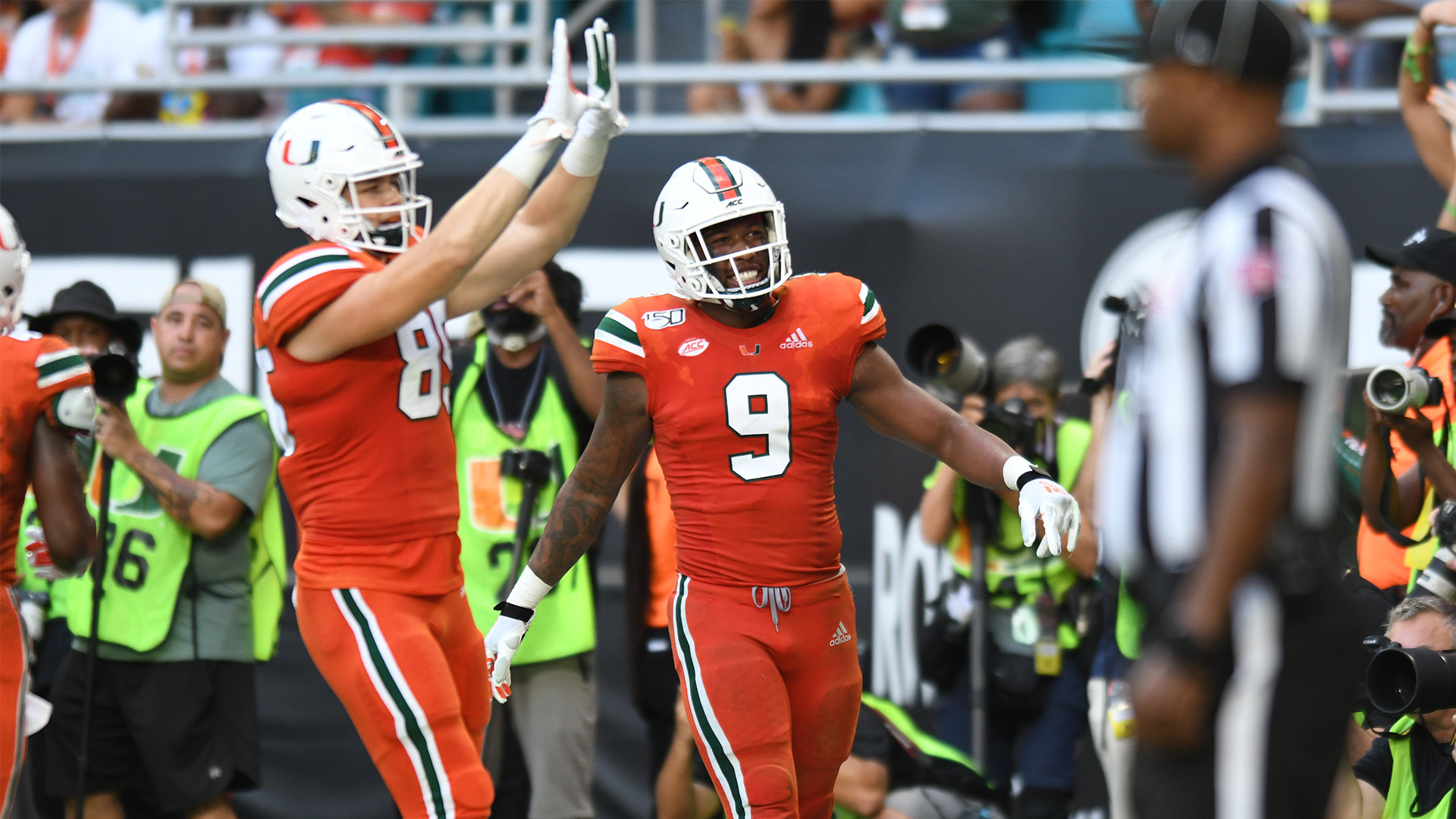 Miami is Tight End U.
Football programs across the country can try to state their case, but it would be nearly impossible to surpass the sheer volume of elite talent the Miami Hurricanes have produced at the tight end position over the years.
Brevin Jordan, who is on the 2020 Mackey Award watch list, believes he and his fellow tight ends are ready to uphold the legacy the greats before them established.
"If there was an award for a 1-2 tight end punch, everybody in the country knows it'd go to the University of Miami," Jordan said. "We are loaded. We have me, Will Mallory, Larry Hodges and Dom Mammarelli, like we're loaded in our room."
Jordan has a personality that matches the 6-foot-3 junior's rare combination of size, strength and athleticism. He is not lacking in confidence and he backs it up on the field, but he felt some doubt late last season when an injury limited him down the final stretch of the Hurricanes' season.
"I don't think I'm the best tight end in the country because I couldn't be on the field last year," Jordan said. "You can't prove you are the best if you can't be on the court, on the field, in the ring, whatever it is. My main thing is I want to stay healthy this year."
Jordan was one of three finalists for the Mackey Award as a sophomore a year ago. A first-team All-ACC pick in 2019, Jordan ranked third on the team in receptions (35) and second in receiving yards (495) despite missing three games due to injury. But he expects even bigger things this season, so he worked hard to ensure his body was ready to go when the Hurricanes opened fall camp earlier this month.
"The process was hard," Jordan said. "I probably worked the hardest I've ever worked. I was waking up at 5 a.m. every day. I was in the facility until nine every day. It was such a hard process. I cannot explain it, but it all paid off. I feel great. I'm back better than ever."
Tight ends coach Stephen Field is glad to see Jordan's hard work get rewarded and has been impressed with the Las Vegas native's performance over the first week of fall camp.
"He's running really well. He's very, very strong right now in his blocking. He's really, really impressed me just continuing to get in shape," Field said. "Our strength coach, coach Feeley does a good job with these guys and getting Brevin back to the strength level that we want him at. He's looking really, really good. He's practicing hard and he's excited about the scheme and what we're doing."
The other half of Miami's ballyhooed tight end tandem also raved about what Jordan brings to the Canes' offense and he hopes to see his good friend earn the Mackey Award after coming close a season ago.
"He's Brevin Jordan; he's special," junior tight end Will Mallory said. "He's been working really hard and he's gotten right this offseason. This is another big year for him, and it's a big year for all of us. He's a special player that's the kind of guy you want on the field and I'm really excited for him. Let's give him the win that trophy this year."
Mallory, who stands 6-foot-5 and was blessed with elite speed and athleticism for a player his size, flourished in Jordan's absence a season ago. The Jacksonville native set a career-high with 93 receiving yards on four catches in the regular season finale at Duke and finished the year with 293 yards and two touchdowns, but Field sees breakout potential from his gifted pupil in 2020.
"Will has really, really improved being physical in that C and D gap. Obviously, his catch radius is really, really good," Field said. "He's tall, he's strong, he's fast, he can run and the fact that now he's getting really, really good in blocking and his technique is getting good. That's something that's going to really be good for him and something that he's worked on with his physicalness and his strengths."
Jordan and Mallory are the headliners in a deep tight end group at Miami and they give new offensive coordinator Rhett Lashlee two unique weapons to utilize in a variety of ways.
"They use us in a way that we're just all over the field, we're outside, we're in the slot, we're in the backfield, we're lined up on the line," Jordan said. "We're adjusters; that's our position. We're really just are all over the field and Coach Lashlee loves to throw the ball to us. He loves to just get the ball out to the guys in the space and just let them go to work. That's what's so great about his offense."
"I think this offense really opens up and uses the athletes that we have on this team very well," Mallory added. "I would consider our tight end room extremely athletic and I think this really opens up for us to make plays and run around and just be the athletes that we are. I think that really is good for us and we can showcase what we do at a high level and a high pace."
With such a deep position group, Field's favorite part of Miami's new offense is that it's designed to create opportunities for many Hurricanes at the same time.
"What's so exciting about this offense is the fact that multiple players can be successful," Field said. "It's a high-powered, fast-paced offense and it's not going to be pinpointed on one individual guy, so everybody knows if they work hard, they have an opportunity to get the ball in their hands and I think that influences these guys to go super hard. From the running back position to the tight end position, the receiver position, they all have that opportunity where if you work hard, know what you're doing, be at the right place at the right time, you could be very successful in this offense."
While all of Miami's tight ends have been learning the Canes' new offense, veterans like Jordan and Mallory have also made a point to help mentor their younger teammates like Hodges and Mammarelli.
"When I came in, I didn't really have older guys to look up to," Jordan said. "I had to come in and play as a true freshman, so when I see Dom and Larry, I'm trying to be the first guy in the building and I'm trying to tell them, 'Take care of your body.' You've got to do the little things because the little things make the difference. It's just showing them actions, being the guy that they can look up to and see that the results are there. Just putting in the work and just showing actions, that's all it is."
Mallory has been very impressed by how much Hodges has developed since last season, despite not having spring practice to work on his craft. And Mammarelli has made an impression on his fellow tight end, too.
"They've been doing really good so far," Mallory said. "They're working hard. Larry, we've known how talented he's been since last year coming out of high school and he's been doing a great job helping us as a team, as a room. And Dom's come in and he's given great effort, great energy and he's really, really impressed us and I think he's impressed all the coaches with what he can do physically. He's a great addition to the room."
Hodges and Mammarelli hope to one day be a 1-2 punch similar to Jordan and Mallory. And Miami's top two tight ends continue to work towards carving their names among the many greats that came before them at their position.
"It's a big reason why I came here. I mean I grew up watching Jeremy Shockey at the Saints when my dad was there and Jimmy Graham and Greg Olsen, just watching all that. I think that's something special and I don't think you get that at many other places," Mallory said. "That was a huge draw for me of why I came here. It's something that me and Brevin that we want to carry on and it's something that we take pride in because it's not just about us, it's about the legacy that those players have left here and we want to continue that."