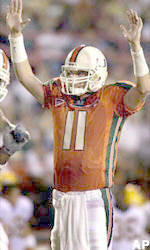 Oct. 7, 2000
Box Score | Exclusive Photo Gallery
Get your Miami gear!
By RICHARD ROSENBLATT
AP Football Writer
MIAMI (AP) – After 1,013 yards, 100 passes and 51 points, FloridaState-Miami came down to Wide Right III.
Amazing.
When Matt Munyon's 49-yard field goal attempt sailed wide right as timeexpired, No. 7 Miami had a 27-24 victory over No. 1 Florida State on Saturday,derailing the Seminoles' national championship run and putting itself back intocontention.
"I watched it, I watched it," Miami receiver Reggie Wayne said. "The onlything going through my mind was wide right one, wide right two, and I washoping there would be a wide right three."
There was, much to the dismay of Seminoles coach Bobby Bowden, who livedthrough wide right field goals in 1991 and 1992 against Miami that probablycost his team a pair of national titles. The Hurricanes went on to win thenational crown in '91.
"Wouldn't you know it?" Bowden asked. "He's been wide left all year, andthen that happens. We had him out there pretty far, though."
Even the Orange Bowl scoreboard carried the message: "WIDE RIGHT III" litup as the crowd of 80,903 – third largest in U-M history – filed out of thestadium.
"I got all of it. I hit it hard. It just went right," said Munyon, whomissed two of three field goals against Miami and is 3-of-8 on the season."That's just all the history. Hopefully, I'll be able to be in a position tocome back and make one."
Until the frantic final minutes, Miami (4-1) had an answer for everythingFlorida State (5-1) tried. Four times in the first half, the Seminoles failedscore from inside the Hurricanes' 26-yard line. Twice, Weinke threwinterceptions on plays designed especially for this game. Two other times,Florida State passed on easy field goals and came up empty – once on a failedfourth-down run from the 16, the other on an incomplete pass from the 13.
"We put some plays in that would have been touchdowns," Bowden said."They didn't fall for them. They ate them up. I should have kicked."
Miami was glad he didn't as the Hurricanes won their biggest game in ButchDavis' six years as coach. Miami finally displayed its title form of years agoafter five years of rebuilding from NCAA sanctions that stripped the school of31 scholarships.
"It's huge for the program," linebacker Dan Morgan said after leading theCanes with 15 tackles and an interception. "This is definitely going to put usin national contention. There's no telling how good this team can be."
A week after replacing Nebraska in the top spot of the AP poll, theSeminoles fell behind 17-0 at the half. But they staged a furious rally in thefinal minutes behind Heisman Trophy contender Chris Weinke, who was 28-of-59for a career-high 496 yards and three TDs – the final one a 29-yarder to AtrewsBell with 1:37 left that put the Seminoles ahead 24-20.
But Ken Dorsey answered for Miami, which took over on its own 32. Dorsey hit6-of-7 passes, including hookups with Santana Moss for 13 yards, with Wayne for17 yards and with Moss again for 19 yards to the FSU 8. A delay of game penaltymoved the ball back 5 yards, and then Dorsey hit backup tight end JeremyShockey with a 13-yard scoring pass with 46 seconds to go.
Dorsey, who was 27-of-42 for 328 yards, said "every time he came back tothe huddle he told me he was open. This time I listened to him."
Now, Florida State will have to win out and hope for help if it wants todefend its national title. Defensive end Roland Seymour walked around thelocker room telling his teammates "we're going to bounce back, don't evenworry about it."
Florida State, denied several national title shots during the heyday of thisrivalry from 1987-93, had its 17-game winning streak – longest among majorcolleges – ended. The loss also ended the Seminoles' 26-game regular-seasonwinning streak.
Florida State became the first No. 1 team to lose in the regular seasonsince Ohio State was beaten by Michigan State 28-24 on Nov. 7, 1998.
The Seminoles had 565 yards, the Hurricanes 448. Jamal Reynolds, FloridaState's star defensive end with 10 sacks entering the game, had just onetackle. Neither team had a sack.
Trailing 20-17, Florida State got a break when Miami's Najeh Davenportfumbled and FSU linebacker Brian Allen made his second recovery of the game,this one at the Canes 48. Four plays later, the Seminoles had their brief leadon Weinke's TD pass to Bell.
Miami ended a five-game losing streak against Florida State, games it lostby an average of 22.2 points. The last time these teams met when both were inthe Top 10 was 1996.
It's a great victory for our club," said Davis, now 1-5 against FloridaState. "It was one we really worked for and wasn't an accident. We worked forit and earned it."
Miami moved to a 17-0 halftime lead, marking the first time since 1988 theSeminoles had been shut out in the first half. It was the Hurricanes who didit, too, leading by the same score en route to a 31-0 win.
In the opening 30 minutes, Dorsey outplayed Weinke, who wore a hard plasticcovering to protect a sprained left foot. Dorsey threw a 22-yard touchdown passto Davenport, Williams scored from a yard out and Todd Sievers kicked a 31-yardfield goal.
Weinke, 26-2 as a starter, moved well despite the plastic and tape wrappedaround his ankle. But he threw two interceptions – both at about the Miami 2 -that stopped scoring drives, and had a pass broken up at the goal line.
Weinke came out strong in the third quarter, and led the Seminoles to afield goal – an 18-yarder by Munyon – and then threw a 48-yard touchdown passto Anquan Boldin. And just like that – with 8:03 left in the third quarter -the Seminoles trailed 17-10.
Florida State blew a chance for more points. Two plays after Florida State'sTD, the Seminoles took over on the Miami 32 when Allen recovered athird-quarter fumble by Williams. But 20 yards worth of penalties pushed themback to their own 48 and they were forced to punt.
Miami then increased its lead to 20-10 on a 37-yard field goal by Sievers,with Dorsey hitting passes of 18 yards to Wayne, 13 to Williams and 14 toRobert Williams.
The Seminoles cut it to 20-17 with 3:15 left in the game on Weinke's 2-yardTD pass to Boldin.