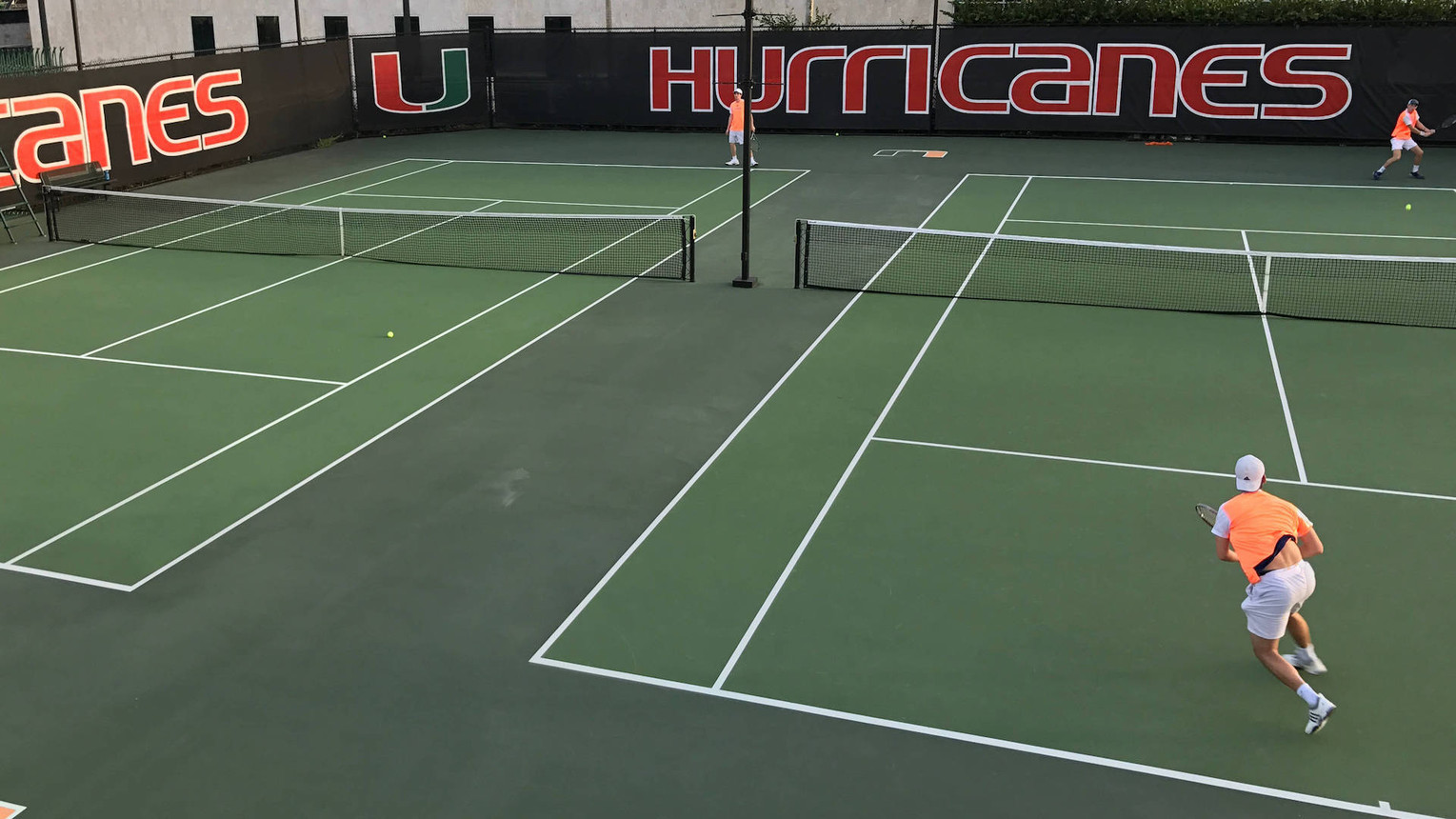 Centre Court Club
Mission Statement
The Centre Court Club is designed to provide "grass roots" support for the men and women's tennis program at the University of Miami. The objective of the club is to assist the athletic department in promoting Miami tennis in Dade County and throughout Florida and to assist us in generating interest and enthusiasm for our program.
Your membership to the Centre Court Club helps support the club's activities and the University of Miami Tennis Program. Although Centre Court Club memberships are not accompanied with Hurricane Club benefits, there are benefits you will enjoy which are exclusive to the Centre Court Club. You can also take pride in the fact that UM Tennis will remain nationally competitive because of your support.
We welcome you to become a part of the Centre Court Club and join other tennis enthusiasts in the fun of supporting UM Tennis.
Centre Court Club Benefits
Centre Court Club Hat (one per member upon request)
Annual Round Robin play with tennis team members
Newsletters
Seating in the VIP Lounge to view matches
Selected pre or post match social eventsNeil Schiff Tennis Center Membership Benefits
Each member is allowed court access at the Neil Schiff Tennis Center
Each member is allowed one guest
Each member is allowed one guest at a $5 feeMembership Fees


$100
Centre Court Club Membership
Includes benefits for two (2)
*No court access*
$250
Family Centre Court Club Membership
Includes benefits for four (4)
*No court access*
$250
Centre Court Club Membership
Benefits for (1)
(1) Neil Schiff Tennis Center Memberships
$400
Family Centre Court Club Membership
Includes benefits for (4)
(4) Neil Schiff Tennis Center Memberships

For more information or to request an application, please contact:

UM Tennis Offices: 305-284-4166
Hurricane Club Liaison, Chris Cohen: 305-284-6699 ccohen@miami.edu
Centre Court Club President: Cecilia Wallace