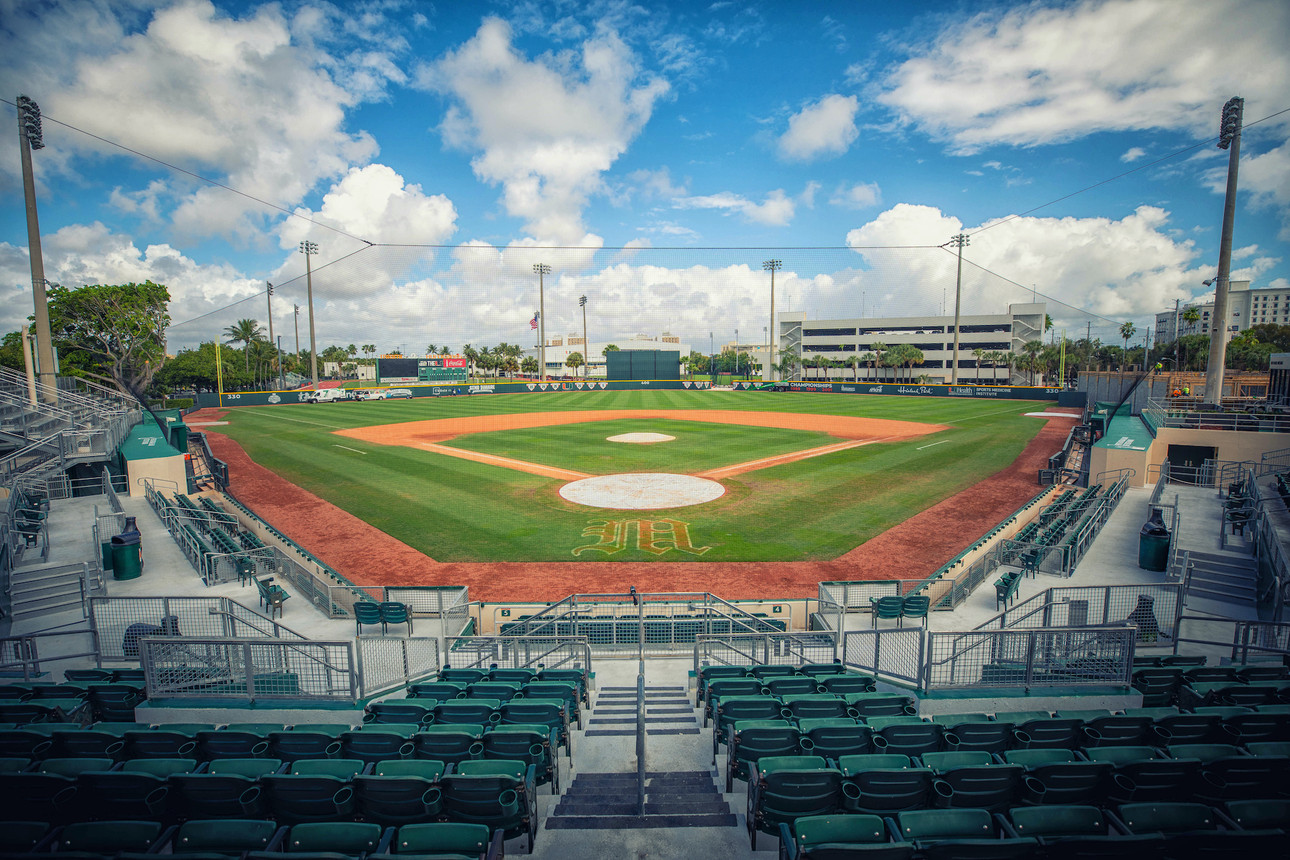 2021 Miami Baseball Media Information & Policies
Media operations for University of Miami baseball games at Alex Rodriguez Park at Mark Light Field will be altered this season as a result of the COVID-19 pandemic. These guidelines are prepared in conjunction with the University of Miami and the Atlantic Coast Conference for the safety of all involved and may be adjusted based on the latest protocols. If there any changes to the below protocols, the Miami athletics communications office will send out an update and post the adjusted policies.
MEDIA CREDENTIALS
There are no season credentials for 2020-21. Due to limited space in the press box and social distancing protocols, there will be no designated media seating area for the regular season inside Alex Rodriguez Park at Mark Light Field. Credentials for broadcasters will be distributed on a single-game basis only. Broadcasters may pick up their single-game credential at the box office window at the front of Alex Rodriguez Park. Anyone entering the stadium with a media credential should use the gate on the third base side of Alex Rodriguez Park.
UNAUTHORIZED CREDENTIAL USE
Credentials will be issued to approved broadcasters only. Media credentials are not transferable and use by anyone other than the broadcaster who was issued the original credential is unauthorized. Media credentials used in an unauthorized manner will be revoked immediately. Anyone allowing unauthorized individuals to use credentials will have their credentials revoked for the remainder of the year.
HEALTH AND SAFETY PROTOCOLS
Temperature checks will be administered on-site at Alex Rodriguez Park and individuals must affirm that they do not feel ill or have been in contact with an individual who has the COVID-19 virus, among other items in the short form to be completed. Temperature and symptom screenings will take place at the Third Base Entrance.
A mask must be worn at all times on the stadium grounds and in the broadcast location. Media representatives must bring their own mask that fully covers their nose and mouth, plus any other personal protective equipment they wish to use.
All media will be required to enter Alex Rodriguez Park through the Third Base Entrance and must proceed immediately to their assigned broadcast location.
COVERING THE HURRICANES
Interview requests for Miami baseball student-athletes and coaches must be submitted to associate director of athletics communications David Villavicencio (davidv@miami.edu) in all instances. Villavicencio and the Miami communications staff will make every effort to schedule a time to accommodate those requests, based on time constraints and academic/meeting obligations.
PHOTOGRAPHERS
There will be no photographer credentials issues to outside entities for the 2021 season. The University of Miami will have photographers covering every home game in 2021 and will provide images for the media to access and use via this Box link: Miami Baseball Photos
All photographs are property of the University of Miami and must be properly credited if used.
VIDEOGRAPHERS
There will be no videographer credentials issues to outside entities for the 2021 season. The University of Miami will have video highlights for all home games uploaded to a Box link following the conclusion of the game. The use of ACC game highlights provided through the Box link remain subject to those restrictions outlined in the ACC News Access Guidelines. Miami Baseball Video
RADIO
Radio crews will be allowed to broadcast from Alex Rodriguez Park at Mark Light Field for the 2021 season. The designated location for radio crews this season will be in the outdoor section of the Mark Light Field Press Box. Radio crews will be asked to follow the guidelines noted above, entering through the Alex Rodriguez Park Main Entrance and are asked to proceed directly to their designated location. All radio personnel will be required to wear a mask at all times, unless it is one individual alone in the booth.
PARKING
Parking is available in the lots adjacent to Alex Rodriguez Park, as well as on the street, via the PayByPhone app. There are no parking passes for Miami baseball games.
GAME NOTES/STATISTICS
Game notes and statistics will be available online; there will be no printed copies provided in the press box. Live statistics will be available during the event online on MiamiHurricanes.com, the Miami Hurricanes mobile app and miami.statbroadcast.com. A PDF of the final statistics will be posted postgame on MiamiHurricanes.com.
REFRESHMENTS/FOOD
There will no longer be drinks or milkshake vouchers provided in the press area at Alex Rodriguez Park this year. Credentialed broadcasters will be allowed to bring outside food and drink into the stadium, but will be required to eat the food at their assigned seat.
POSTGAME INTERVIEWS
All postgame interviews will be conducted through Zoom. Head coach Gino DiMare and select student-athletes will be available as soon as possible following games for home games. Links for the video conference will be provided to approved media who request access from David Villavicencio (davidv@miami.edu) prior to first pitch.
Should the visiting team decide to conduct a postgame press conference, a Zoom link will be distributed accordingly to approved media who request access.
Miami will not hold any postgame press conferences for road games in the 2021 season.
ARCHIVING OF EVENT AUDIO/VIDEO
It is not permissible for any non-rights holder to post, place, broadcast, or make available in any other way, audio or video event content that exceeds three (3) minutes in length. Events are defined as varsity contests, press conferences and any other group media availability. Archiving may not begin until the conclusion of the entire event. It is not permissible to reuse or post any video produced and/or owned by the University of Miami athletics department without the consent of the University.
QUESTIONS?
Please contact David Villavicencio via email at davidv@miami.edu or by phone at 786-999-3739 with any questions about the University of Miami baseball team.